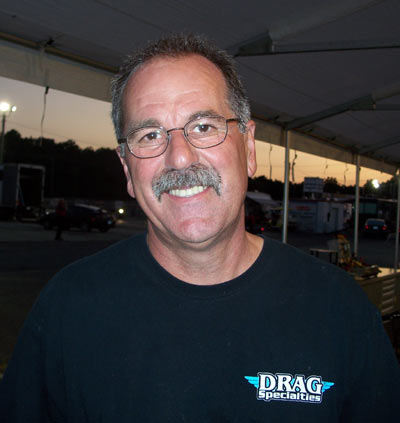 Top Fuel dragbike living legend Larry "Spiderman" McBride is accustomed to being first.
He was the initial motorcycle drag racer to break into the five-second barrier and on a regular basis he's the first to the finish line with his record-smashing, 1200-plus horsepower Suzuki.
In 2009 McBride added another first to his impressive resume by becoming the first AMA Dragbike professional racer to reach ten championships.
"It really doesn't seem like I've been doing this long enough to have ten. The years have flown by," said McBride, the 31-year veteran of the sport. "We've enjoyed great success over the last ten years."
McBride finished the 2009 campaign with four victories on the AMA Dragbike tour at Valdosta, Atlanta, Martin, and Atco. The highpoint of the season occurred at Atlanta Dragway in March, where McBride lowered the AMA Dragbike elapsed-time record to a staggering 5.793.
"That was an all-around amazing weekend," McBride said. "I attribute our success to having great sponsors, an awesome team and always giving 110 percent. Over time we've found that you really can find that extra ten percent to give if you look hard enough."
The record-setting Atlanta weekend proved costly. After breaking a crankshaft the team spent much of the next few months trying to pinpoint a nagging mechanical problem that would periodically cause the motorcycle to drop cylinders. The team would eventually diagnose the ailment as an electrical problem later in the season.
"No matter how good you are, a nagging gremlin can really humble you. By the time you know what's going on it could be too late," McBride said. "It took us a while to figure it out."
Before collecting his tenth season title, the Spiderman achieved another career milestone by gaining recognition from the 2010 Guinness Book of World Records for his previous speed mark of 245 mph. Although McBride has been a world record holder for many years, providing ample documentation to the Guinness Book of World Records can take quite some time.
"When I tell people about my motorcycle, the first thing they ask is if I'm in the Guinness Book of World Records. It means a lot to me to be able to say yes now," McBride said. "Laurie Dunlap from Web-Cam helped me out a great deal providing the necessary documentation."
McBride has big plans for 2010. Not only does the Spiderman plan on running the entire AMA Dragbike circuit, he plans to debut a new motorcycle early next season as well. The new machine features a stronger bottom end and a state-of-the-art, four-inch longer chassis built by Ben Phaup and Steve Phillips.
"We think the new bike will leave the starting line better. Our quickest 60-foot time is .987. I think we can hit those numbers a little more consistently with the new bike," McBride said. "We hope to bring that out after Atlanta, providing we have tested. It's got a lot of really cool stuff on it."
McBride expects stiff competition in 2010 from friendly rival Chris Hand and the category's newest 5-Second Club member Geoff Pollard.
The Spiderman has plenty to do over the off season. McBride plans on making appearances at a Wish Upon a Star charity event in Chicago in January and the Motorcycle Dealer Expo in Indianapolis in February.
The team thanked; Pingel Enterprise, Trim-Tex Drywall Products, Drag Specialties-Parts Unlimited, Red Line Synthetic Oil Corporation, K&N Air Filters and Web-Cam as well as his other sponsors.
Vance & Hines Motorsports, PR Factory Store, Muzzys Performance, Ferrea Valves, Kibblewhite, Precision Machine, World Wide Bearings, Vanson Leathers, Performance Machine, Belt Drives Ltd, Street & Competition, Simpson Race Products, Nitrous Express, APE, EK Chain, Arias Pistons, R/D Spring Corp, Autolite, MSD, Protect ALL, Whipple Industries, Cometic Gaskets, B&J Transmission, Carolina Cycle, L.A. Sleeve, PJ1, Mickey Thompson Tires, Valco, Goodridge, Carlisle Belts and Gates Belts.