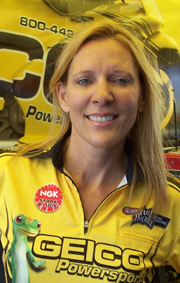 In an ultra-competitive category such as NHRA Pro Stock Motorcycle, Karen Stoffer and her GEICO Powersports team have found a reliable formula for success. In 2009 Stoffer amassed her sixth consecutive top ten finish, capturing the No. 7 spot.
"It's a total team effort that has made the difference," Stoffer said of her consistency. "Everybody has worked very hard over the last several seasons. We're always trying to improve."
Stoffer admits that six straight years in the top ten is something even the strictest of self critics can be proud of. Now the steadfast rider is focused on taking the next step.
"Throughout my career we've finished No. 6, 7, 8, 9 and 10. Now we are focused on getting No. 5, 4, 3, 2 and 1 to complete the set, especially the No. 1," Stoffer said with a smile. "Our great finish this year shows me just how much potential this team really has. If everything comes together just right, the sky is the limit."
Stoffer's seventh place finish is up two spots from her ranking in 2008, and just one position behind her career best year-end ranking of sixth in 2006.
The team encountered mechanical issues throughout the year but was able to stay in the championship hunt by regularly qualifying in the top half of the field.
"We struggled with a fuel delivery issue early on, and I had some problems on the tree in the middle of the season, but we battled through it, and were able to overcome everything," Stoffer said. "Overall it was not a bad season."
The climax of the season for the GEICO team occurred on Labor Day weekend at the illustrious US Nationals, the final qualifying race for NHRA's Countdown to One playoffs. Needing to maintain her tenth place rank in the points, Stoffer used an upset, first-round victory over LE Tonglet to clinch her third consecutive Countdown berth. This marked the second consecutive season Stoffer qualified for the playoffs in a dramatic fashion.
"I'm very happy we made it in, but I'm going to say what I said last year, I don't want to be in that position again," laughed Stoffer.
Her forward momentum from Indy continued as she finished runner-up to Hector Arana at the NHRA Nationals from Charlotte, NC, Sept. 17-20.
"We started to hit our stride. My team had the motorcycle running very well," Stoffer said. "It was great being in the final with two Lucas Oil-associated motorcycles."
Now Stoffer optimistically looks to 2010, and is quick to squash recent rumors about the team forgoing its Suzuki program.
"We are not going to buy a Buell," Stoffer said.
That's not to say there won't be some major adjustments for Team GEICO Powersports.
"We are all about making changes to improve. We take pride in the fact that we were the first Suzuki team to use fuel injection," Stoffer said. "We are always looking to get better, and we have many things in the works for the off season. We will be testing several new parts, perhaps even a new body style."
Stoffer admits battling the evident V-Twin dominance in the NHRA isn't easy. Stoffer says the biggest challenge will be figuring out how to compete with the V-Twins in the hot weather, something every Suzuki team has faced recently. The last time a Suzuki rider captured the season crown was when Geno Scali took top honors in 2003. Stoffer hopes rule changes will be made to even the playing field.
"It concerns me. Suzuki has been around for a long time in the class and deserves a fair shot to win," Stoffer said. "I look at a rider like Matt Smith, who was a past champion on a Buell, but had a hard time this year when he switched to a Suzuki. Out of the three manufactures, the Suzukis are the most handicapped."
Nonetheless Stoffer is up for the challenge and is eagerly counting down the days to the beginning of the team's next battle.
"I am thrilled for next year. We will continue to fight and focus on getting things rolling early in the season," Stoffer said. "It's time to keep moving the bar up."
Stoffer went on to extend special thanks to all of her sponsors and supporters.
Geico Powersports 1-800-442-9253, Speed Dawg, Bates Leathers, Suzuki Extended Protection, Kymco, NGK, Airtech, Wrath Motorsports and TKO Graphics.