During last year's three-event match race series between Top Fuel legend Larry "Spiderman" McBride and impressive third-year nitro racer Dave Vantine, many would agree, the real winners were the fans.
The talented duo brought the crowd to its feet and set the internet abuzz by producing the sport's first side-by-side five-second pass.
"It was awesome. Hopefully we can repeat it," McBride said.
Technically it was Vantine who won the overall season series, bettering his mentor two races to one, after McBride encountered some of the most devastating breakage of his career at Maryland International Raceway in the fall.
"I don't consider it a win," Vantine said. "Larry beat himself. I'll know when I really beat him."
Vantine is hoping to outrun his riding coach without the mechanical failures this season.
"All four of my five-second runs have been at MIR. My goal is to run a low-5.8 second run and I'm sure Spiderman wants to run a 5.6-anything to be the quickest person on the planet," Vantine said. "I love doing battle with the McBrides."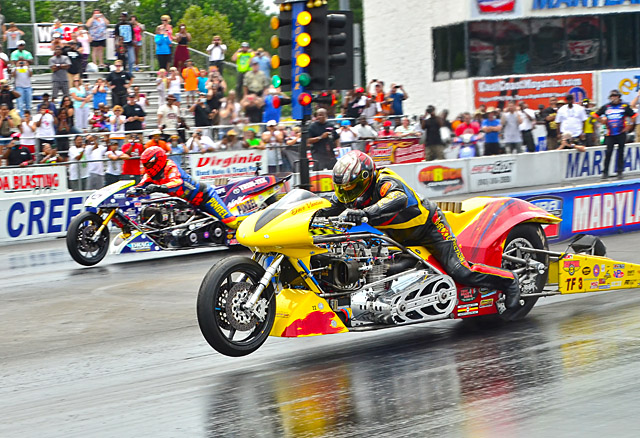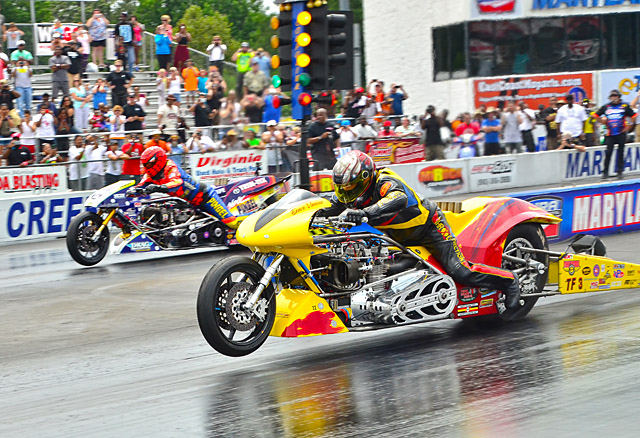 Although the match race is merely an exhibition, anyone who knows McBride understands the competitive nature of the 14-time champion.  McBride is focused on rebounding with the best performance of his career.
"We have been putting a lot of work in to get ready," McBride said. "Last year the track surprised us a bit.  It was so good we didn't have any tire spin at all.  That's what caused us to break some parts.  We will use it to our advantage this year. Anything can happen but I think we learned what not to do."
Will we see 5.60s from team McBride?
"We will see. It all depends on the weather," McBride said. "We are going for it."
The season series gets underway at the 15th annual IDBL WPGC Bike Fest from Maryland International Raceway, July 24-26.
"I think Jason Miller and IDBL have done a heck of a job promoting the race. It should be huge," McBride said. "The weather looks great."
Vantine echoed the enthusiasm.
"We had a great time last year," Vantine said. "I can't wait.  Frankly this is my favorite event of the season. I wish all events had as much going on as the WPGC Bike Fest. It really draws a huge crowd."
Vantine thanked all of his supporters and his entire team.
McBride thanked his primary sponsors; Pingel Enterprise, Trim-Tex Drywall Products, Drag Specialties-Parts Unlimited, Red Line Synthetic Oil Corporation and Final Swipe Merchant Services.
Web-Cam, Vance & Hines Motorsports, PR Factory Store, Ferrea Valves, Kibblewhite, Precision Machine, World Wide Bearings, Vanson Leathers, Millennium Technologies, Belt Drives Ltd, Simpson Race Products, Nitrous Express, APE, EK Chain, Arias Pistons, Cometic Gaskets, B&J Transmission, Carolina Cycle, L.A. Sleeve, PJ1, Mickey Thompson Tires, Valco, Goodridge, Carlisle Belts and Gates Belts.