Following the The Gulf Oil Dragracing team's inaugural and award winning appearance at the 2013 event they were unable to accept their invite last year due to a clash of racing commitments.
However there were no such issues this year and so Lord March's invitation was accepted. The theme for 2015 was "Flatout and Fearless: Racing on the Edge". It was one of the most action-packed Goodwood FoS events yet for motorsport fans, in particular motorcycle enthusiasts, as MotoGP racing legend Valentino Rossi made his debut at Goodwood for the first time, alongside Casey Stoner, Freddie Spencer, Kenny Roberts, Giacomo Agostini, Phil Read, Troy Corser and John McGuiness to name but a few. Speedway superstar Greg Hancock joined no less than 15 former and current World Motorcycle champions of various disciplines on the track.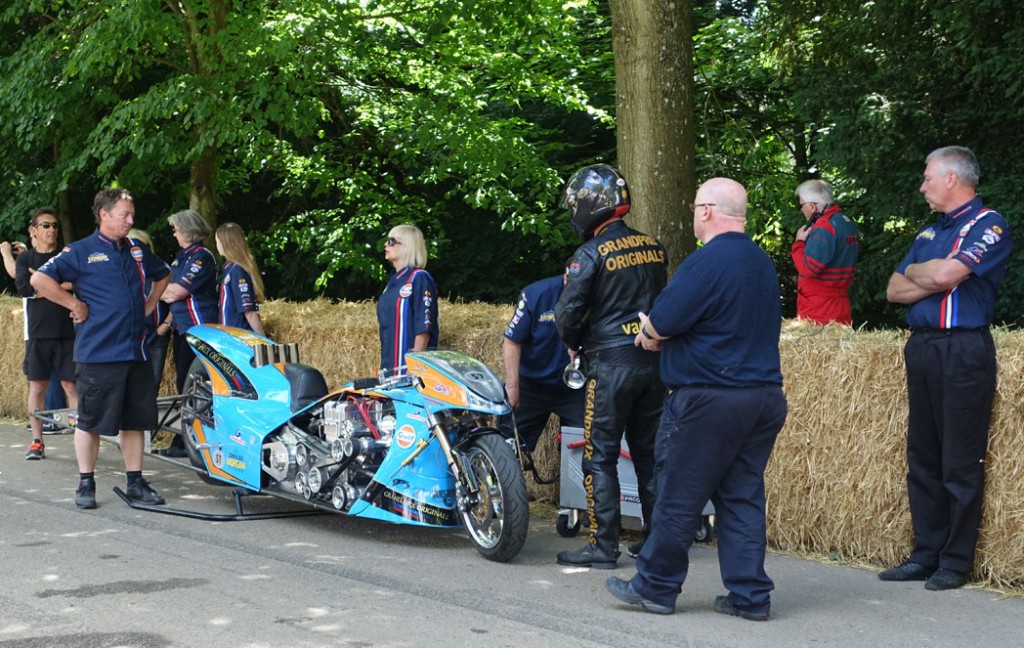 Five of the top Formula One racing teams were in attendance to showcase their latest championship race cars: Mercedes, Red Bull, Ferrari, McLaren and Williams. Current F1 racers Felipe Massa, Kimi Raikkonen, Jensen Button and Nico Rosberg were also part of the action. To the delight of the throng of paparazzi and Williams F1 staff Felipe Massa decided to try out the Gulf Oil Dragracing Top Fuel Bike for size, immediately tweeted by his employers on their official page.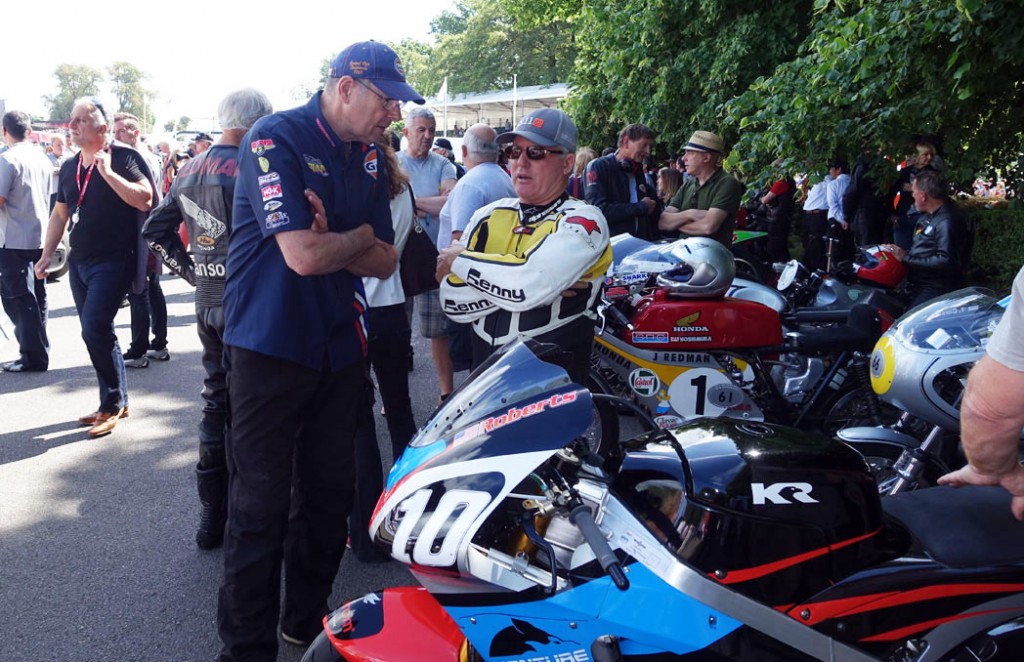 Four wheel dragracing was also represented with the legendary Don Garlits driving his Swamp Rat dragster up the Hill for the first time. Four LMP1 Le Mans Endurance prototype models from Audi, Porsche, Nissan and Toyota were on display, along with a huge display for NASCAR including legends Richard Petty and Bobby Labonte. World Rally Car and Rallycross Ken Block brought his impressive Hoonigan Racing Division `Hoonicorn' custom Mustang to drift up the hill.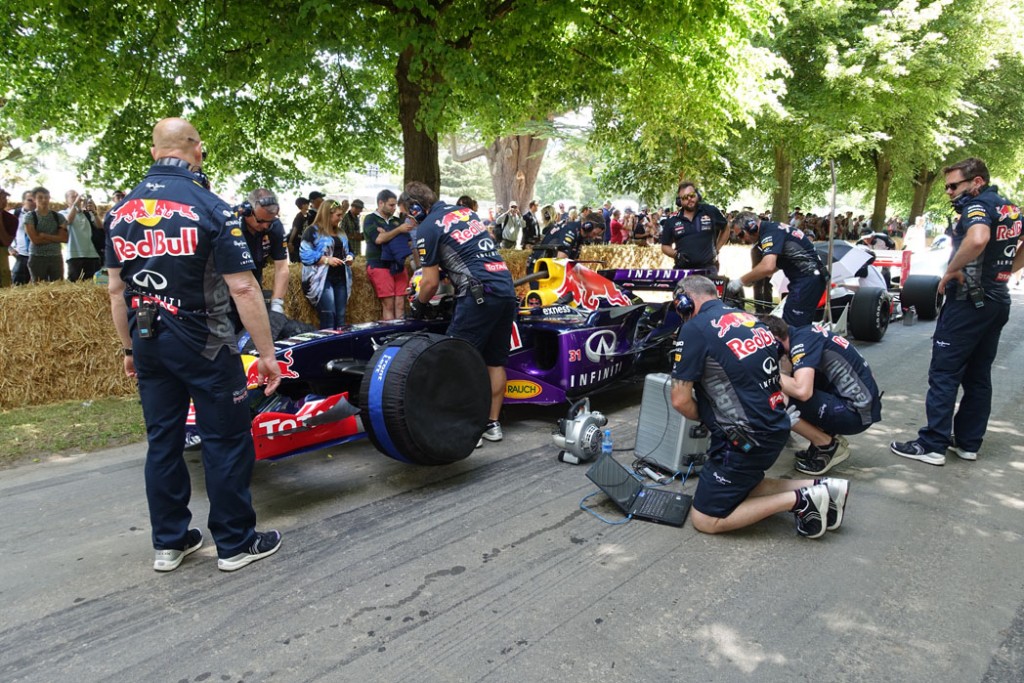 Alongside the hillclimb stage, the Festival of Speed also featured the traditional Concours d'elegance, with a celebration of the 80th birthday of Figoni et Falaschi cars, and cars marking the 60th anniversary of Citroen's DS badge. An enlarged Michelin Supercar Run and Brooklands supercar paddock also made a return. Mazda was chosen as the 2015 featured manufacturer, and showcased all of its latest production models and heritage vehicles, including its Le Mans-winning 787B racer which took on the hillclimb. A celebration of hypercars right up to the present day also saw the first vehicles to top 200 mph making their mark on the famous hill.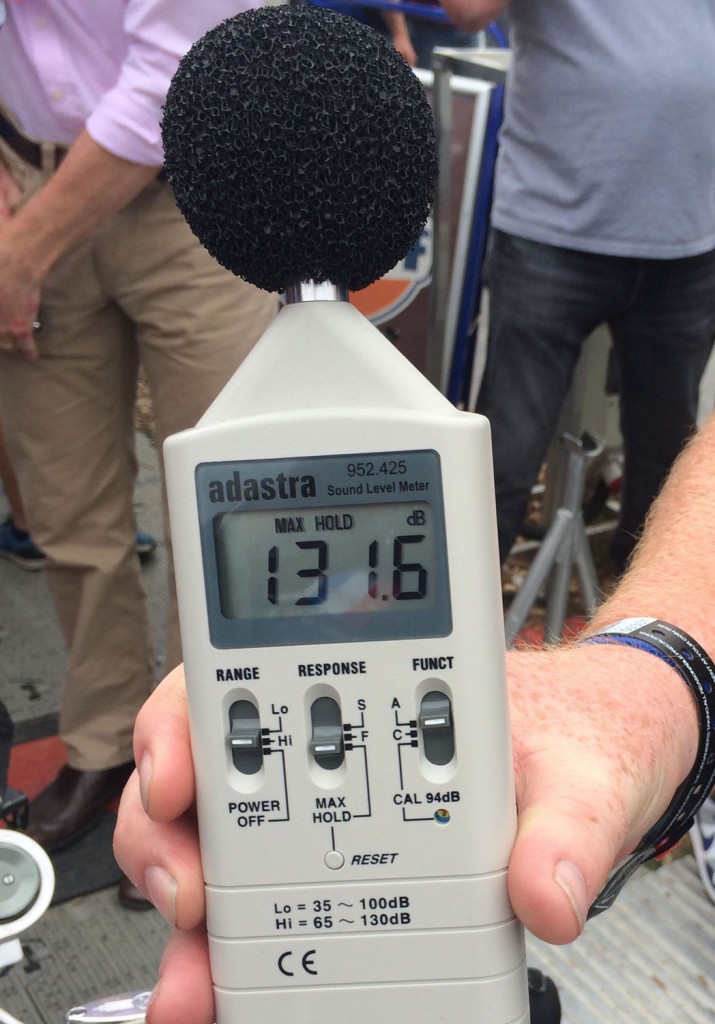 As ever, Lord March's legendary Racers Ball in the grounds of his house did not disappoint with an amazing line-up of entertainment including the customary firework display, Cirque du Soleil, Gene Simmons formerly of Kiss singing on stage accompanied by, of all things, a massed choir and the evening finale, Kaiser Chiefs with Rossi joining frontman Ricky Wilson on stage.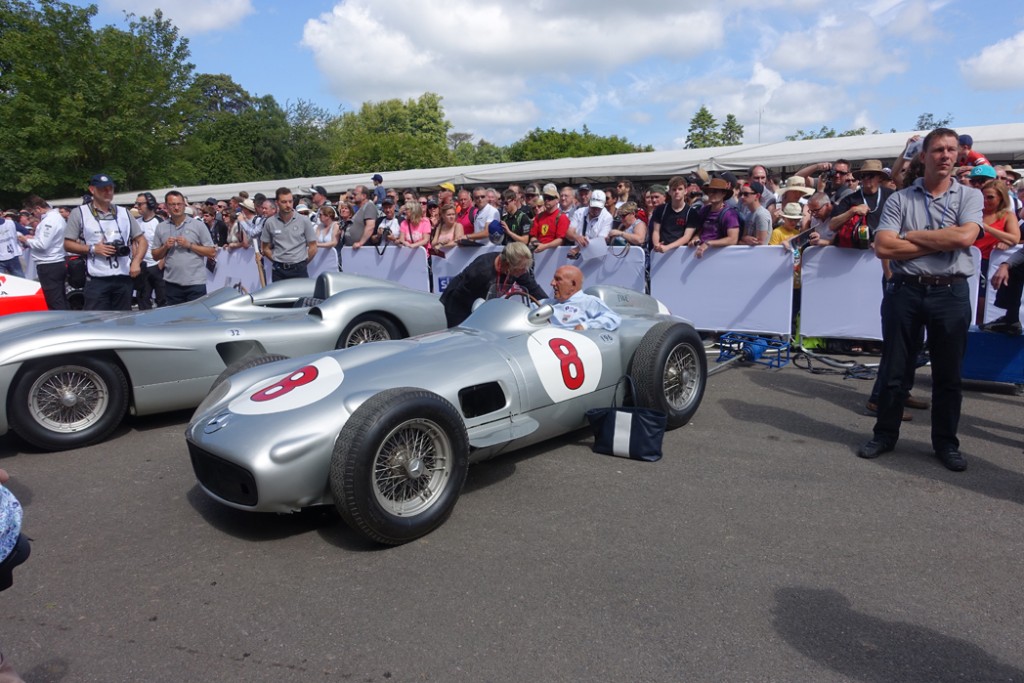 A stunning event as usual, unmatched by any other in the world and the team look forward to returning again in the future.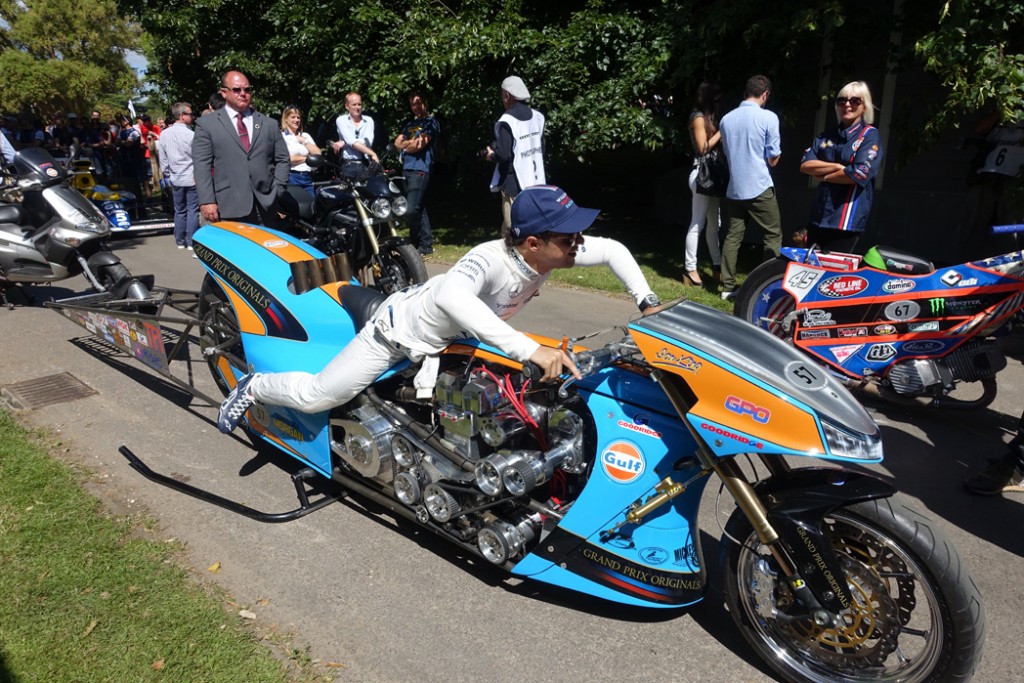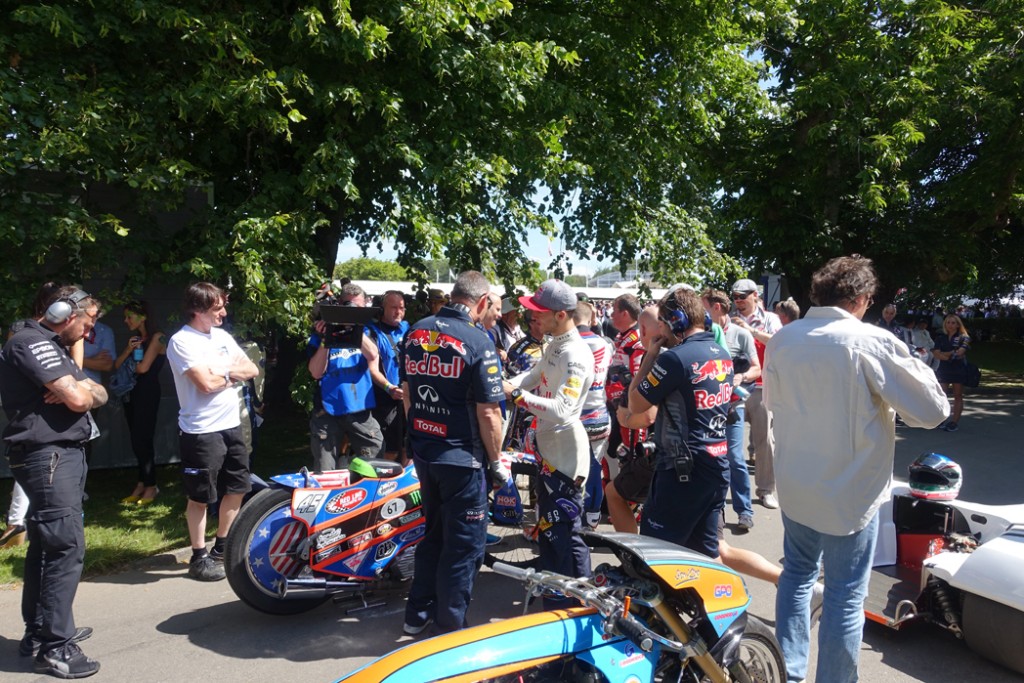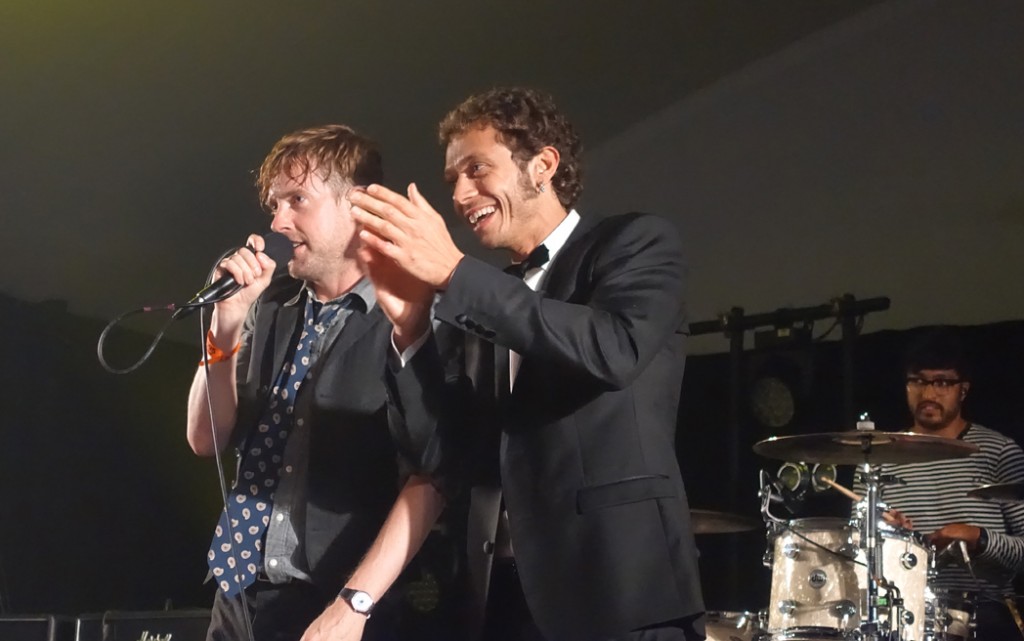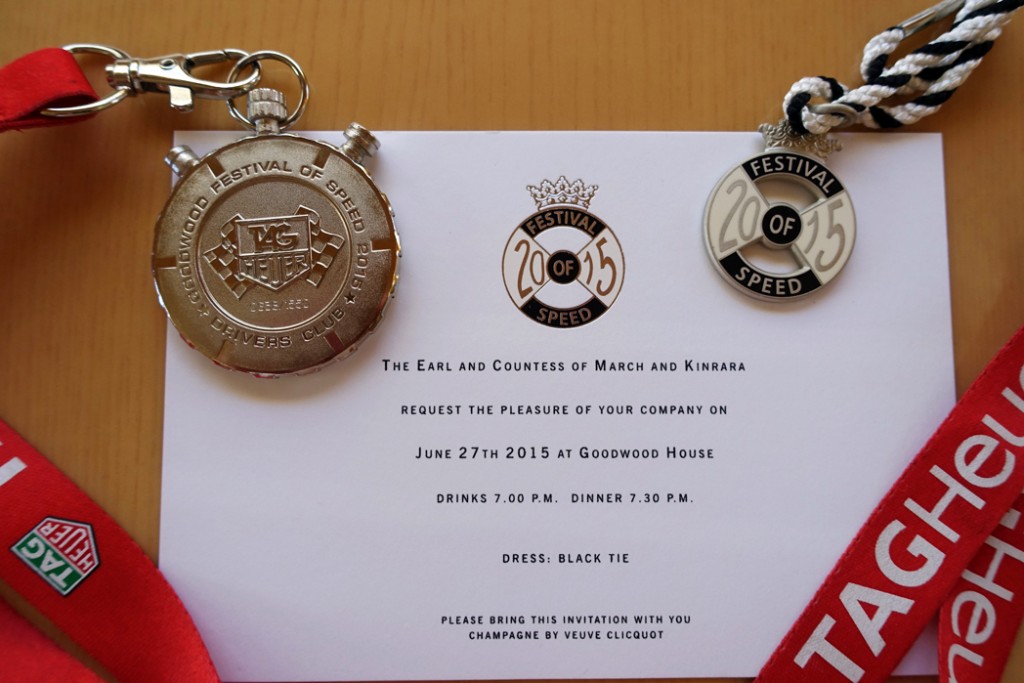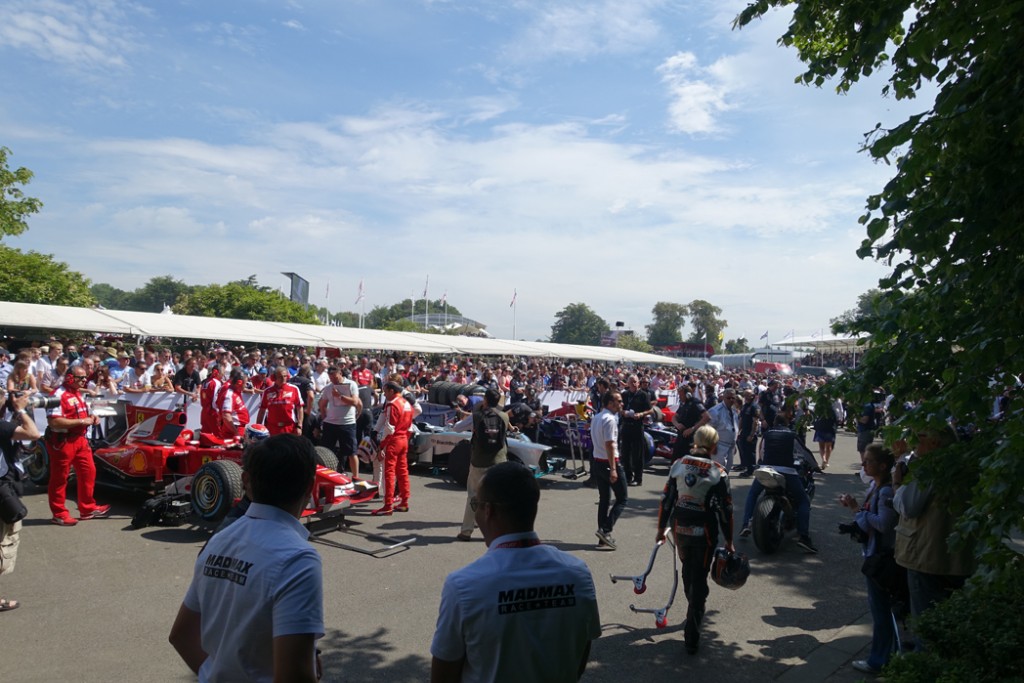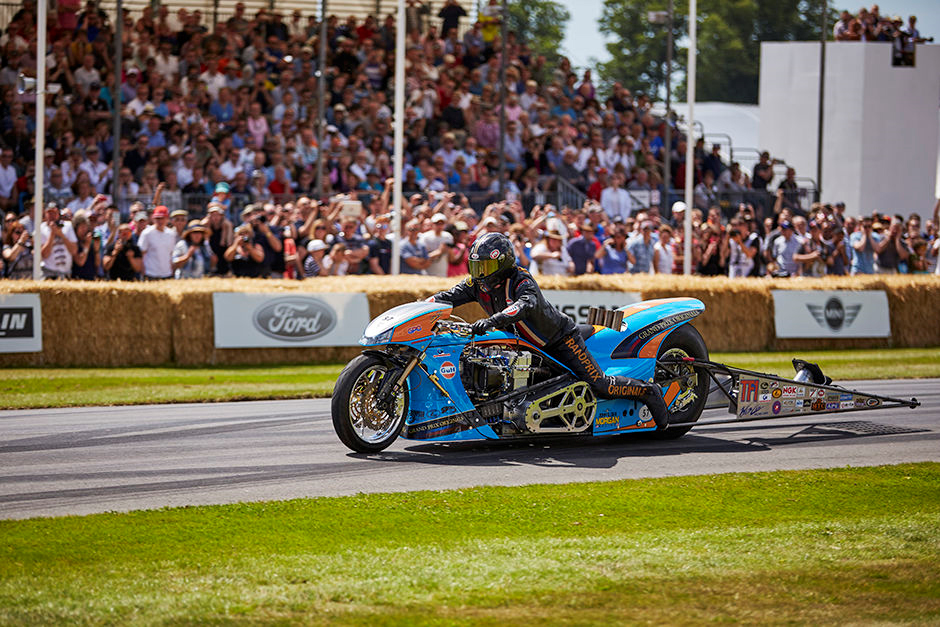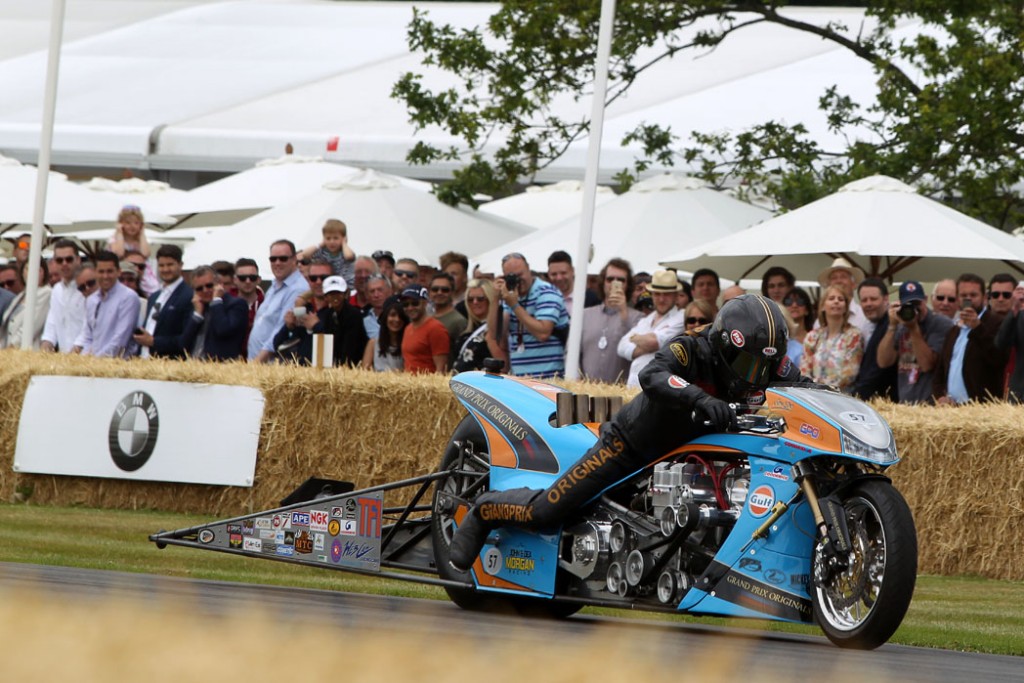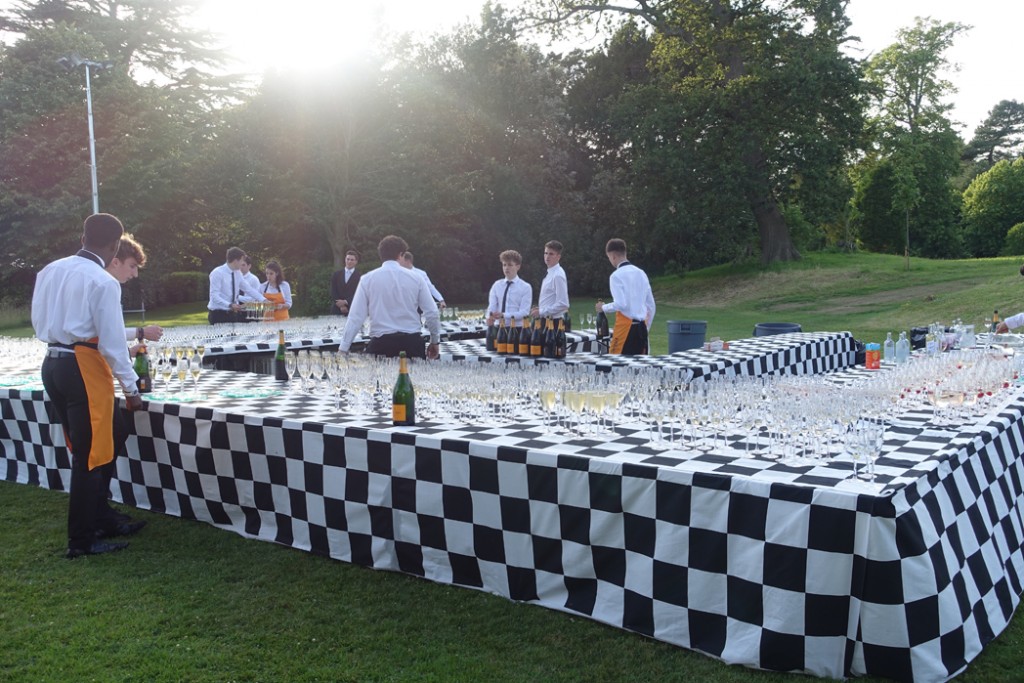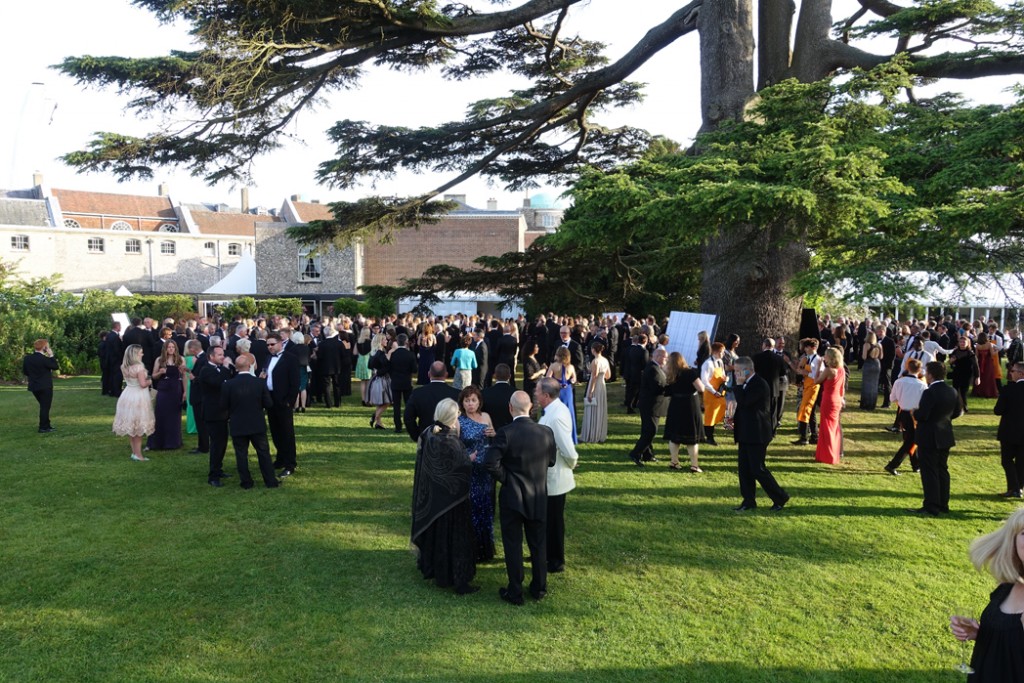 Pictures courtesy Jakob Ebrey, Dominic James and Ian King.
The Gulf Oil Dragracing team next travel to the biggest dragrace event in Europe, the NitrOlympX in Hockenheim,
Germany on the 7th – 9th August – http://www.nitrolympx.de/
The Gulf Oil – GPO Dragracing team uses and endorses exclusively Gulf Oil greases and lubricants in their history making
machine. The team is extremely proud to be supported by many leaders in their chosen markets in their quest for a 9th European Championship:-
APE – The world's most innovative manufacturer of aftermarket parts for race bikes
ACTION CAMERAS – Europe's leading source for action sports cameras
BLACKCAT MOTORSPORTS – The leading V Rod Harley race team
COMETIC GASKETS – The Premier Manufacturer of racing gaskets
GATES – The world's most trusted name in drive belts, hoses and hydraulics
GOODRIDGE – The most innovative and the best in fluid transfer systems
GRAND PRIX ORIGINALS – The brand for drive and lifestyle, past and present
GULF OIL INTERNATIONAL – The world's most iconic brand in automotive fuels and lubricants
GRAPHITE ADDITIVE MANUFACTURING – A leader in 3D printed technologies and rapid prototyping
HOTROD HANGAR – Home of the world renowned custom artist Knud Tiroch
HYPERPRO – The leading producer of progressive suspension products for motor bikes
JE PISTONS – The world's premier manufacturer of high performance forged pistons
JOHN AND DEA MORGAN RACING – The creators of the world's most advanced New Age Funnybike
KIBBLEWHITE PRECISION MACHINING – The highest quality valve train components available
KING RACING – The most successful Top Fuel Bike team in European Dragracing
MICKEY THOMPSON – Simply the best drag race tyres in the world
MRE – Leaders in trackside support for drag race components and air shifting systems
MTC ENGINEERING – Manufacturer of clutches for the fastest motorcycles in the world
NITROSHUTTER – Europe's leading dragracing photojournalists
NCTENGINEERING – Manufacturer of the world's leading non-contact motorsport torque sensors
NGK SPARKPLUGS UK – The world's number one spark plug manufacturer
PAR WILLEN – Master webmeister and proprietor of HarleyDrags.com
PORTABLE SHADE – The best custom branded collapsible canopies available
PRO ALLOY MOTORSPORT – The UK's leading fabricator of alloy tanks, intercoolers and radiators
PUMA ENGINEERING – Manufacturer of the world's most powerful motorcycle engines
RSG CUSTOMIZE – The UK's most creative website designers and vinyl artists
SUPERTOUGH – Custom cases and covers for the Film, TV, Music and Motorsports Industries
SPIES HECKER – the world's leading supplier of paint for car, commercial and industrial finishing.
TRYKA LED – the UK's cutting edge LED lighting manufacturer.
VAN ES MOBILITY – The leading manufacturer of telematic products for management of moving objects
VANSON LEATHERS – The most iconic brand in motorsport leather goods
WEB CAMSHAFTS INC – Simply THE company for Top Fuel Bike camshafts
WORLDWIDE BEARINGS – The world's leading supplier of ceramic bearings for racing
ZODIAC – Europe's largest supplier of performance and aftermarket HD parts