Larry "Spiderman" McBride and Dave Vantine's exciting Top Fuel Motorcycle match race battle at the WPGC Bike Fest from Maryland International Raceway, July 24-26, was a lot like a demolition derby. There was smoke, fire, sparks, lots of noise, a winner was crowned, the crowd was thoroughly entertained and at the end there was a whole heap of broken parts.
"The event was awesome. We put on a great show and the fans were just amazing," McBride said. "Sometimes you have a weekend like this where you break some pieces. We can't put our finger on exactly why we tore stuff up."
"The track is so sticky and the tune-ups are so good, the bikes are mechanically failing," said Vantine, who edged out his mentor for a 3-1 event win, hurting three motors in the process.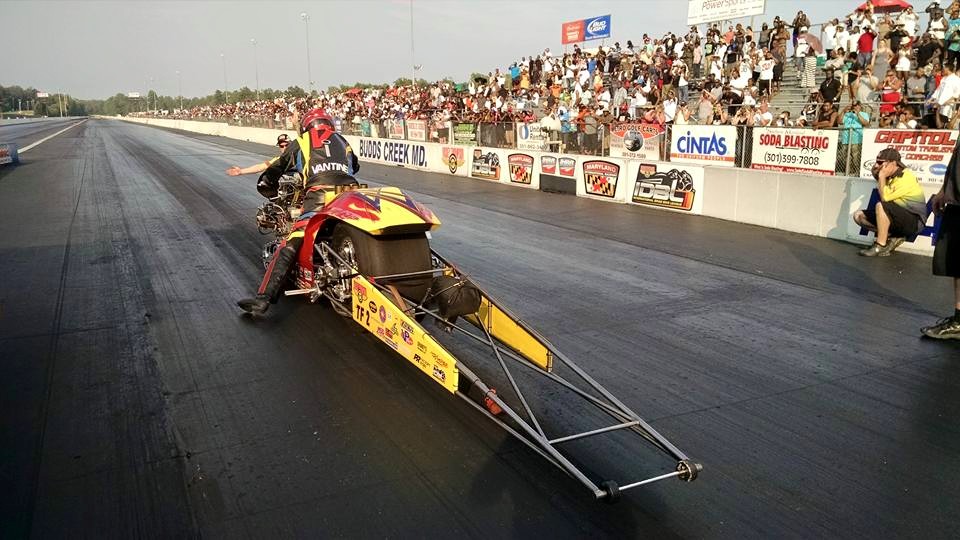 While Vantine was dealing with engine woes there was an epic thrash in the McBride pits.
Last season the Spiderman displayed his incredible commitment to putting on a show when he made the six-hour round trip back to his shop in Newport News, Va. to fix or replace some of his necessary one-off parts.
This year team McBride had to make two trips back to the shop to stay in competition.
"Anytime I make a commitment to the promoter and the fans to be at an event I am going to do whatever it takes to put on a show," McBride said. "We had a new part that ended up being too thick so we had to come back and machine it. Then we did the same thing we did last year and stripped the chain and all the teeth off the sprocket. We had to go back to the shop on Saturday night to steal a part off the new bike."
McBride got about three hours of sleep each night of the event.
"I was running on adrenaline," McBride said.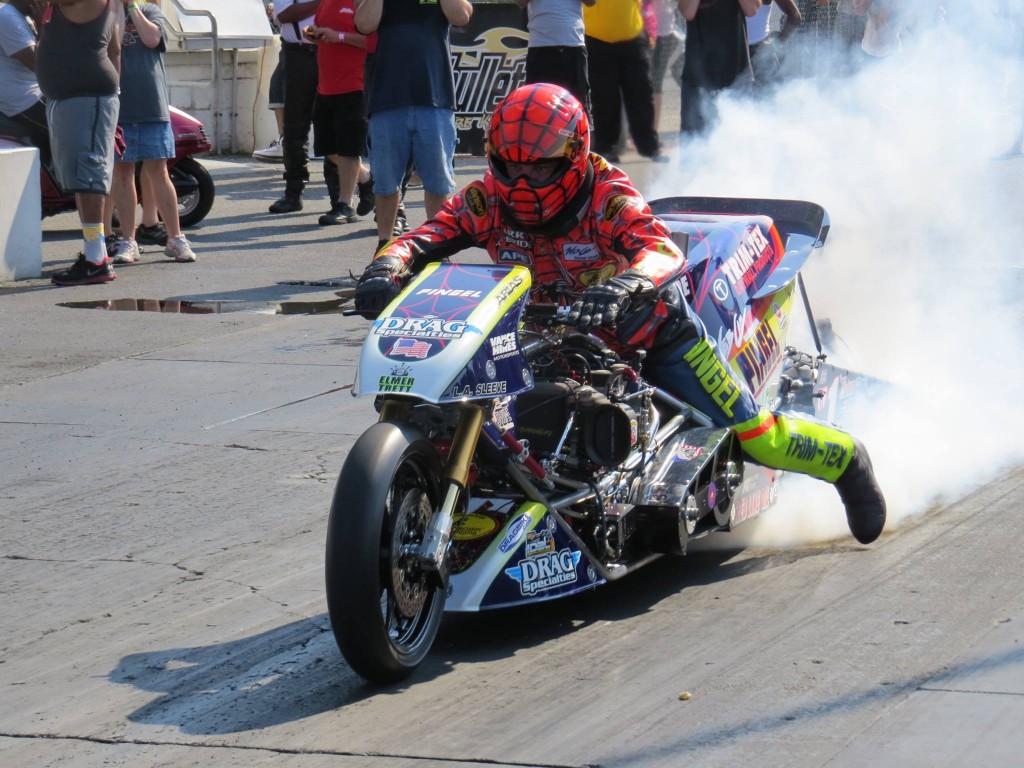 It all paid off as McBride set a new MDIR motorcycle track record with a crowd-pleasing 5.78 at 228 mph during the final run.
"It made the whole weekend worth it. It was just beautiful," McBride said.

"In true McBride fashion, all the stars aligned after all the hard work they put in," Vantine said.
Overall McBride was the quicker racer of the weekend, especially considering his 5.88 at 227 mph during testing on Friday night.  However Vantine was the more consistent racer.  Vantine's cluster of runs included a 6.44, 6.10, 6.12 and 6.07.
"It's a bittersweet win," Vantine said. "As I said before the race, in my mind I still have not beaten Larry. He beat himself and I was fortunate enough to be right there and capitalize on it."
"He got me three times at the finish line but I got him four times on the lights," laughed McBride.
Vantine's 6.07 at 223 mph was a bright spot for the talented third-year racer.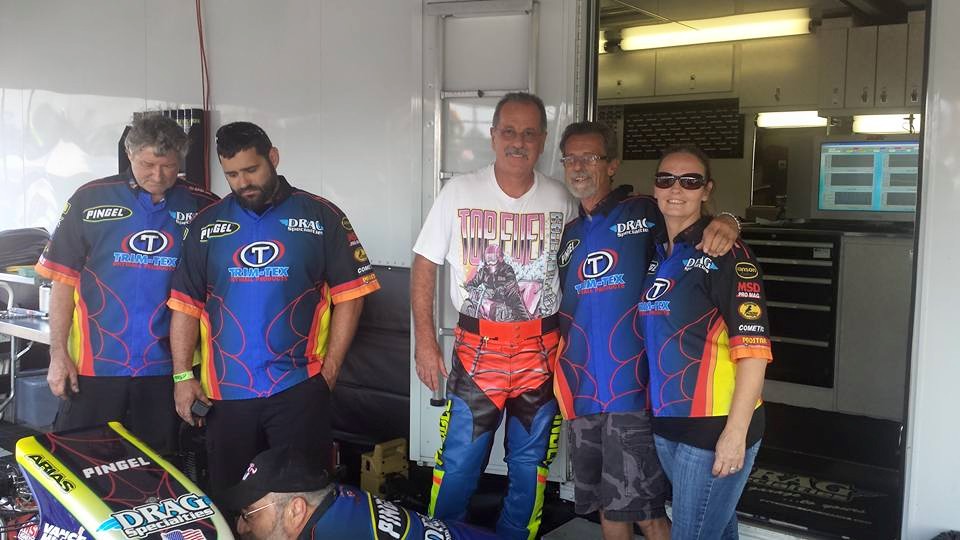 "It was a nice straight pass," Vantine said. "I made some corrections on the center line and we got it back in the grove. We took some teeth off the sprocket before the run and it really helped."
Vantine says the weather presented the greatest challenge for his team.
"We had hot air again so we ran into some tuning difficulties," Vantine said.  "Our speed was about ten mph off from last year."
Next up for McBride will be the DME ManCup Nationals from Rockingham, NC, Aug. 22-23, a race Vantine expects to miss due to his damaged engines.
McBride and Vantine will continue their IDBL Match race series at the Orient Express U.S. Nationals from Atco Dragway, N.J. Sept. 11-13.
"I love Atco. It's the closest race to my house," said Vantine,  the Hamilton, N.Y. resident.  "All of my friends make the trip. It's always a good time."
Vantine thanked all of his supporters and his entire team.
Vantine also took a moment to pay tribute to legendary Funny Bike racer and chassis builder Gary Clark, who passed away recently.
The front-half of Vantine's bike was built by the great James "Puppet" DiTullio, who also built McBride's chassis before passing away in 2010. Vantine's back-half was finished by Clark.
"It's a unique chassis and a great tribute to two talented guys," Vantine said.
McBride thanked his primary sponsors; Pingel Enterprise, Trim-Tex Drywall Products, Drag Specialties-Parts Unlimited, Red Line Synthetic Oil Corporation and Final Swipe Merchant Services.
Web-Cam, Vance & Hines Motorsports, PR Factory Store, Ferrea Valves, Kibblewhite, Precision Machine, World Wide Bearings, Vanson Leathers, Millennium Technologies, Belt Drives Ltd, Simpson Race Products, Nitrous Express, APE, EK Chain, Arias Pistons, Cometic Gaskets, B&J Transmission, Carolina Cycle, L.A. Sleeve, PJ1, Mickey Thompson Tires, Valco, Goodridge, Carlisle Belts and Gates Belts.