Victory Motorcycles rider Matt Smith has done a lot in his stellar career in the Pro Stock Motorcycle class. He is a two-time champion, having won 17 races in a career that started in 2003; however, he hasn't won at Atlanta Dragway, site of this weekend's Summit Racing Equipment NHRA Southern Nationals, but he's ready to change his fortune in Atlanta.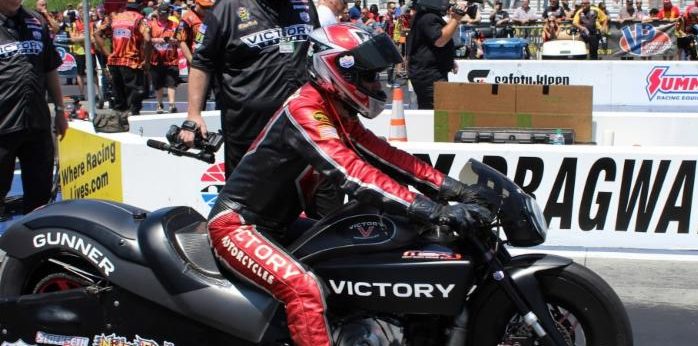 "We've never had real good luck there," Smith said. "Every now and then we'll pop out and run decent. We've been to the final in Atlanta one time, but we can definitely change our luck there."
Smith raced to the final round in 2007, the first of his championship-winning season, but despite 41 career final-round appearances, that's his only Atlanta final.
Smith, though, is coming off a solid race in Charlotte, where he qualified No. 2 and raced to the final of the NHRA Four-Wide Nationals. Clutch issues hampered his efforts there, but he's primed for another good race, this time in Atlanta.
"The Charlotte race was a good bounce-back for us from not qualifying in Gainesville, Fla.," Smith said. "We qualified No. 2 in Charlotte, ran good, and went to the final. We had a clutch malfunction in the final, but we've got everything fixed. We've been on the dyno, and I think we've got something for these boys in Atlanta. We're going to see if it pans out."
In addition to riding his Victory Motorcycles Gunner, Smith is also the team owner and engine builder. Since Charlotte, he has been hammering away trying to find more horsepower.
"We've been working and grinding," Smith said. "We've been going through some motors, and we've tried some stuff on the dyno. We made some new stuff and got some more power, so we'll see if it parlays into success in Atlanta."
Pro Stock Motorcycle qualifying sessions are scheduled for 4 and 6:30 p.m., Friday, and 1:30 and 4 p.m., Saturday. Eliminations start at noon, Sunday. FOX Sports 1 will air Friday qualifying from 7:30 to 8:30 p.m., Saturday qualifying from 10 to 11 p.m., and Sunday's elimination action from 4:40 to 7:30 p.m.