If Victory Motorcycles rider Angie Smith has a turnaround anything like her husband, she's in for a terrific race at the Summit Racing Equipment NHRA Southern Nationals this weekend at Atlanta Dragway.
Husband Matt failed to qualify at the season opener in Gainesville, Fla., because of electrical issues, but he surged back to a No. 2 qualifying spot and a final-round appearance in Charlotte. Smith failed to qualify in Charlotte and is looking to make a similar rebound this weekend.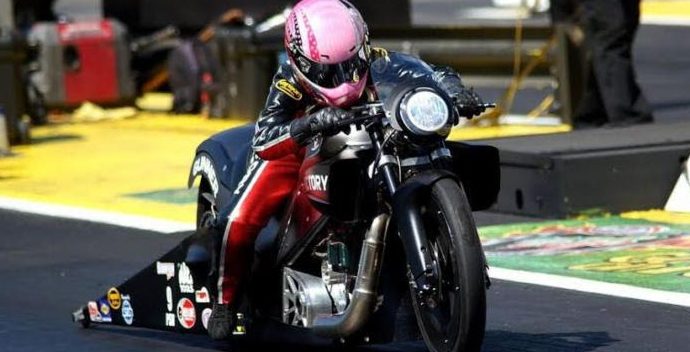 "I think we will bounce back," Smith said. "When you have the agony of defeat when you don't qualify, that's all you think about until the next race. You've just got to go there and do well and make a good run, especially on Friday.
"I think if we would have gotten four qualifying passes, we would have been in the race in Charlotte, but we didn't."
Rain washed away one qualifying session in Charlotte, and Smith was unable to get into the large Pro Stock Motorcycle field in the final session. She hopes to get off to a fast start this weekend in the first two qualifying sessions on Friday.
"My goal going into Atlanta is to be in on Friday," Smith said, "so we don't have anything to worry about on Saturday."
The veteran racer is hoping to shake off the Charlotte race and any pressure she may feel heading to Atlanta.
"You always feel pressure because you want to do the absolute best you can for Victory and all our other sponsors," Smith said. "You always feel pressure, no matter what. It's all about giving everything you can at the racetrack to make your sponsor happy, to make your team happy, and to make the fans happy."
Pro Stock Motorcycle qualifying sessions are scheduled for 4 and 6:30 p.m., Friday, and 1:30 and 4 p.m., Saturday. Eliminations start at noon, Sunday. FOX Sports 1 will air Friday qualifying from 7:30 to 8:30 p.m., Saturday qualifying from 10 to 11 p.m., and Sunday's elimination action from 4:40 to 7:30 p.m.