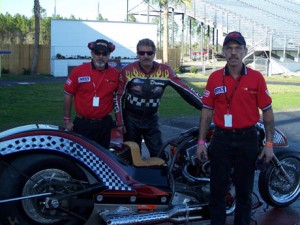 Mitch Marlowe owner of Marlowe Racing is putting up his entire race program for sale at the end of the 2007 Screamin' Eagle Nitro Harley AHDRA season.
Marlowe's teams have been recognized as serious contenders which Marlowe says makes the decision to sell the equipment even more difficult.
"Right now we're second in points and Drums Brancaccio really wants the championship," Marlowe said. "You can't deny the power and enthusiasm, the raw excitement of big nitro motors, but there comes a time when enough's enough."
Together Marlowe and Brancaccio have appeared in two finals in 2007 and won the Gypsy Rendezvous Nationals in St. Louis.
"I've had a great time, worked with some amazing racers, but my family and I have other plans that don't involve the '08 Nitro Harley drag racing season. I've put a good price on the entire race program. For $265,000 you can be rolling down the road in a 2002 Kenworth condo, pulling a 53" stacker self contained trailer, unload a 2007 186 cid proven 6.35 ET PRP powered weekend chassis monster and still have a 2007 191 cid spare motor and lots of spare parts in the trailer."
"I'll continue to morally support all the great Nitro Harley competitors, but I'll be doing it from my laptop computer."