Lucas Oil Racing TV rider Hector Arana Jr. continued to serve notice that he's a threat in the Pro Stock Motorcycle class, and his dad, Lucas Oil racer Hector Arana Sr., isn't far behind.
In the Lucas Oil NHRA Nationals on Sunday at Brainerd International Raceway, Arana Jr. raced to his second consecutive semifinal finish, and Arana Sr. continued to make progress as the Countdown to the Championship looms.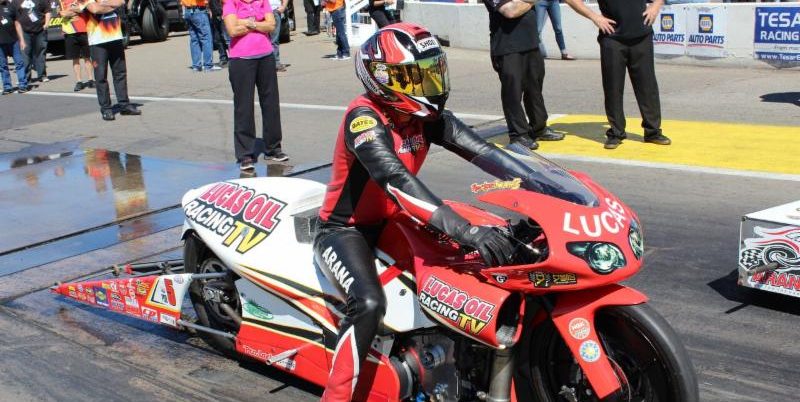 "Right time of the year," Arana Jr. said. "We've got the bike running consistent, and we're working on the tune-up. We're just a little bit down on power, but we're working on that. We've got the bike working well, we're going rounds, and we gained some more points again. We're still not safe yet because anything can happen."
Arana Jr. moved into the top 10 in Sonoma, Calif., and he expanded his lead over 11th place with another semifinal appearance in Brainerd. He qualified No. 3, beat Jim Underdahl in the first round, and beat Matt Smith in the second round before a red-light in the semi's against Andrew Hines ended his day.
"Now, I've got to slow myself down," Arana Jr. said. "I was good the first two runs, but I don't know if it was the adrenaline and the excitement speeding me up. I've got to grip that clutch handle a little bit tighter so I can let it out a little slower, and we'll be good to go."
Unofficially, Arana Jr. moved within 16 points of eighth-place Smith while pulling 55 points ahead of 10th-place Steve Johnson and 60 ahead of 11th-place Michael Ray. The top 10 race for the Pro Stock Motorcycle championship with the Countdown begining after the next race.
"In previous years, at this time of the year, we were going backwards, but now we're going forward," Arana Jr. said. "I'm very excited and looking forward to the rest of the season."
Arana Sr., sixth in the points standings, is looking forward to the U.S. Nationals and beyond, too, despite a first-round defeat in Brainerd. His pass of 6.885 seconds at 195.05 mph wasn't terrible, but Smith outran him with a 6.833 at 196.07 mph. Plus, Arana Sr.'s reaction time (.070-second) left him shaking his head.
"I improved a little bit, but for some reason I had a terrible light," Arana Sr. said. "It's one of those days."
But Arana Sr. was able to do some testing in qualifying and improve his Buell.
"The weekend was good," Arana Sr. said. "We did try different things because we're getting close to the Countdown, and I've got to keep searching. My development doesn't stop. I felt good in my qualifying position, so this was the time for me to try some things.
"The Countdown is where we need to stay consistent and keep doing the same thing over and over so we can have a good chance to win the championship. There's more left in the bike, and I've got to keep picking at it and keep going quicker."