Cheered on by an enthusiastic group of Polaris employees up for the Twin Cities, Victory Motorcycles factory riders Matt and Angie Smith did their best to show off in front of their title sponsors during Sunday's eliminations of the 35th annual Lucas Oil NHRA Nationals.
Just as it was in qualifying, Matt did a bit better than his popular wife, racing past Hector Arana Sr. to the quarterfinals before losing to Hector Arana Jr. Angie took her shot at red-hot pro Angelle Sampey and pulled off a big starting-line advantage, only to be caught and passed downtrack in the day's opening session.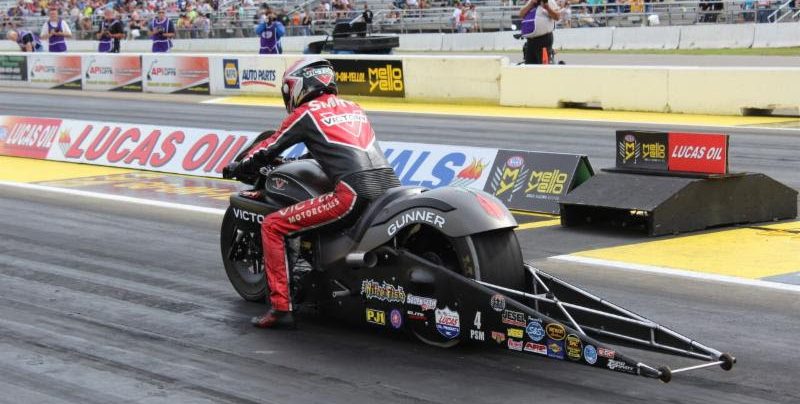 "There is something binding up in these motors whenever they got hot and it's just robbing us of horsepower," Matt said. "All three days here the Victory Gunner ran perfect in the first round of the day, and then it would bind up and slow down in the second pass of the day. Unfortunately, that trend continued today in eliminations.
"Angie and I really wanted to show off for our Polaris friends and we gave them some thrills to remember, but we ended up with just one big moment on the day. But that's OK; we'll be testing again in Indy in a few days and now we know where to look to make these bikes even faster."
Matt was certainly on his game as a rider, pulling off a massive .051-second reaction-time advantage over first-round foe Arana Sr. and just pulling away from the Buell for an easy 6.833-second, 196.07-mph victory ahead of Arana Sr.'s 6.885 at 195.05 mph.
He did it again in Round 2, gaining .021 on Arana Jr. at the launch, but the Gunner slowed a touch downtrack and Arana Jr. was able to get by and win with a 6.871 at 194.83 mph to Matt's 6.920 at 192.74 mph.
"You get two-hundredths on a guy in this class and that's normally more than enough to get the win at the other end, but not being able to cool these engines down sufficiently between rounds, that jumped up and bit us today," Matt said. "We'll look at the crankshaft and see what we can do to avoid this issue in the future."
Facing the top qualifier of the meet, Angie knew she needed a good start also and she got it when she left in .023-second, well ahead of Sampey's .069-second launch. But the most prolific female racer in NHRA history had enough power to catch and pass Angie to win with a 6.804 at 197.10 mph to Angie's 6.950 at 191.16 mph.
"I knew I had a good start because I didn't see or hear her bike for a little while," Angie said. "I finally started seeing her front wheel and then she just inched by and passed me. I was tucked in as tight as I could be, but we didn't have enough in that run to turn on the win light. We'll be there soon though."
The 62nd annual Chevrolet Performance U.S. Nationals run
Sept. 2-5
at Lucas Oil Raceway in Indianapolis.