PSE/Star Racing riders Angelle Sampey and Cory Reed both raced to the second round of eliminations this afternoon at the 35th annual Lucas Oil NHRA Nationals.
In the first round, Cory Reed had his choice of lane after qualifying in the No. 7 spot against Michael Ray. This first round matchup between the two young guns was very crucial because Michael Ray started today in the No. 11 in the points and both of them are battling to make it into the top ten before the conclusion of Indy to have a shot at the Countdown to the Championship. Reed lit the world on fire when he went .007 on the tree and powered his PSE/Star Racing Buell to his career best elapsed time of 6.835 and mph of 194.16; his career best pass in the first round was enough to take out Michael Ray's 6.897, 193.85.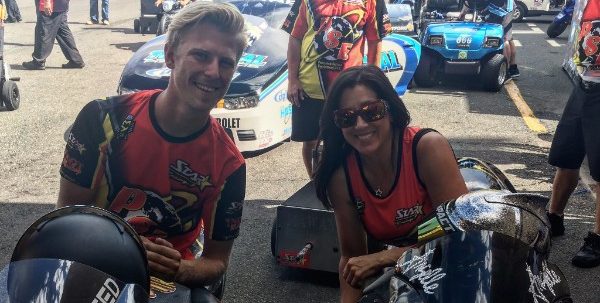 "First round was a big win," Reed said. "All I cared about was gaining points on him and everyone else really. That was my whole goal of this weekend."
Teammate Angelle Sampey followed suit a few pairs later when she ran low of the event with a 6.804, 197.10 and took out Angie Smith's 6.950, 191.16.
In the second round, Reed motorcycle failed to shift down track and he had to abort the run. Reed clocked in with an 8.178, 113.22 and wasn't enough to hold off Andrew Hines' 6.893, 193.60. Right behind him, Sampey clocked in with a stout 6.829, 196.16 but lost on a minor holeshot to fellow Louisiana-based racer Jerry Savoie who ran a 6.831, 196.82.
"'I'm not disappointed in myself or in my team," Sampey said. "I did everything I could and I thought the bike was going to beat him; I really thought I beat him [Jerry Savoie] in that round. I was struggling shifting and holding out the first gear during qualifying and I got that worked out and then I started struggling with getting a good light. Jerry pulled a .004 light on me and he did an exceptional job."
The next event on the NHRA Mello Yello Drag Racing Series is the U.S. Nationals at Lucas Oil Raceway at Indianapolis. The event will be held on August 31st to September 5th. Sampey has already clinched her spot in the Countdown and it'll be on Reed's shoulders to go rounds and make it into the top ten so the PSE/Star Racing Buell team can have two chances at the Championship.
CORY REED, PSE/STAR RACING BUELL
Qualified: No. 7
ELIMINATIONS
First Round: REED (6.830-second, 194.16 mph) def. Michael Ray (6.897, 193.85)
Second Round: Andrew Hines (6.893, 193.60) def. REED (8.178, 113.22)
QUALIFYING
FRIDAY: 6.986-second, 190.62 mph (Session 1); 6.925, 192.03 (Session 2)
SATURDAY: 6.896, 192.22 (Session 3);6.884, 191.62 (Session 4)
ANGELLE SAMPEY, PSE/STAR RACING BUELL
Qualified: No. 1
ELIMINATIONS
First Round: SAMPEY (6.804-second, 197.10 mph) def. Angie Smith (6.950, 191.16)
Second Round: Jerry Savoie (6.831, 196.82) def. SAMPEY (6.829, 196.16)
QUALIFYING
FRIDAY: 6.956-second, 192.25 mph (Session 1); 6.848, 194.94 (Session 2)
SATURDAY: 6.928, 193.57 (Session 3); 6.830, 196.64 (Session 4)