Following the successful test session at the Bonneville Salt Flats with the Triumph Infor Rocket Streamliner, becoming
the world's fastest ever Triumph with a speed of 274.2 mph, Triumph
Motorcycles can confirm the motorcycle land speed record attempt will take
place mid-September.
Dragbike legend and speed shop owner Bob Carpenter has been heavily involved with the build. Carpenter, a two-time Pro Stock Champion, is very excited at the Trimuph's potential.
"The the session was very positive and we had a lot of things not work in our favor. There is a lot left in this," Carpenter said. "I'm very impressed so far."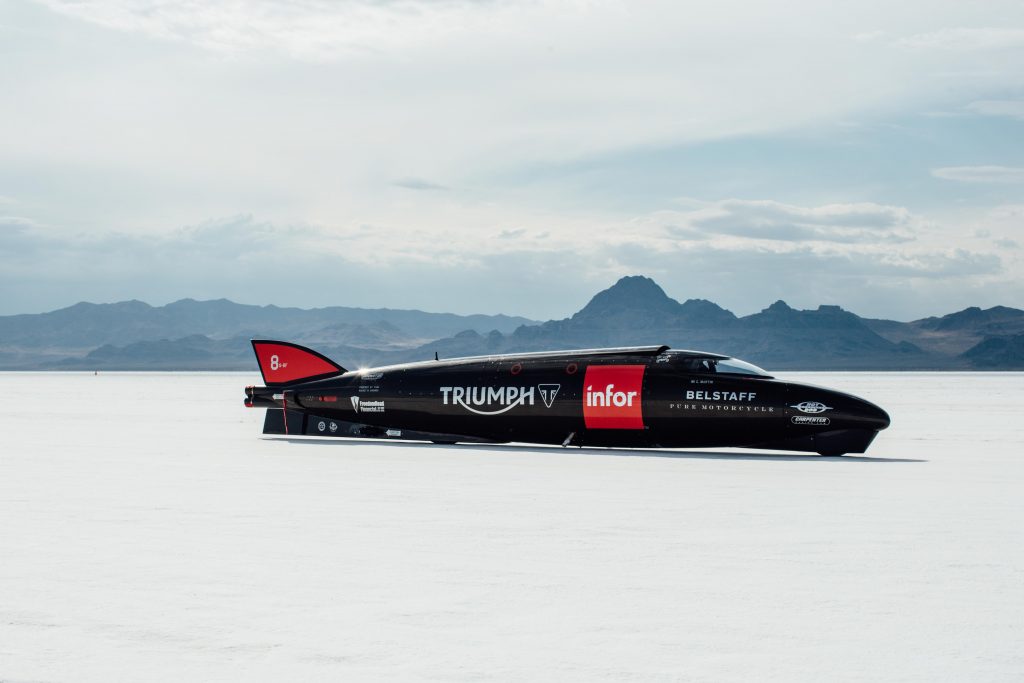 Piloted by TT star Guy Martin, the Triumph Infor Rocket Streamliner will
return to the famous Bonneville Salt Flats and attempt to beat the current
376.8 mph record speed on an 11 mile-long course. Despite having a good
course surface for testing, the team felt that the salt wasn't yet fully
capable of supporting a top-speed streamliner run. In consultation with
FIM course manager Mike Cook, the team are targeting the September dates
as the best possible opportunity for the optimal course conditions
required for the record attempt.
The practice week, which ended with the 274.2mph run on Tuesday 9th
August, demonstrated that both the Triumph Infor Rocket Streamliner and
rider Guy Martin are ready for the task ahead. Martin's first week in the
streamliner saw him master the controls of the 1,000 bhp streamliner very
quickly – achieving all of the goals set by Crew Chief and Triumph Infor
Rocket Streamliner designer Matt Markstaller and his team.
When asked about returning in September Markstaller commented: "We
achieved a great deal during our test week at Bonneville and feel we are
in a great position to move ahead with our record attempt. Guy settled
into the streamliner very quickly and impressed us with the speed in which
he mastered both the motorcycle and riding on the salt.
"While conditions were some of the best I have seen over the last few
years, we feel there is still some room for improvement. When chasing a
record such as this on two wheels the conditions have to be the very best
they can be, to give us the greatest chance of achieving the speeds we
require to set a new record. We feel that waiting a few further weeks will
provide us with even better conditions and put us in the ideal position to
make our record attempt."
The Triumph 2016 record attempt is supported by title partner global cloud
applications provider Infor, with further support from iconic clothing
brand Belstaff.
The Triumph Infor Rocket features a carbon Kevlar monocoque construction
with two turbocharged Triumph Rocket III engines producing a combined
1,000 bhp at 9,000 rpm. The motorcycle is 25.5 feet long, 2 feet wide and
3 feet tall. Powered by methanol fuel, the bike is competing in the
Division C (streamlined motorcycle) category.
Triumph has a history of breaking the land speed record, holding the title
of 'World's Fastest Motorcycle' between 1955 to 1970*. The record-breaking
Triumph Streamliners included: Devil's Arrow, Texas Cee-gar, Dudek
Streamliner and Gyronaut X1, the former achieving a top speed of 245.667
mph (395.28 km/h). Today's record, held by Rocky Robinson since 2010
riding the Top Oil-Ack Attack streamliner, sits at 376.363 mph (605.697
km/h).
The iconic Bonneville name was conceived following Johnny Allen's
land-speed record runs at the Salt Flats in September 1956, when he
reached the record-breaking speed of 193.72 mph. The first T120 Bonneville
model was unveiled at the Earls Court Bike Show and went on sale in 1959.
To follow the progress of the world land speed record attempt, please
visit www.triumphmotorcycles.com<http://www.triumphmotorcycles.com>.
About Triumph
Triumph Motorcycles is the British premium, lifestyle motorcycle brand,
which produces a wide range of distinctive, cool, and authentic Modern
Classic, Adventure, Sport, Cruiser and Touring motorcycles. Also the
oldest continually produced motorcycle brand, the first Triumph was
manufactured in 1902. The company's global headquarters are located in
Hinckley, Leicestershire, England, solely owned by Bloor Holdings Ltd.
Triumph Motorcycles America Ltd., its North American subsidiary, is based
in Atlanta, Ga., and is home to the motorcycle industry's first 24/7
Customer Support team. To see the full range of Triumph motorcycles, visit
www.TriumphMotorcycles.com<http://www.triumphmotorcycles.com/>.
Facebook: https://www.facebook.com/TriumphNorthAmerica
Twitter: https://twitter.com/triumphamerica
Instagram: https://instagram.com/triumphamerica
YouTube: https://www.youtube.com/user/TriumphNorthAmerica
About Infor
Infor builds beautiful business applications with last mile functionality
and scientific insights for select industries delivered as a cloud
service. With 15,000 employees and customers in more than 200 countries
and territories, Infor automates critical processes for industries
including healthcare, manufacturing, fashion, wholesale distribution,
hospitality, retail, and public sector. Infor software helps eliminate the
need for costly customization through embedded deep industry domain
expertise. Headquartered in New York City, Infor is also home to one of
the largest creative agencies in Manhattan, Hook & Loop, focused on
delivering a user experience that is fun and engaging. Infor deploys its
cloud applications primarily on the Amazon Web Services cloud and open
source platforms. To learn more about Infor, please visit
www.infor.com<http://www.infor.com/>.
About Belstaff
Belstaff is a global British luxury lifestyle brand steeped in its
heritage and spirit of adventure. In Belstaff, the fearless explorer and
the fashion enthusiast alike will discover an approachable luxury for a
modern lifestyle all influenced by Belstaff's rich history and archives.
Belstaff is headquartered in London and showrooms reside there and in New
York, Milan and Munich. Belstaff is currently sold through its flagship on
New Bond Street, and twelve stores in Europe, the United States and Asia,
through select wholesale distribution worldwide and on
www.belstaff.com<http://www.belstaff.com/>.