A contemporary dragbike fan could read about a recent record on a Kawasaki H2 and immediately picture Team Green's brand new, innovative, supercharged sport bike. But long before Kawasaki unveiled its 2015, blown, four-stroke H2, another beastly Kawasaki H2 was dominating the early 70s. It was a snappy, 750 c.c., three-cylinder, two-stroke known for a fierce power band and explosive acceleration. The ultra-mighty machine was dubbed the "Widowmaker."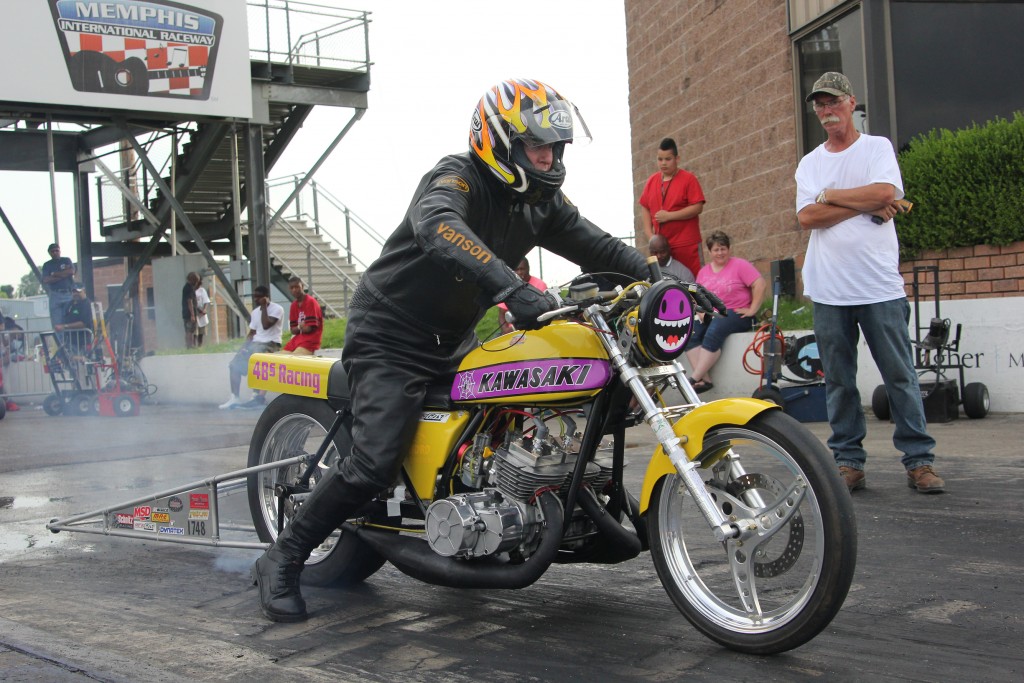 The H2's power and vigor made it a popular choice at the drag strip. The bike was campaigned in Pro Stock and other classes by famous legends like Dave Schutlz and Paul Gast.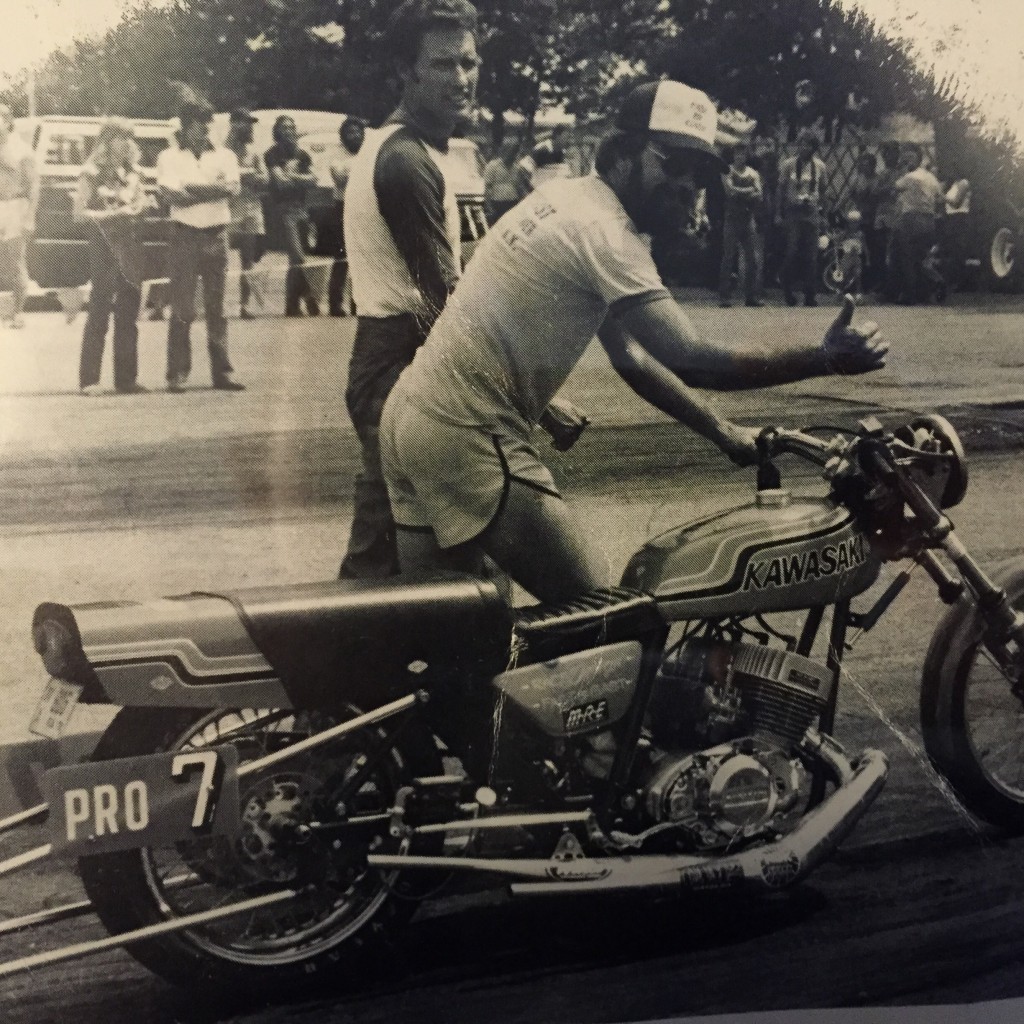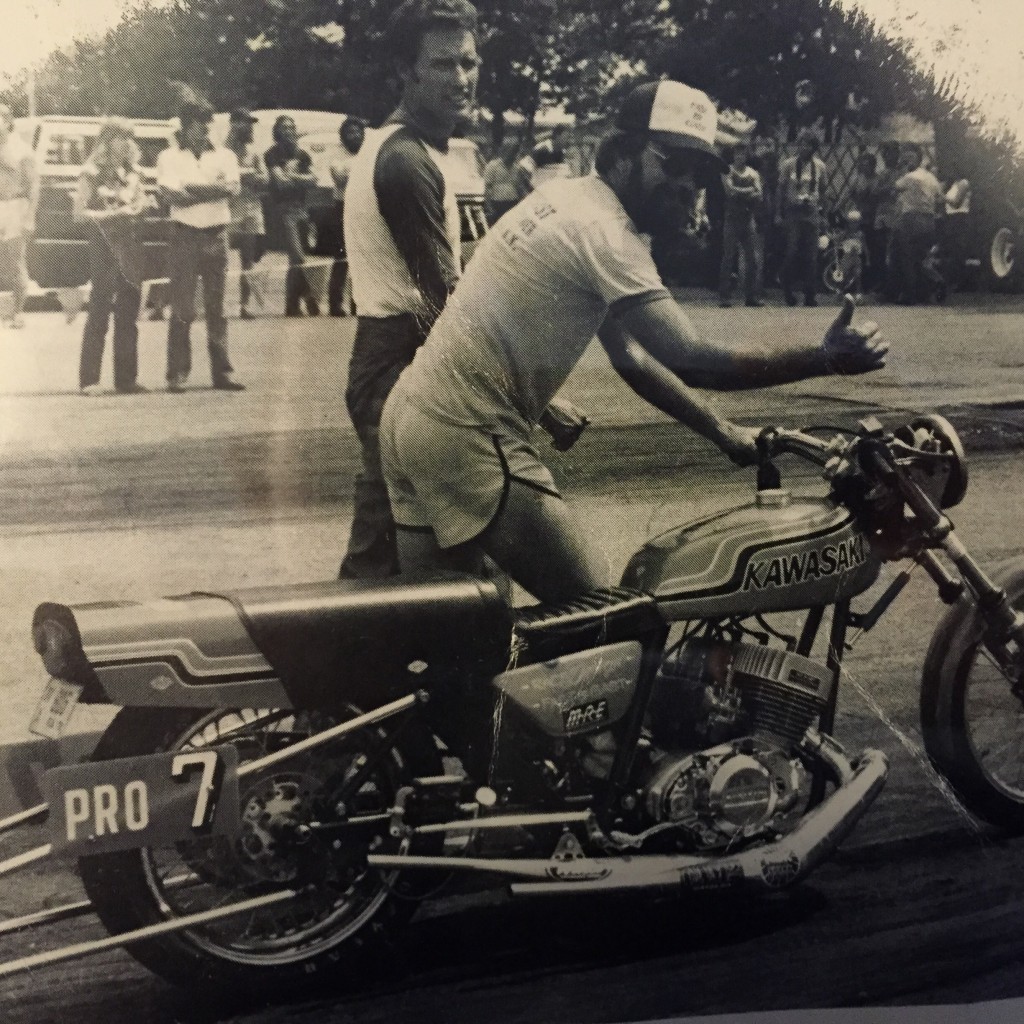 Super Eliminator racer Garrett Wood, Seattle, Wash., has a strong passion for the two-stroke twins and triples in the class. Wood, 60, grew up in Maitland, Fla. and began bracket racing at the age of 17 at Central Florida Dragway.
"We just called it Bithlo. We rode our street bikes out and entered them." said Wood.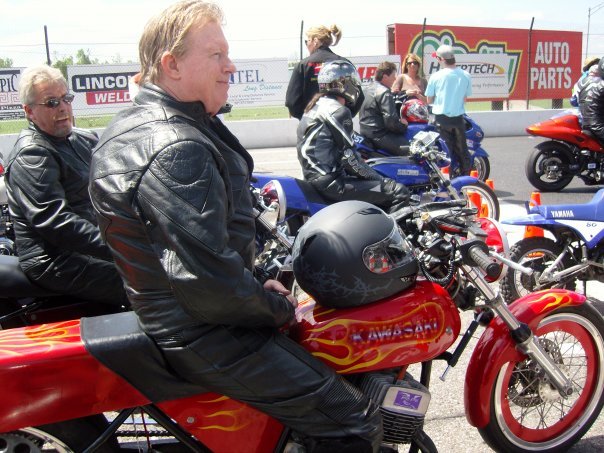 Wood became totally enamored with all different two-strokes, road racing Yamaha RD and RZ twins.
"Around 1999 I bought my first real dragbike while living in Fort Myers," Wood commented.
He had bought a FBG back-halfed triple. H2 racer and tuning ace, Bill Baxter, and a local Ft. Myers shop owner, Marion "GrandPa" Stewart, of Grandpa's Cycle took Wood under their wings.
"These guys helped me in so many ways. I had never raced anything that quick. They got me tuned-up and racing. I owe them both a lot for their generosity and schooling."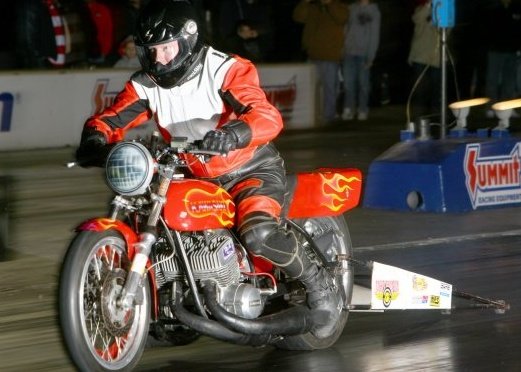 Seven weeks after wrapping up his professional career, Wood gave himself a retirement gift he will never forget by setting a Super Eliminator national record at the HTP Performance Nationals from Memphis International Raceway, June 20-21.
"Baxter, Butch Million, and Kevin Hutchinson have worked hard to bring the Super Eliminator class to national level racing events in the Manufacturers Cup series. I see this class growing like crazy," Wood said. "It promotes innovation and racing out the back door. To run for national class records is pretty awesome."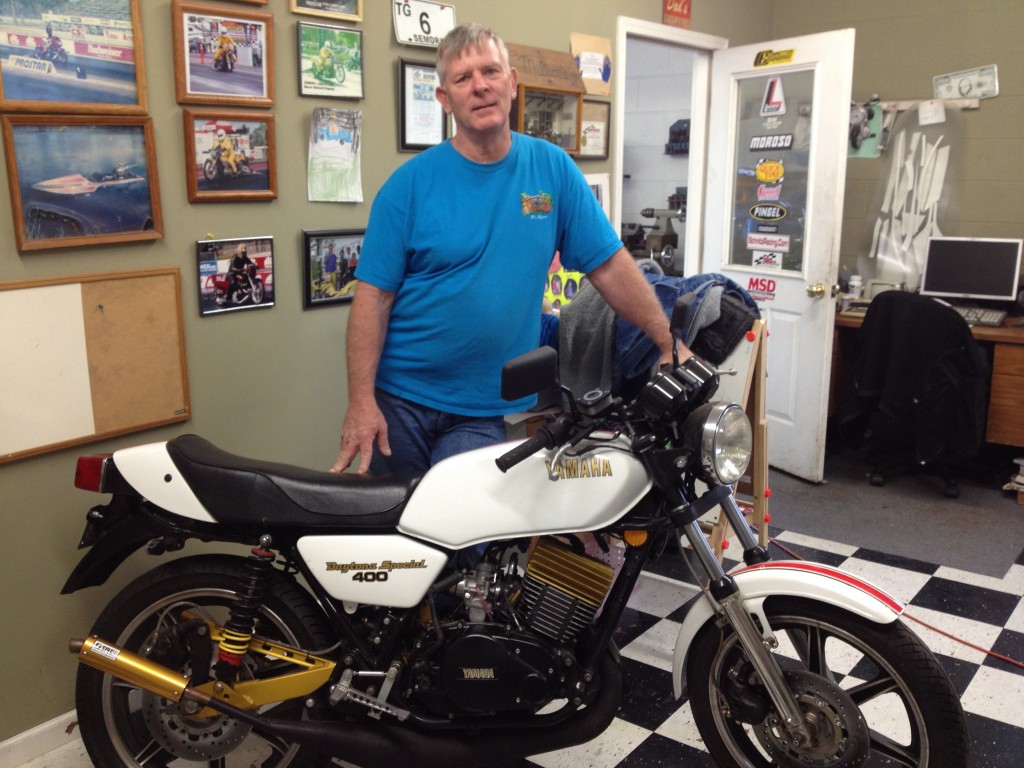 Super Eliminator is a category open to all motorcycles. Competitors are put into a sub-class that matches their motorcycle's configuration, determined by specifics like chassis type, engine displacement, fuel adders, and rider weight. The national record for each sub-class is used as an index. It is very similar to NHRA's Competition Eliminator. In recent years Super Eliminator has highlighted and showcased heavily-modified vintage two-strokes.
"It's a ton of fun," Wood said.
Wood, while in the area visiting family in Danville, Ky., agreed to compete in the Memphis race on a 1974 H2 owned, built, and tuned by Millon, of Knoxville, Tenn. The bike was setup to be legal for several modified classes within Super Eliminator.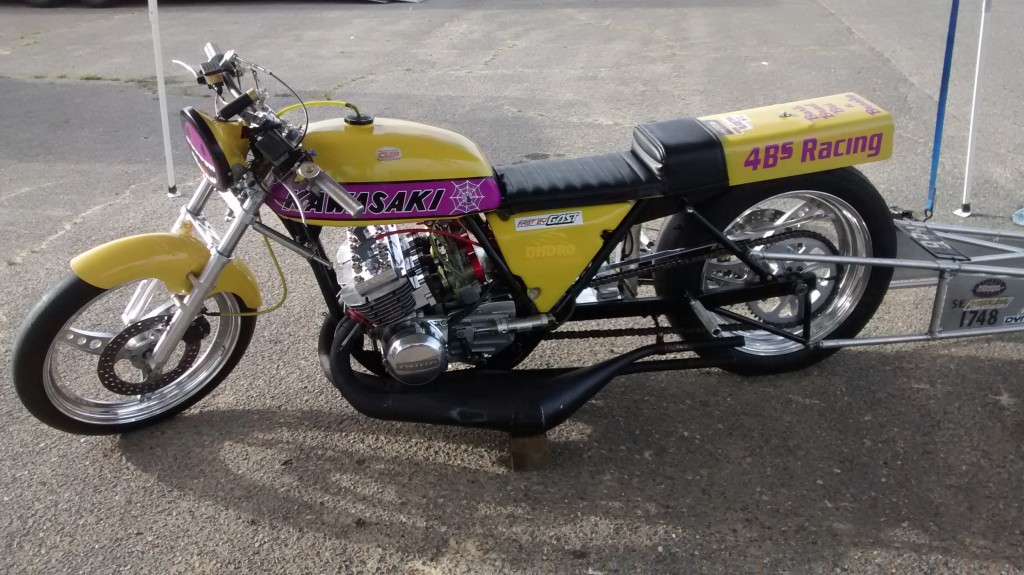 "I was a little hesitant to ride another friend's bike. How embarrassing it would be if I crashed it in the waterbox." Wood said. "To my surprise I ran my personal best right off the trailer with a 9.06 pass. Butch built a super package. It has a really strong motor and ran well the entire weekend."
Wood ran in the DD/M-HH class. A "HH" designation is added for riders who weigh in at more than 200 pounds.
Wood's best run came in the second round of qualifying with a 8.99 pass, and was then backed up with a 9.02, annihilating the previous DD/M-HH record of 9.59. A very humble racer, Wood refused to give himself the credit.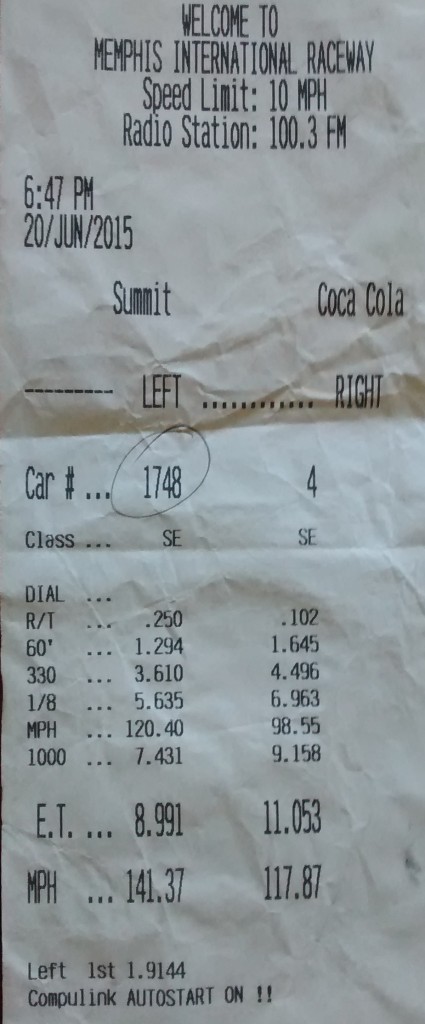 "It's a tribute to Butch and Bill. The bike was built to be a strong contender in the class." Wood said. "It ran really well and we didn't have to wrench on it at all the whole weekend. We didn't even have to pull the plugs."
The 8.99 also earned Wood the No. 1 qualifier position. That designation is awarded to the rider who runs the quickest against their individual class national record.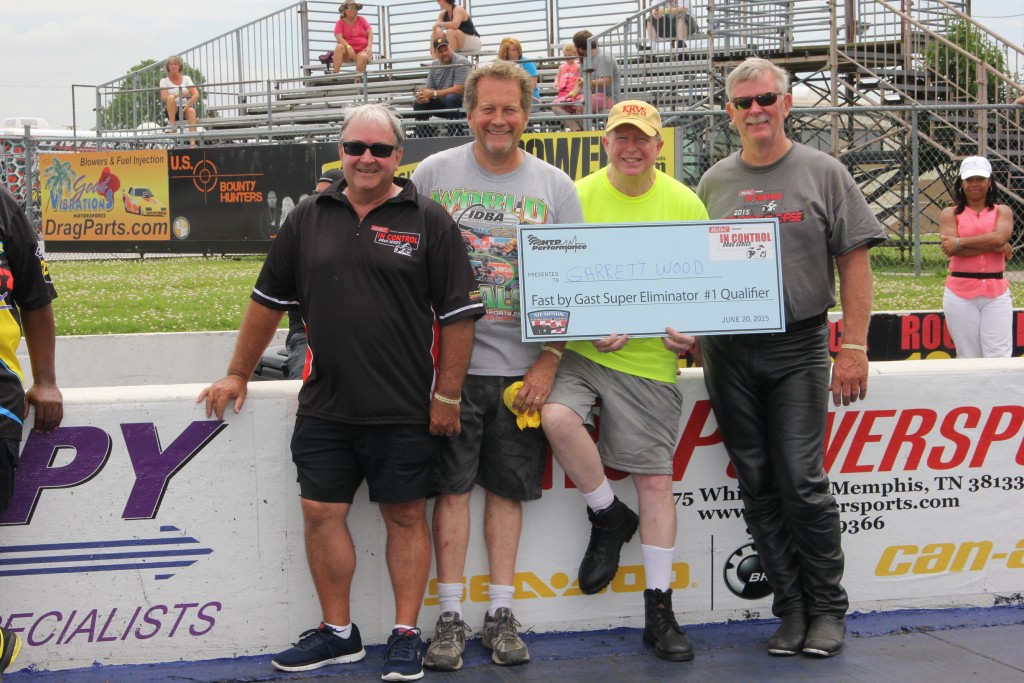 Even sweeter for the longtime drag racer, it was Wood's first national event pole position.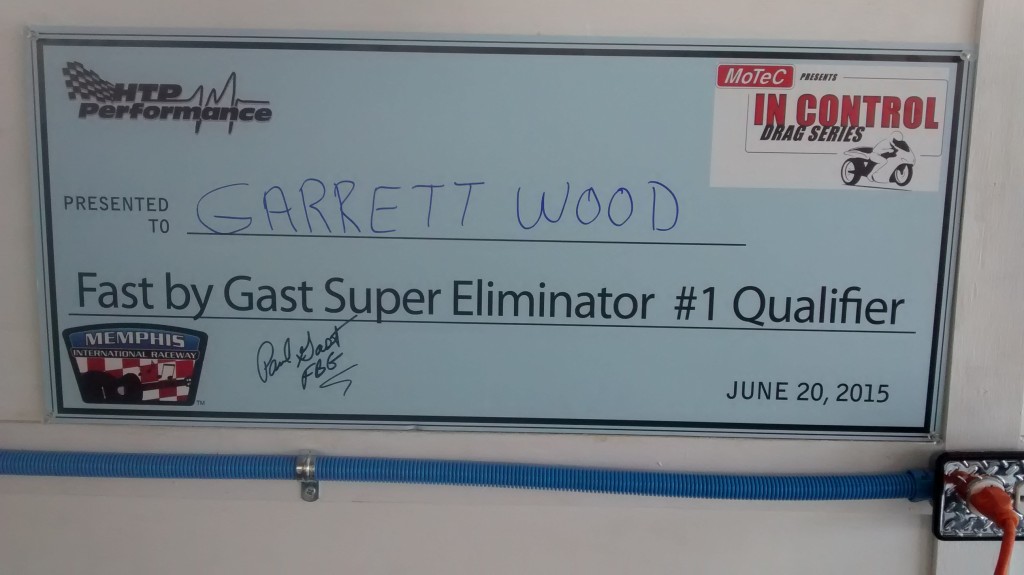 Wood is introduced during a pre-race ceremony with announcer Bill Hahn.
On Sunday's eliminations, Wood had a first round bye and ran 9.05 at 137 mph combined with a respectable .021 light.
"We used a heads-up pro tree (.400) in qualifying on Saturday and a staggered pro tree for eliminations on Sunday," Wood said. "I really like that now compared to the full (.500) tree."
In round No. 2 Wood was upset with a razor-close margin of victory at .009.
"I could have used the bye run light on that pass," laughed Wood. "I left a little too much on the table."
Wood dedicated his No. 1 qualifier and modified class record to John Jacob, a legendary two-stroke rider and tuner who passed away on March 5, 2013.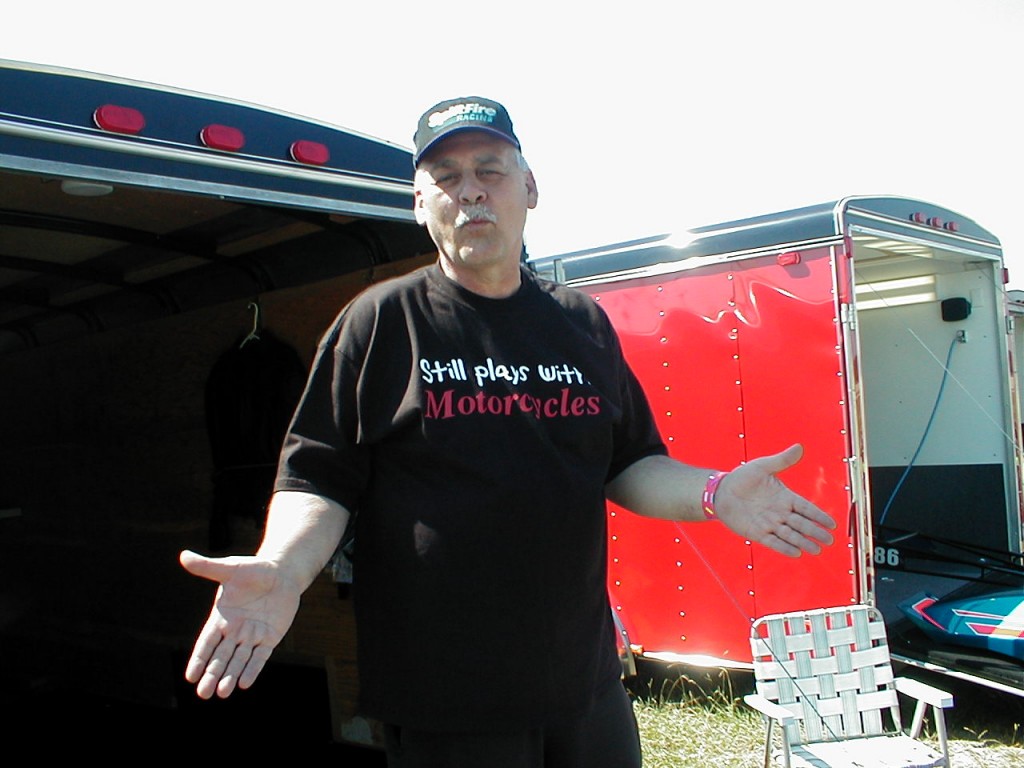 "He was a pioneer with the work he did on H2 dragbikes. Baxter once commented that John's carb and clutch tuning methods were developed in large part over his kitchen table. He was a real thinker and loved to explore the fine details of tuning. John set records with a H2 running in the IDBA Super Eliminator Modified classes and would have been just thrilled to see one go into the eights," Wood said. "He was a wonderful man and we miss him."
As ecstatic as he was with his own achievement, Wood was even more pleased to see his friends Alex Hughes and bike owner, Baxter record the quickest naturally aspirated H2 run ever at 8.21, beating the same motorcycle's world mark of 8.24.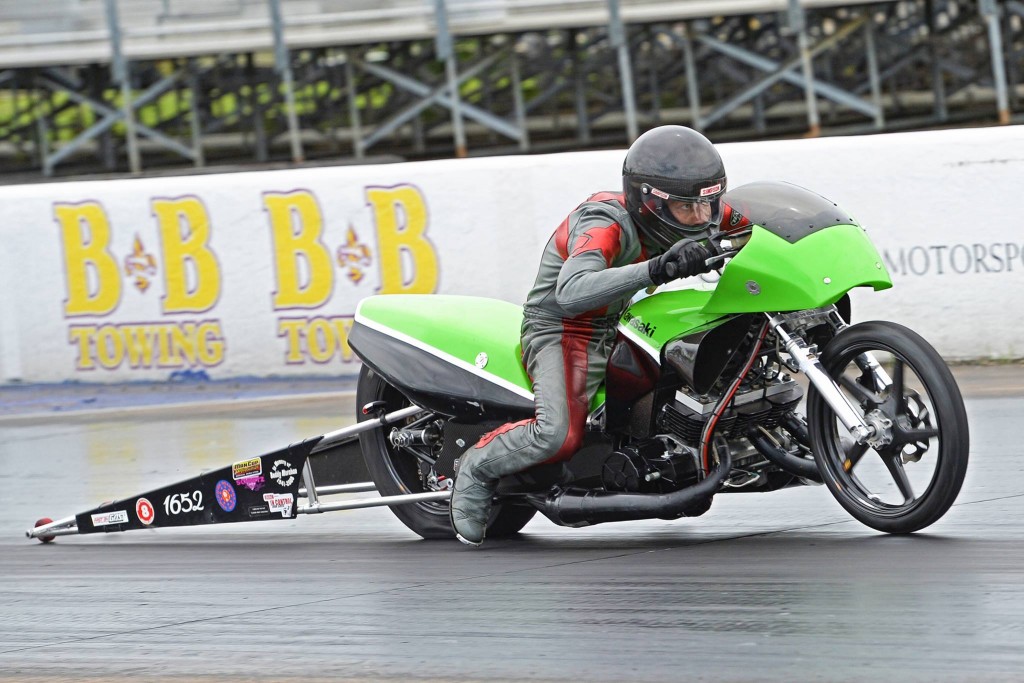 "It's an outstanding accomplishment," Wood said. "Bill has been contributing to this class and developing H2 performance for so many years. He's earned it and deserves the success. Alex is a very talented rider"
Even more impressive is the fact that Hughes was off the throttle at 1,110 feet.
Here is a flashback to 2007 when Baxter and Joe Bird used the same bike to break Dave Schultz's over 20-year record.
Even the great Gast, who was standing at the starting line, was floored and was heard saying it was the most impressive H2 pass he has ever seen.
"It sure was," class sponsor Gast said when Cycledrag.com reached out for confirmation of his bold statement. "My other favorite H2 passes of all-time are Schultz's 8.51 in the early 80s, Schultz running 10s on a 400 in the 70s, Floyd Huntz's quick passes on a FBG twin, Scott Kahley's FBG twin nitrous going 7.26 at 186 mph in the 90s and many other FBG customers. I really like and support the class, especially the H2s."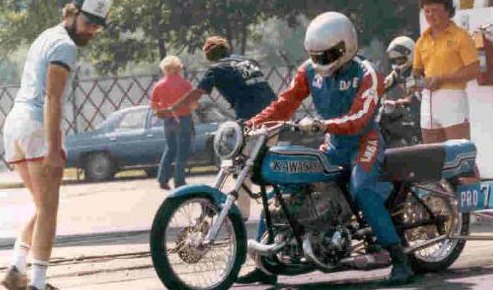 Alex's father, Randy Hughes set a record of his own, recording the quickest H2 street bike pass at 9.77 on a motorcycle designed and built by the late Chris Ritchie of the U.K.
"There were nine records and indexes lowered at Memphis. There were many performance achievements from the guys", said Wood, who recently retired as a district sales manager at GatesAir.
The excitement continues to grow for the Super Eliminator class, now competing at select Manufacturers Cup races. The class has opened up to include two and four stroke machines, running in a format that more closely emulates the tradition established by the original IDBA category.

Joe Mejia, Rick Steinard, Eric Barnett, Spencer Greer, Roy Johnson, Ronnie Johnson and Larry Zeintek also set new records on open indexes or lowered existing records.
The next race in cool November air in Valdosta, Ga. should greatly alter the record book as well.
"Come out and race in Super Eliminator" Wood said. "No matter what you ride, there's a class for you. There is a lot of history in Super Eliminator."
Not to mention, it's a lot of fun.



Special thanks to Bland Bridenstine and Hot Rod Chrissy for photo contributions.