Pro Stock Motorcycle racer Chip Ellis will start Sunday's 9th annual Summit Racing Equipment NHRA Nationals from the second qualifying position aboard Junior Pippin's black and pink PiranaZ Buell.
After Ellis led the first round on Friday at Summit Racing Equipment Motorsports Park in Norwalk, Ohio, Hector Arana Jr. slipped past in round two and maintained the slimmest of leads through the end of qualifying on Saturday. Round after round, the two S&S powered Buells were the class of the field and will work eliminations from opposite sides of the ladder.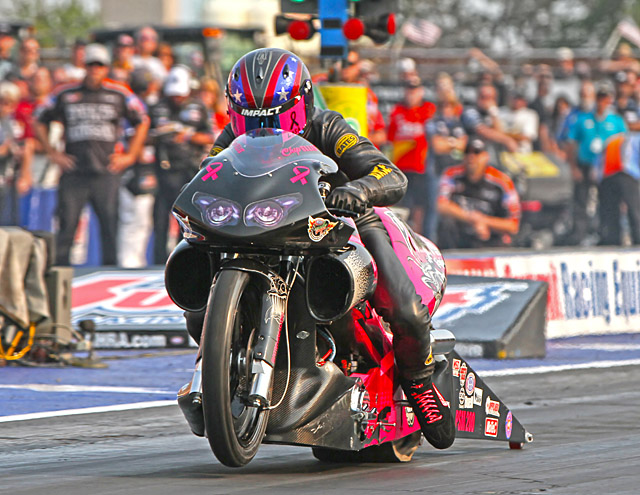 Ellis' best 60 foot time came in that opening round, but the team got no clutch data from the pass and were flying blind into the next round. Although he did back up on the 60 foot and lost number one to Arana Jr, in Q2, Ellis' ET improved. "We did get quicker, so I guess that's a good thing," tuner David Bost said at the end of the night.
Saturday was slightly hotter and more humid, all but negating any chance at knocking off Arana. Still, Ellis' ET improved every round, running all four passes on one motor. That's huge, since reliability issues ended Ellis' day last time out after qualifying number one at Old Bridge Township Raceway Park in Englishtown, New Jersey.
In both Saturday passes, Ellis had his former co-worker Andrew Hines in the other lane, and in both passes Ellis came out on top. Hines could be seen shaking his head in the shutdown after the Q4 round.
But Ellis has to get past veteran racer Joey DeSantis in round 1 of eliminations before he has a chance at Hines or anyone else when it counts. "I really like ol' Joey," Pippin said while feasting on steaks in a gathering at his trailer on Saturday night. "Of course, I don't like him well enough that we don't want to beat him."
Pippin hopes that his bike, with Ellis riding, will beat everyone that stands between them and a Wally in the Norwalk winners circle. Pro Stock eliminations are scheduled to begin at 12:00 noon, cablecast from 1:00 to 4:00 pm on ESPN
Junior Pippin would like to thank PiranaZ http://www.piranaz.net , George and Connie Smith and S&S Cycle http://www.sscycle.com/ , Lon Moyer, Brad Moore, Junior Pippin Trucking and Paul Bost Trucking.