It's a young season for the 16-time Top Fuel Motorcycle champion Larry "Spiderman" McBride, but so far the veteran is pitching a perfect game.
The season's only blemish is a rainstorm which washed out the ManCup Blues City Bash from Memphis International Raceway, June 3-4.
"It was all around us on the radar and the rain was relentless," McBride said. "It's disappointing, but it's part of the sport."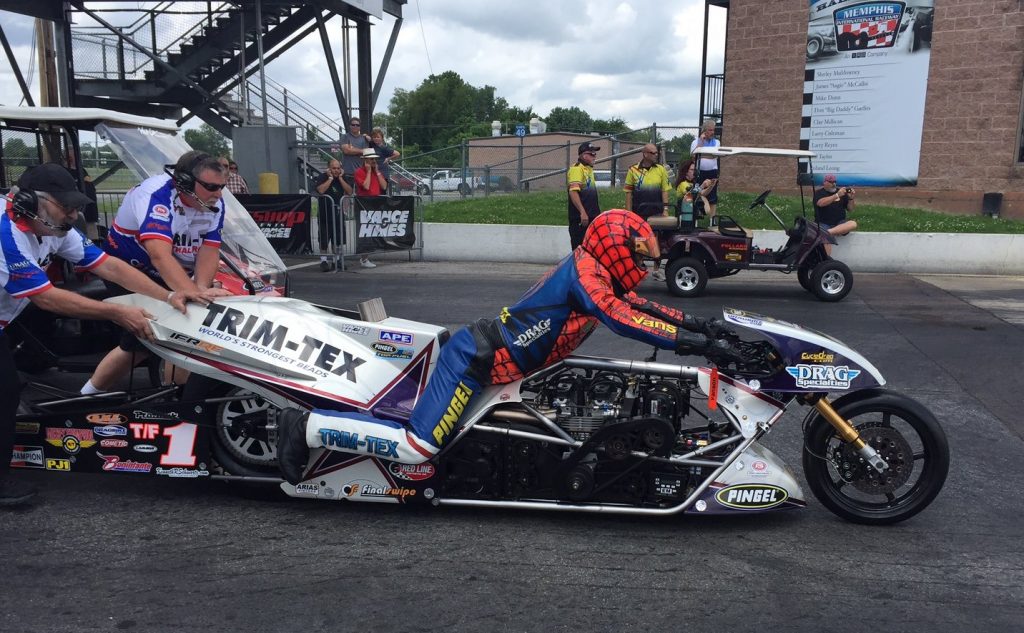 Prior to the cancellation of the race, point-leader McBride secured his second pole position of the year, this time with a 6.09 at 230 mph.
"We were happy with the run because conditions were very difficult. We had 115 grains of water in the air, about 3,400 feet of density altitude and the humidity was nearly 60-percent. The rest of the field was struggling too," said McBride, who opposed Dave Vantine, Ian King, Chris Hand, Sam Wills and Mitch Brown. "We don't have enough laps in conditions like that to have a tune-up for it."
Despite the adverse conditions McBride says his machine sounded crisp.

"We have learned so much about the bike," said McBride, only in season No. 2 of competing on "Star" "The bike is reacting the way we want it to when we make changes. That's a big step in the right direction."
McBride says another big step in the right direction is the fact his team didn't damage any components.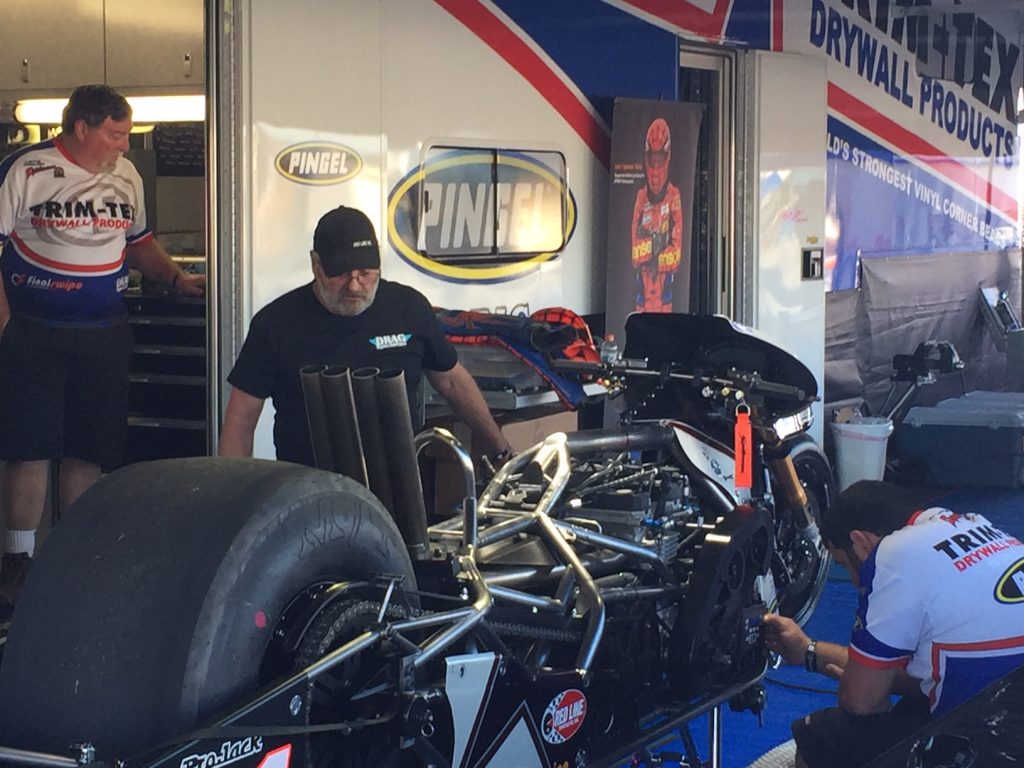 "I attribute it to a lot of hard work by my team and some help from some very smart people," McBride said. "Bill Miller (of BME Engineering) has really helped straighten out the problems we were having with our fuel system. We were overlooking some things. The day I think I'm too good to take advice will be the day I'm in trouble."
A pleasant surprise for McBride and the drag racing community was Team Spiderman's primary sponsor, Trim-Tex president Joe Koenig coming out of retirement as a competitor, entering his first race since 2002.
Koenig rented a Rickey Gadson Kawasaki ZX-14 and entered multiple categories.
"It was so cool," McBride said. "You had to be there to see the look on his face. He was making some great laps and having fun."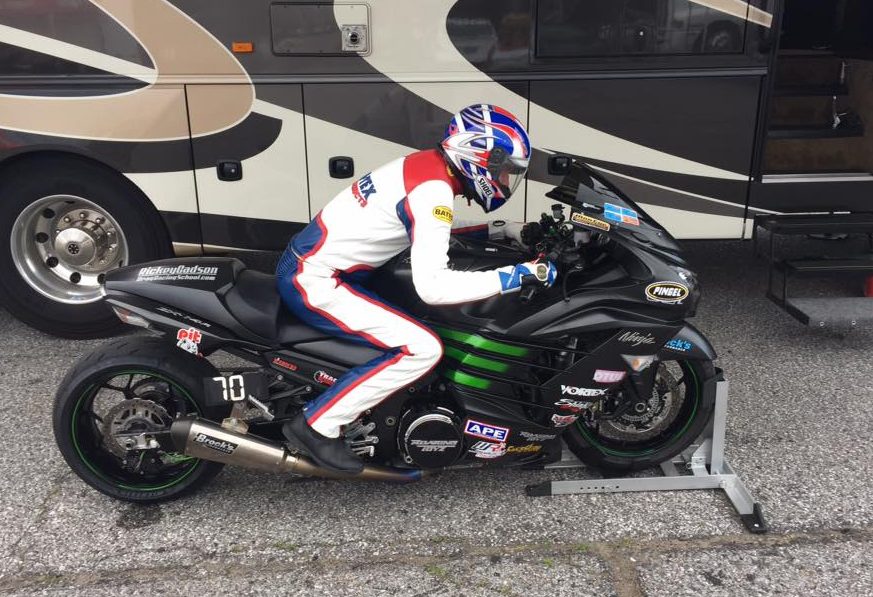 "I had a great time. After a 15-year retirement it meant a lot to get back out there," Koenig said. "Rickey gave me a great bike. I was a bit rusty but felt like I was making progress every run."
From Memphis McBride will head up to Koenig's Trim-Tex headquarters, near Chicago, Ill. for some graphic design work.
"It's always nice to stop in at Trim-Tex," McBride said. "Joe has a first class operation."
McBride now turns his attention to the next ManCup event, July 15-16 at Galot Motorsports Park in Benson, N.C., followed by the IDBL Bike Fest and Elmer Trett Top Fuel Shootout, July 28-30 at Maryland International Raceway.
"We are going to try to get out and do some testing before, most likely at Virginia Motorsports Park," McBride said.
Larry "Spiderman" McBride 2017 Tour
MANCUP Spring Cup, Maryland International Raceway, Valdosta, Ga. April 7-9 – Winner
MANCUP HTP Performance Nationals, Memphis International Raceway, Memphis, Tenn. June 3-4 – Rainout
MANCUP MTC Nationals, Galot Motorsports Park, South Dunn, N.C. July 15-16
IDBL WPGC Bike Fest, Maryland International Raceway, Budds Creek, Md. July 28-30
MANCUP Rock, Rockingham Dragway, Rockingham N.C. Sept. 23-24
IDBL DME Fall Nationals, Maryland International Raceway, Budds Creek, Md. Oct. 6-8
MANCUP World Finals, South Georgia Motorsports Park, Valdosta, Ga. Nov. 17-19
For all their continued support with this new machine, McBride thanked his primary sponsors; Trim-Tex Drywall Products, Pingel Enterprise, Drag Specialties-Parts Unlimited, Final Swipe Merchant Services, Web-Cam, APE and Kibblewhite – Precision Machine.
Vance & Hines Motorsports, Red Line Synthetic Oil Corporation, Federal Mogul, Portable Shade, PR Factory Store, Ferrea Valves, World Wide Bearings, Vanson Leathers, Five Star Powersports, Belt Drives Ltd, Simpson Race Products, Nitrous Express, APE, EK Chain, Arias Pistons, Cometic Gaskets, B&J Transmission, Carolina Cycle, L.A. Sleeve, PJ1, Mickey Thompson Tires, Valco, Goodridge, Carlisle Belts, ProJack, Bullseye Visual and Gates Belts.