The Gulf Oil Dragracing team of Top Fuel Motorcycle pilot Ian King started kicked off their 2017 season at the Manufacturers Cup season opener at South Georgia Motorsports Park, Valdosta GA. With the team operation based out of the impressive race facility close to Atlanta operated by ex-pat Brit and former motorcycle dragbike racer Andrew `H' Smith of H Craft Customs the passage to the event was relatively smooth and eagerly anticipated by the team.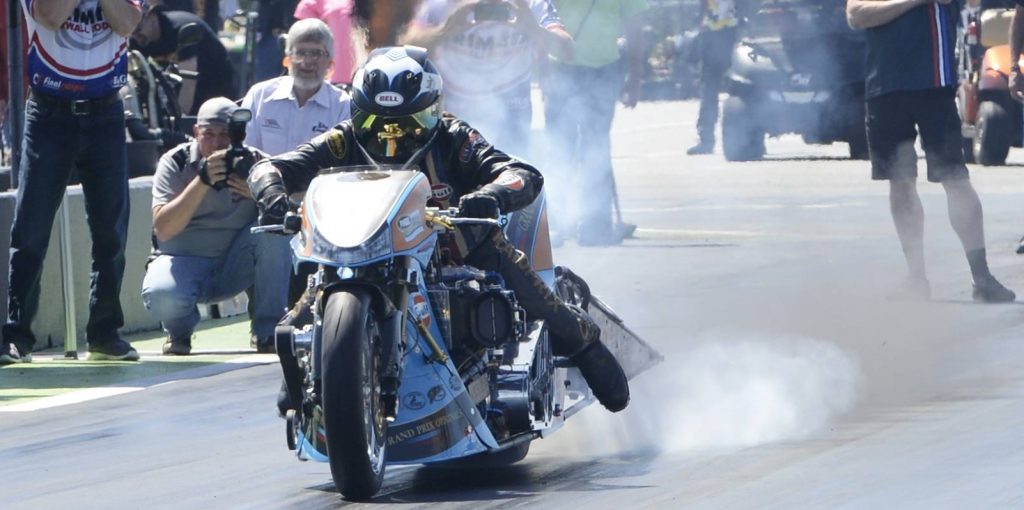 Despite the warm and sunny weather, the first days of the event were blighted by high cross winds that prohibited many of the teams (including the Gulf Oil team) from making test and qualification runs, at least under full power for the whole quarter mile.
After no testing on day one, and despite early shut offs in the qualifying runs the team led qualifying with a 6.190 @ 198.96 until the very last session that saw them finish in third place overall for race day just behind the local favourite Larry McBride (5.925 @ 233.16) and dragbike veteran Sam Wills (6.001 @ 233.60).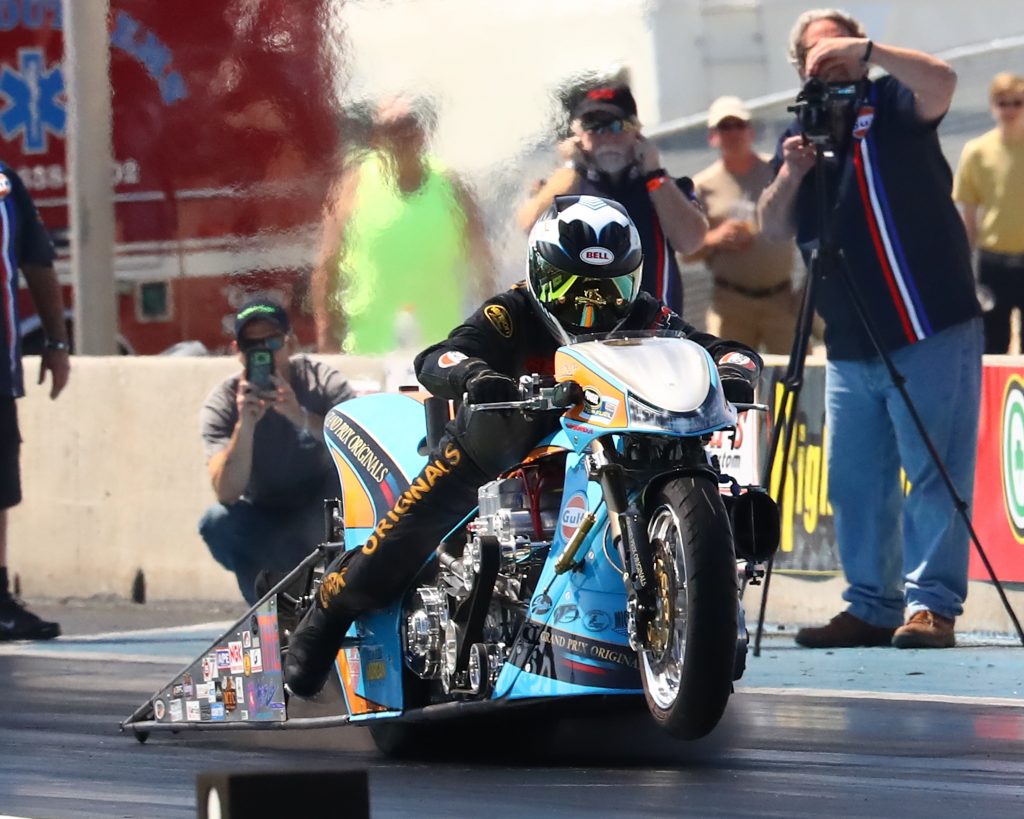 However, whilst performing evening pre-race day maintenance the team discovered some tight exhaust valve guides that had been sapping the European Championship winning machine of full power, and having resolved the issue were left in a quandary – should they take some clutch or ignition lead out to compensate for this power hike as they had a setting to get down what was a tricky track with less than its usual degree of traction, or hope the track would come around?
They opted to gamble on the track but that proved to be a mistake when King lost traction in a big way immediately from the hit of the throttle, allowing Dave Vantine in the other lane to take the win almost unopposed.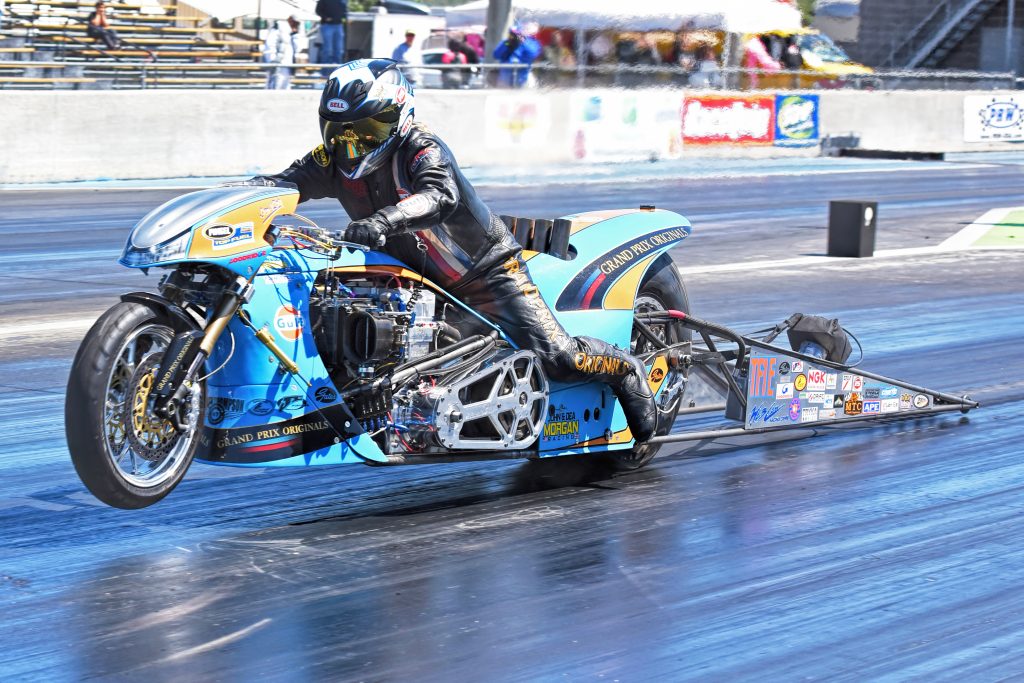 Photos courtesy of Tom McCarthy, Larry Burgey and Bland Bridenstine
The team move on to the next round in Memphis, Tennessee with hopes for better weather conditions and a track on which they can exploit their full potential.
MANUFACTURERS CUP 2017
Spring Cup – Valdosta, Georgia, April 7th-9th
Memphis Internationals – Memphis, Tennessee – June 3rd-4th
MTC Nationals – Galot Motorsports Park, North Carolina – July 15th-16th
Rock – Rockingham Dragway, North Carolina – September 23rd-24th
World Finals – Valdosta, Georgia, November 17th-19th
For more information on the team:
Website: https://www.gulfoildragracing.com
Facebook: https://www.facebook.com/ian.king.73113
YouTube: https://www.youtube.com/kingracingpuma
Email: admin@kingracing.com
Twitter: @kingracing
For more information on Gulf Oil International go to www.gulfoilltd.com
The Gulf Oil Dragracing team uses and endorses exclusively Gulf Oil greases and lubricants in their history making machine. The team is extremely proud to be supported by many leaders in their chosen markets in their participation in the 2017 USA National Championship: –
APE – The world's most innovative manufacturer of aftermarket parts for race bikes
BARNSDALE LEISURE – The UK's Premier Knaus Caravan dealer
BELL HELMETS (UK) – The most iconic name in helmets – since 1954
COMETIC GASKETS – The Premier Manufacturer of racing gaskets
GATES – The world's most trusted name in drive belts, hoses and hydraulics
GOODRIDGE – The most innovative and the best in fluid transfer systems
GRAND PRIX ORIGINALS – The brand for drive and lifestyle, past and present
GULF OIL INTERNATIONAL – The world's most iconic brand in automotive fuels and lubricants
GRAPHITE ADDITIVE MANUFACTURING – A leader in 3D printed technologies and rapid prototyping
H CRAFT CUSTOMS –- Race car preparation, roll cages, fabrication and custom projects
HOTROD HANGAR – Home of the world renowned custom artist Knud Tiroch
HYPERPRO – The leading producer of progressive suspension products for motor bikes
JE PISTONS – The world's premier manufacturer of high performance forged pistons
JOHN AND DEA MORGAN RACING – The creators of the world's most advanced New Age Funnybike
KIBBLEWHITE PRECISION MACHINING – The highest quality valve train components available
MICKEY THOMPSON – Simply the best drag race tyres in the world
MRE – Leaders in trackside support for drag race components and air shifting systems
MTC ENGINEERING – Manufacturer of clutches for the fastest motorcycles in the world
NITROSHUTTER – Europe's leading dragracing photojournalists
NCTENGINEERING – Manufacturer of the world's leading non-contact motorsport torque sensors
NGK SPARKPLUGS UK – The world's number one spark plug manufacturer
PAR WILLEN – Master webmeister and proprietor of HarleyDrags.com
PORTABLE SHADE – The best custom branded collapsible canopies available
PRO ALLOY MOTORSPORT – The UK's leading fabricator of alloy tanks, intercoolers and radiators
SCHNITZ RACING – Offering the latest in Motorcycle Performance Products for today's sports bikes
SCOTT PERRI TRUCKING – Logistics solutions par excellence
TRIM TEX – The premier manufacturer of vinyl drywall beads & accessories
TRYKA LED – the UK's cutting-edge LED lighting manufacturer.
VAN ES MOBILITY – The leading manufacturer of telematic products for management of moving objects
VANSON LEATHERS – The most iconic brand in motorsport leather goods
WEB CAMSHAFTS INC – Simply THE company for Top Fuel Bike camshafts
WORLDWIDE BEARINGS – The world's leading supplier of ceramic bearings for racing
ZODIAC – Europe's largest supplier of performance and aftermarket HD parts