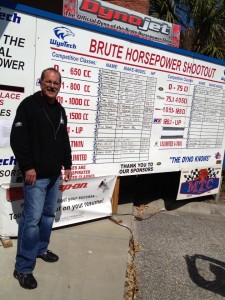 There isn't a motorcycle racer who knows more about horsepower than the "Spiderman" Larry McBride, who has won a staggering total of 12 Top Fuel Motorcycle championships and set a bunch of records along the way.
This week the Spiderman is at Bike Week helping to judge the annual Brute Horsepower Shootout and the 2nd annual Bike Build off at the Wyotech Daytona campus in Ormond Beach, Fla.
Despite rain early in the week a huge turnout is expected.
The Spiderman sent the following pictures –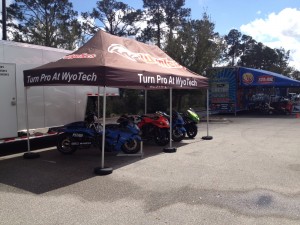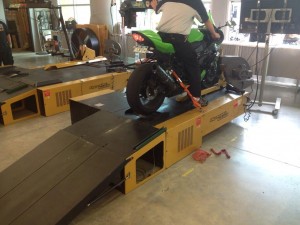 McBride thanked his primary sponsors; Pingel Enterprise, Trim-Tex Drywall Products, Drag Specialties-Parts Unlimited, Red Line Synthetic Oil Corporation and Final Swipe Merchant Services.



"Joe Koenig is one of the best guys I have known in my life. He sells the best drywall products in the world."



"Wayne and Donna are like family to me. I make the joke that I'm their oldest and youngest child. Pingel has by far the best quality in America. They have the top of the line, best engineered products and they are all USA made."



"The Web Cam girls and Steve are the best. They are like family to me as well. Laurie Dunlap does so much to help the sport. They also make the best cams on the market."
McBride added –
"Red Line is the best oil on the market or Alan Johnson would not be using it."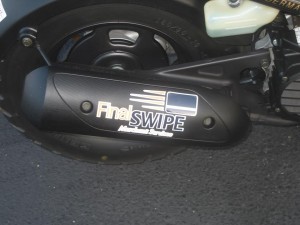 "Drag Specialties is a great company that I'm honored to be involved with. They are the best people to deal with."
"I really appreciate Final Swipe and Gary Baillio. He's a great man with a great company."
"There is not one sponsor that is not important."
McBride thanked his associate sponsors and added, "Everybody is equally important. We couldn't do it without each one of these fine companies."
K&N Air Filters, Web-Cam, Vance & Hines Motorsports, PR Factory Store, Ferrea Valves, Kibblewhite, Precision Machine, World Wide Bearings, Vanson Leathers, Belt Drives Ltd, Simpson Race Products, Nitrous Express, APE, EK Chain, Arias Pistons, MSD, Protect ALL, Cometic Gaskets, B&J Transmission, Carolina Cycle, L.A. Sleeve, PJ1, Mickey Thompson Tires, Valco, Goodridge, Carlisle Belts and Gates Belts.