The news about the VIP guest list for the 2015 British Drag Racing Hall of Fame (BDRHoF) Gala Awards Dinner at the Savill Court Hotel, Windsor Great Park, on November 21st 2015 just keeps on coming.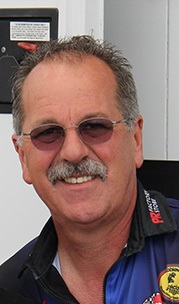 Following announcements about the attendance of American drag racing legends, "Waterbed: Fred Miller (Blue Max Funny Car), Bob Muravez (Freight Train dragster), Ron Hope (Rat Trap and Pure Hell Fuel Altereds) and Bruce Larson (former Funny Car Champion and current Nostalgia Funny Car campaigner), the BDRHoF is excited to confirm that 14-time Top Fuel Drag Bike Champion and world record holder Larry 'Spiderman' McBride has booked his flights and tickets. You would have to go back to the 1970s to be in the company of so many American drag racing legends at a UK event.
It takes a special type of individual to throw a leg over a 240-mph plus, nitro-guzzling Top Fuel Bike. As the elder statesman of Top Fuel Drag Bike Racing, Larry 'Spiderman' McBride has been piloting these frightening machines for 37 years, starting before he was able to legally drink a beer.
'Blue' has been McBride's beloved Top Fuel Motorcycle (currently with Puma Kawasaki engine) of the past 21 seasons. A regular five-second runner, there may be no more legendary or accomplished piece of equipment in the sport of Drag Bike Racing. Blue was the first motorcycle to reach the five second zone, it currently holds the North American elapsed-time record at 5.76 seconds for the SS Quarter Mile and it has utterly dominated the Top Fuel Motorcycle class for the past 15 years.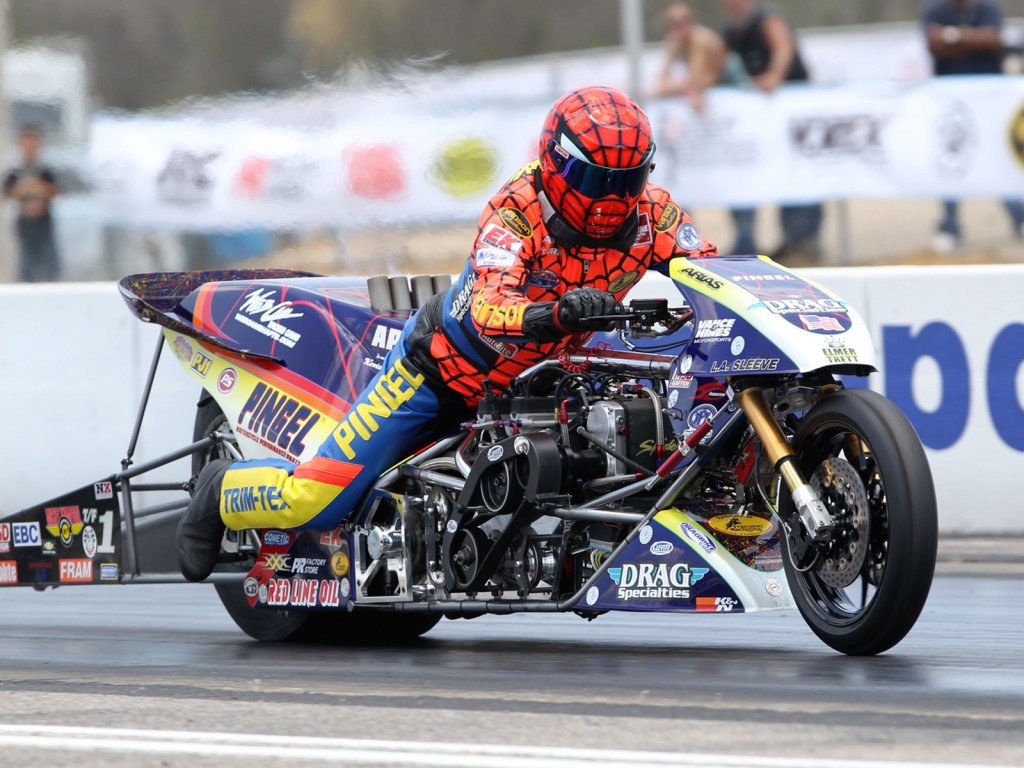 But the McBrides – Larry and brother Steve – have a new, state-of-the-art motorcycle nearing completion so a fresh chapter in the story may be about to fire-up.
Although they both work on the bike, Steve was always the builder with Larry the rider. But it wasn't always drag racing. It started with go karts and then motocross and dirt drags.
In 1980 McBride was hired by Danny Johnson, who had recently crashed in California, to ride his supercharged four-cylinder Kawasaki at Indianapolis. Larry had never ridden or seen the bike before arriving at the track but he qualified number four in the first ever six-second motorcycle field.
Team McBride went on to become the first to run under the 6.50-second elapsed time barrier, setting the record of 6.49 seconds in 1991 – a mark that would not be broken for three years.
It was at Indy that he picked up his Spiderman nickname. The bikes weren't quite as long as today's machines and as a tall man he moved around on the bike. The announcer at Indy said, "This guy moves around on the bike like Spiderman". Over the years Larry has added to the image until he admits it is now out of control. He has remained one of the quickest, fastest and winningest Top Fuel Drag Bike riders in the world.
The McBride brothers operate Cycle Specialists in Newport News, Virginia, a performance motorcycle shop where they build and maintain their championship winning rides. In addition to Harley-Davidsons and import "hop ups", they specialise in preparing Yamaha FJ-1200 engines for the legends race car series.
Over recent years, like Big Daddy Don Garlits, they have been working with electric motors and batteries developing an Electric Drag Bike in association with Lawless Industries and TV reality show subjects Orange County Chopper Rocket. They have already cut a 6.94-second quarter mile time at 201.37 mph – two firsts for an electric powered vehicle. This link takes you to a run back in 2010.
Talking about his forthcoming trip to the UK in November Larry said,
"I'm pleased to say that my brother Steve will be joining me on this trip. We're really looking forward to meeting up with some old friends in the UK," McBride said. "And something I am honored to be able to do at the BDRHoF Gala Awards Dinner is pay an on-stage tribute to my old buddy UK Top Fuel Drag Bike racer Brian Johnson. I was so shocked when I heard about his sudden passing. He wasn't just well known in Europe but a big star in the USA. In 1984 he became IDBA Champion beating the likes of Sam Wills, Elmer Trett and me on the way. He was a true World Champion but he didn't stop there. In 1991 he set a world record time of 6.61 seconds and in 1999 he took the AMA/Prostar World Finals at Gainesville with a 6.292 at 227 mph. Top Fuel Drag Bike riders throughout the world feel his loss because Brian was family and we miss him".
BDRHoF Chairman Stu Bradbury says,
"It's great to know that Larry is joining the list of American drag racing legends attending the Gala Awards Dinner in November, and particularly poignant in the year that we lost our own two-wheeled super star Brian Johnson. Larry's presence will enable us to celebrate Brian's life in some style. I think he would have liked that."
Ticket prices will remain as last year at £60 per person. Corporate tables of 10 are available at £580. Room prices also remain as last year, £99 for double £79 for single including breakfast. Complimentary use of swimming pool, Sauna, Steam room, Jacuzzi, and free car parking are also part of the package.
For advance booking of tickets contact BritishDRHOF@aol.com or telephone Stu Bradbury on 01933 279102. When other plans are announced this will again be an early sell-out event. Oh yes – there's more exciting news to come.
The Savill Court Hotel information
Room Bookings 01784 472000 Opening Times 8.30am-5.30pm Press Option #1
After 5.30pm Press Option #3 Reception. Don't forget to mention the Hall of Fame dinner 21st November
McBride thanked his primary sponsors; Pingel Enterprise, Trim-Tex Drywall Products, Drag Specialties-Parts Unlimited, Red Line Synthetic Oil Corporation and Final Swipe Merchant Services.
Web-Cam, Vance & Hines Motorsports, PR Factory Store, Ferrea Valves, Kibblewhite, Precision Machine, World Wide Bearings, Vanson Leathers, Millennium Technologies, Belt Drives Ltd, Simpson Race Products, Nitrous Express, APE, EK Chain, Arias Pistons, Cometic Gaskets, B&J Transmission, Carolina Cycle, L.A. Sleeve, PJ1, Mickey Thompson Tires, Valco, Goodridge, Carlisle Belts and Gates Belts.