Dragbike racing fans have not seen the last of one of the sport's most famous and accomplished motorcycles.
Top Fuel legend and 14-time champion Larry "Spiderman" McBride planned to retire his storied and iconic 21-year-old motorcycle following the season opening race of 2015, two months ago. But when the machine's 5.76 nearly matched McBride's career best and the event ended premature due to rain, The Spiderman decided "Blue" needed a more fitting sendoff to retirement.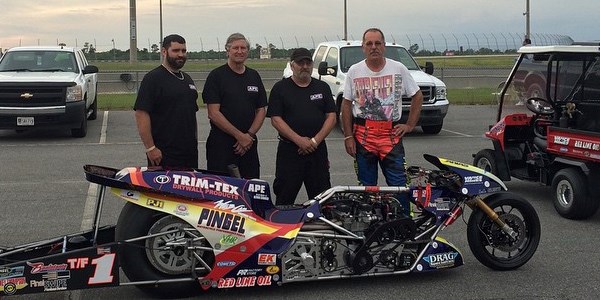 McBride's new state-of-the-art motorcycle is ready to go down the track, lacking only a paint job.  But with Blue still improving, McBride sees no reason to rush the debut.
Given the extreme heat forecasted for this weekend's Manufacturers Cup race at Memphis International Raceway, June 20-21, McBride is pleased to continue on his familiar machinery and utilize the extensive data the team has on how to make the motorcycle perform under those conditions.
"We have a tune-up for the heat. We will be running a lot more ignition timing," said McBride, who ran in the 5.80-zone during his last trip to Memphis with AMA Dragbike in 2009. "The only variable will be the track surface. It was redone since the last time we raced there."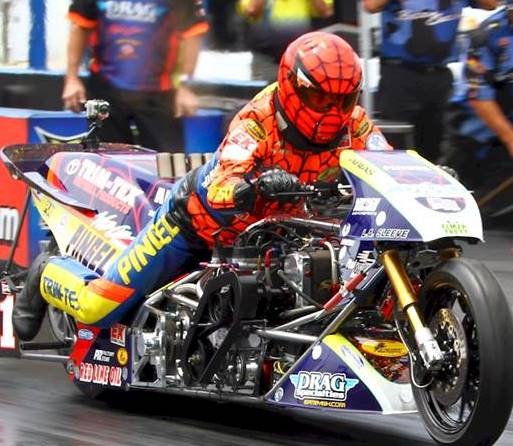 McBride thinks 5.70s could be possible on Saturday evening in final qualifying when the track cools off. The champ admits that session will only be for bragging rights and qualifying position, because Sunday's race will most likely feature much less favorable conditions.
"You can throw that out for Sunday," McBride said about a potential cool down on Saturday night. "This race will be all about trying to get down the race track consistently without smoking the tire."
Blue and all of its components experienced the McBride brothers' usual royal treatment since the last race in Valdosta, Ga. in April.  The motorcycle was torn down to the chassis and thoroughly revamped.
"We rebuild the transmissions after every race," said McBride. "We went through all the motors we used and we found some damage. We changed the pistons, the valves and the rod bearings.  As the old saying goes, nitro is not your friend."
McBride says the unusual two-month layoff during the season is something he will have to account for.
"It's like going back to your first race of the year," McBride said. "I will have to get reacclimated with the motorcycle."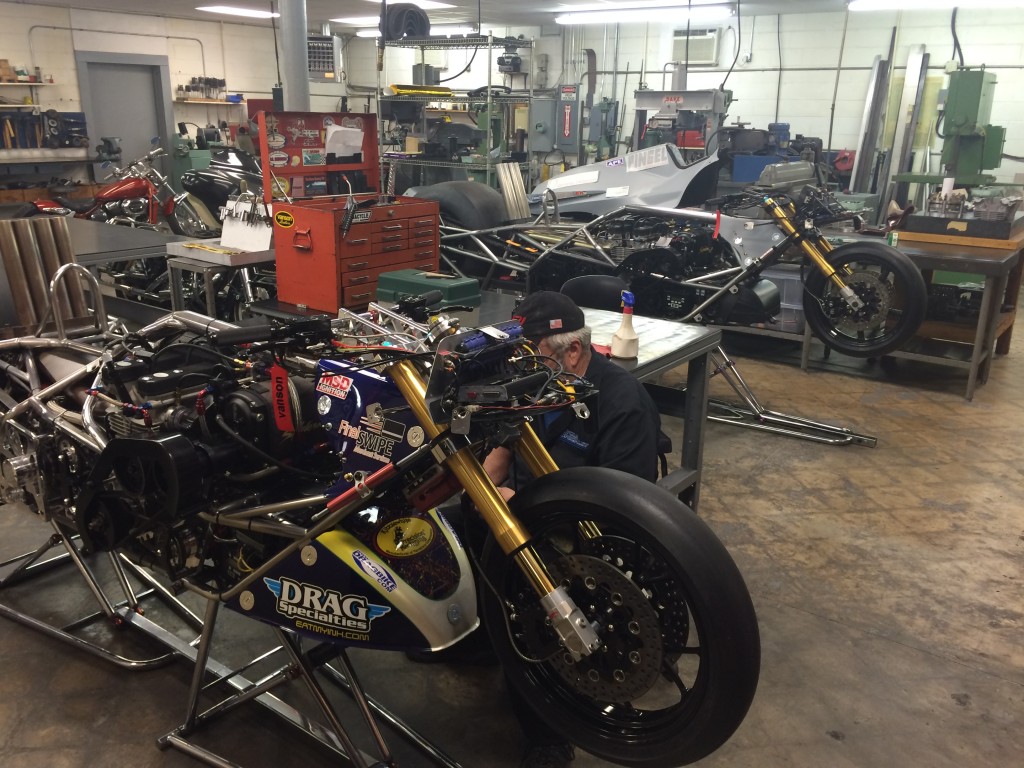 With Blue's retirement looming, McBride knows every pass on his beloved and historic motorcycle is precious and should be enjoyed. McBride would love to put Blue away with a run in the 5.60s.
Fans should see McBride's new equipment this season.
"The whole key is being able to test the new bike," McBride said.  "Vance and Hines made some amazing new cylinder heads for us and I can't wait to see what they can do."
McBride expects an exciting field of talented Top Fuel racers in Memphis, including Dave Vantine, Chris Hand and the returning Korry Hogan. McBride was informed Sam Wills will not be able to make the event due to a medical issue.
McBride extended a special thanks to former Funny Bike racer and successful businessman Barry Van Hook for supporting all of the Top Fuel motorcycle races by increasing the purses for the Manufacturers Cup.
This year marks the 37th season of dragbike racing for the McBride brothers.
McBride thanked his primary sponsors; Pingel Enterprise, Trim-Tex Drywall Products, Drag Specialties-Parts Unlimited, Red Line Synthetic Oil Corporation and Final Swipe Merchant Services.
Web-Cam, Vance & Hines Motorsports, PR Factory Store, Ferrea Valves, Kibblewhite, Precision Machine, World Wide Bearings, Vanson Leathers, Millennium Technologies, Belt Drives Ltd, Simpson Race Products, Nitrous Express, APE, EK Chain, Arias Pistons, Cometic Gaskets, B&J Transmission, Carolina Cycle, L.A. Sleeve, PJ1, Mickey Thompson Tires, Valco, Goodridge, Carlisle Belts and Gates Belts.