Junior Pippin has long talked about how much power the S&S Pro Stock Motorcycle motors that come out of his shop make. Showing that power on track, though, took a backseat to life and his wife Lisa's ongoing battle with breast cancer.
But Lisa Pippin craves racing for her recovery, and Junior's black and pink PiranaZ Buell has seen some track time this year—including recently with Chip Ellis in the saddle at the NHRA Summernationals at Old Bridge Township Raceway Park in Englishtown, New Jersey.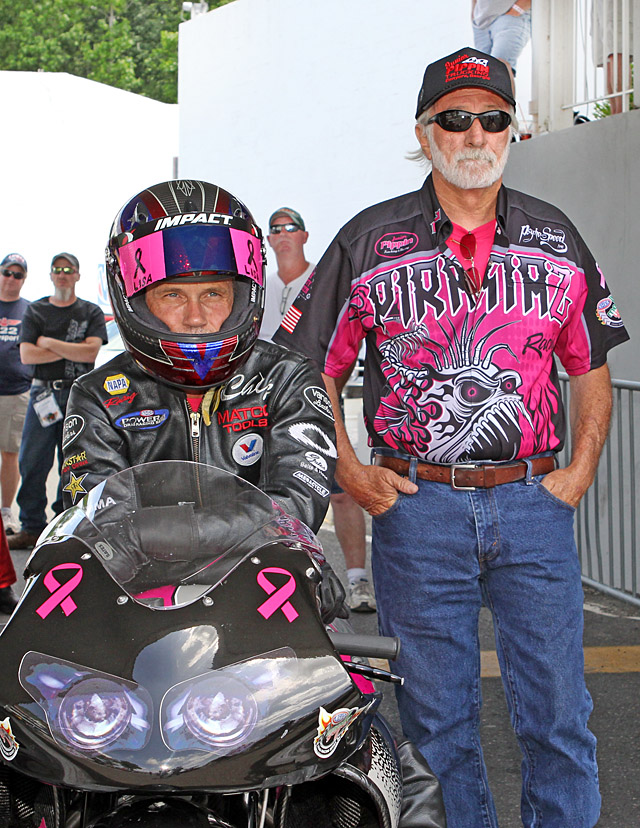 The Englishtown weekend started off good enough for a team that's not as battle-tested as most of its rivals, with Ellis' 6.926 at 194.55 mph standing tenth quickest in round 1 of qualifying. He dropped to twelfth after a scuffed rear cylinder slowed the bike in Q2, so the team swapped in a new, untested motor on Friday night.
On neither Friday pass did the Buell launch with the 60 foot times that the team was looking for. Ellis and tuner David Bost looked over the clutch graphs and were at a loss. "Chip looked at me and said 'That clutch graph looks perfect and we're still not going anywhere,'" said Bost.
"I've made a lot of runs on a Buell and I know what the clutch is supposed to look like and make it work, but we couldn't get it to work," said Ellis.
Then Ellis had a conversation with fellow competitor Andrew Hines that proved enlightening. "I was telling Andrew about our problem and he said 'You know, sometimes you just get a bad tire.'"
"So I took Chip up into the top of the trailer, showed him our tires and said 'Pick one you like," said Bost "We pulled out an '09 tire that was still on the rim, bolted it on and picked up a tenth. People won't believe that, but there it is."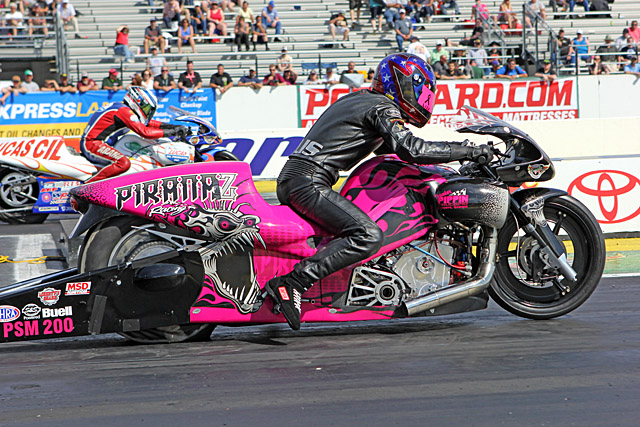 "We put a six year old tire on the bike and ran a 1.049 60 foot time," said Ellis.
And after 60 feet, the third round qualifying pass just got better and better—a 2.82 at 330 feet, 4.33 at 161.21 mph in the eighth, finishing off with a number 1 qualifying 6.801 at 197.16 mph through the traps. "I looked at the scoreboard and I thought it must be a .90," said Junior. "Then I saw the 197 and said 'That's an .80!'"
"I looked at it and said 'Is that right?'" said Bost. "We put in a motor that had never been in the motorcycle, on old tire out of the attic, and ran a 6.80 at 197."
"That did my heart good," said Junior. "I looked at Lisa and she had the biggest smile I've seen on her face in a long time."
The bike slowed slightly to a 6.84 at 194 in the final qualifying round. "Looking back, the motor was probably hurt a little bit even then," Bost said later.
Still, a 6.871 at 191 was good enough for Ellis to get past Angie Smith in round 1 of eliminations. Then the motor seized in the waterbox to start round 2 against Hines.
"Lon Moyer and Brad Moore are looking at the problem back at the shop and seeing what they can do to make these motors live," continued Bost. "We've got some new engine combinations coming out and apparently they're working. In two races we've picked up two tenths. That's gonna be hard for a lot of people to swallow.
"But It's been a long hard battle. It took a lot of people and it's still taking a lot of people. A lot of things are starting to come together, if we can keep our heads on straight."
"David has put his heart and soul into this motorcycle," Junior said about Bost.
"David's an all-star," agrees Ellis. "He makes me feel so comfortable, and that's the atmosphere I need to race in."
Ellis is a veteran racer with many other skills, and brings a whole lot of Buell experience to the table. He raced with the G2 Motorsports team that initially developed the Buell and was G2's point man helping customers learn their way around their new bikes. "He helped us with our Buell when we first bought it," noted Pippin.
Ellis has been sidelined from racing since Harry Lartigue parked his Buell a couple years ago and has been working on occasional-Top Fuel motorcycle racer Barry Van Hook's oilrigs in Montana.
"Chip's been making some good money out there in Montana, but he rode this motorcycle and that was it," said Pippin. "So now Chip will be employed at Junior Pippin Trucking, riding one of my Buells, working on the Buells, driving a dump truck, whatever needs to be done."
"It was hard to leave Barry and William Van Hook," said Ellis. "They gave me a great opportunity and they've been 100% awesome, treated me like family since day one. But I think Barry understands because he's a racer.
"I'm super excited about this deal with Junior. I think we're gonna have a great time. I can't believe the progress we've made in two races. The next jump is gonna be real hard to get, but that 6.80 was not a perfect run.
"I'm really excited to be a part of this whole deal. Everybody's gonna put in the effort it takes and I think racing's gonna be fun again."
"I'm just happy to have Chip with us," said Pippin. "We're tickled. He gives us a legitimate chance at winning a championship."
A championship? This year? After spotting the competition two races? "He's 16th in the points already," noted Pippin. "If all the stars line up, you never know."
Pippin has plans to grow the team. "A lot will depend on what happens with Lisa's health. But Chip will be riding one, I'm not done yet at 62, I may be riding one, or Jeremy Teasley."
With very limited wheelie bar experience, Teasley did an impressive job with one shot to try and get into the field at the Charlotte Four-Wide race, falling one spot short. Teasley had other racing obligations and had to sit out the Atlanta and Englishtown races. "Chip came to Atlanta with a lot of experience on these bikes and we still struggled," said Bost.
"But now the ship's starting to get right," said Pippin.
"It's been a collective effort," added Bost.
"I want to help, and I really like working with David and Lon," noted Ellis. "It's like back in the day when I was working with Coby Adams (at AMA/Prostar races). The rednecks have arrived!"
"I like being number 1 on Saturday, but I really want to be number 1 on Sunday. That's what I'm working for. We're gonna get Miss Lisa a Wally sooner or later," predicted Bost.
The team's next chance to do so is the 9th annual Summit Racing Equipment NHRA Nationals on July 2-5, at Summit Racing Equipment Motorsports Park in Norwalk, Ohio.
"Well, we did only make one good pass, but it was a helluva pass!" laughed Pippin. "(Fellow racer) Mike Berry said  'I told John (Hammock) if you ever got it hooked up it was gonna go, and you got it hooked up!' And the damn thing was lean. There's more in it. I think people realize now that these motors out of our shop are pretty badass.
"I really want to thank George and Connie Smith and S&S Performance. They've been great friends to Lisa and me through all this. Without Big George, none of us out here would be able to race V-Twins, 'cause the Harley-Davidson Motor Company sure won't sell us any. I also want to thank David, Chip, Lisa, Lon, Brad, B&R Automotive and PiranaZ."
Junior Pippin would like to thank PiranaZ http://www.piranaz.net , S&S Cycle http://www.sscycle.com/ , Junior Pippin Trucking and Paul Bost Trucking.
contact Junior Pippin: jr.pippin@hotmail.com
for media inquiries: Tim Hailey timhailey@eatmyink.com
for more about the NHRA http://www.nhra.com/
This report was prepared by Tim Hailey with photos by Hot Rod Chrissy Perry http://hotrodchrissy.com . Enjoy everything there is to read, see and watch about motorcycle drag racing and more at http://www.eatmyink.com