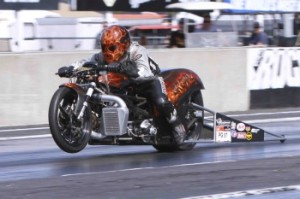 Mickey Thompson Performance Tires & Wheels congratulates Keith Browne for a stunning performance in the Jim McClure Nitro Nationals presented by The Carolina Harley-Davidson® Dealers Association, Oct. 8-9, at Rockingham Dragway.
In the qualifying round, Browne thrilled the crowd in his turbocharged Pro Gas Harley-Davidson 45-degree, V-Twin on Mickey Thompson motorcycle tire size 2.50/2.75-18 (part #3210) on the front, and Mickey Thompson Motorcycle Drag tire size 28.0/10.5-15S (part #3055S) on the rear, setting a new AHDRA world speed record of 199.32 miles per hour, and an incredible ET of 6.925 seconds.
"This was the first time that we have used the Mickey Thompson tire on the rear of our bike, and we can testify without a doubt that this tire was the singular reason we were able to achieve the speeds and elapsed times that we did," stated Keith Browne of Browne Racing. "We have never before been able to achieve times in the sixes, and we will never use anything else but Mickey's from now on. We want to extend our sincere thanks to our friend Don Plesser of PR Factory Store and Carl Robinson at Mickey Thompson for getting us the tire that has taken us to a new level."
The turbocharged Harley-Davidson motorcycle used by Browne was fully funded and custom built including custom body, fabrication, paint and more by the Browne family; Keith's father, recently retired long-time racer and AHDRA record-setter Ken Browne, and Keith's older brother Pete, supported by Keith's mom, Linda. For more information, visit http://www.browneracing.com.