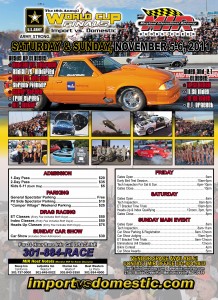 The 16th Annual U.S. famous Import vs. Domestic battle for the World Championship will take place at Maryland International Raceway on Saturday & Sunday, November 5-6, 2011. The World Cup Finals features a custom car show, bikini contest, a huge vendor midway, DJs, live bands, and of course import vs. domestic drag racing! With over 10,000 people in attendance every year the WCF has become a event phenomenon on the east coast!
Over 600 drag racers compete ever year in eleven different classes to bring you side by side action of every type of genre in drag racing with the top cars from virtually every sanctioning body and series in the country! Forget the trash talking, it's time to prove that these drivers has got what it takes, with each side putting their reputation and egos on the line!
In the middle of the pit area is a huge custom car show that attracts over 500 beautiful cruisers, classics, hot rods, tuners, low riders, and exotics every year. The action in the car show on Sunday will be lit up all day by photographers snapping photos of flashy cars and beautiful women.
Plus, one of the biggest attractions at the World Cup Finals is the famous bikini contest also held on Sunday with models strutting their stuff on the main stage! Also, be sure to check over 2000′ of vendors on the vendor midway. You'll find all kinds of parts, accessories and other items for your Import and Domestic needs at year end prices!
Saturday of the WCF event will be for racing time runs and qualifying only, and the vendor midway. The main event will be on Sunday with eliminations, the custom car show, vendor midway, bikini contest, DJs, live music and more! So be sure not to miss the 16th Annual World Cup Finals on November 5-6th, it is going to be epic!
For more information on this event, please visit the official event website at: www.importvsdomestic.com
Friday Schedule
Gates Open ………………………………………………………….. 9am
Early Bird Test Session …………………………………. 10am-6pm
Tech Inspection For Sat & Sun………………………… 6pm-10pm
Close Gates ………………………………………………………… 10pm
Saturday Schedule
Gates Open …………………………………………………………. 8am
Tech Inspection …………………………………………….. 8am-8pm
ET Bracket Time Trials …………………………………. 10am-8pm
Heads-Up & Index Qualifying …………….. 12noon, 3pm, 6pm
Close Gates …………………………………………………………. 8pm
Main Event Sunday Schedule
Gates Open ………………………………………………………… 8am
Tech Inspection ………………………………………….. 8am-11am
Car Show Parking & Registration ……………….. 8am-12noon
Car Show Judging ………………………………………. 10am-3pm
ET Bracket Time Trials ……………………………… 9am-12noon
Eliminations (All Classes) ………………………………….. 12noon
Bikini Contest ………………………………………………………. 4pm
Car Show Awards ………………………………………………… 5pm
ADMISSION
1-Day Pass…………………………………………………… $20
2-Day Pass………………………………………………….. $35
Kids 6-11 (Each Day)……………………………………….. $5
PARKING
General Spectator Parking……………………….Free
Pit Side Spectator Parking…………………………$10
"Camper Village" Weekend Parking………….$25
DRAG RACING
ET Classes (Entry Fee Includes Both Days)………………$50 Entry Fee
Index Classes (Entry Fee Includes Both Days)………….$50 Entry Fee
Head-Up Classes (Entry Fee Includes Both Days)……$75 Entry Fee
SUNDAY CAR SHOW
Car Show (Includes Driver Admission)……………………..$30 Entry Fee