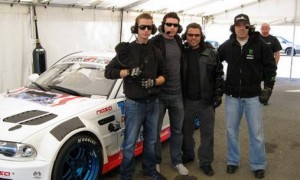 Trim-Tex, the premier manufacturer of vinyl drywall beads, along with partners Hoosier Tire, and Fall-Line Motorsports will be competing in the National Auto Sports Association's 25 Hours of Thunderhill in California early next month. This will be a drive for the overall win, as well as a Drive for Charity! We will be teaming up with Shriners Hospitals for Children to defy the odds in this grueling 25 hour race, while at the same time helping Shriners kids defy even bigger odds.
The NASA 25 Hours of Thunderhill is the longest race held in the United States, and due to its running in the month of December, it has been called the "most severe endurance race on the planet." With over 14 hours of darkness, and temperatures that can range from below freezing to above 70, coupled with a severe track that has many blind turns and elevation changes, the drive to the finish will be a tough one.
Shriners Hospitals for Children is a one-of-a-kind health care system dedicated to improving the lives of children by providing pediatric specialty care, innovative research, and outstanding teaching programs. Every year, they provide care for thousands of kids with orthopedic conditions, burns, spinal cord injuries, and cleft lip and palate in a caring and nurturing family-centered environment at no charge. Its how Shriners Hospitals help kids do what they otherwise couldn't. As a 501(c) (3) nonprofit organization, Shriners Hospitals for Children relies on the generous donations of Shriners and the general public to carry out their mission and change the lives of children every day.
Team Trim-Tex/Hoosier/Fall-Line will have a great driver lineup and team for the "Drive for 25." The 2005 BMW M3 will be piloted by long-time motorcycle drag racer Joe Koenig, who recently competed in the SCCA National Championship Runoffs in only his first full year of sports car racing. Joining Joe will be the 2007 SCCA Pro Racing Speed World Challenge Rookie of the Year, Brian Kubinski. Brian brings extensive GT race experience to the quartet of drivers. The remaining drivers are all experienced endurance racers coming from the Fall-Line Motorsports Grand-Am Koni Challenge team. Steve Jenkins and Mark Boden have been Koni Challenge co-drivers for the past 3 seasons. With Top ten finishes in pro racing, as well as multiple wins in club racing, Steve and Mark will provide the endurance racing mentality for the team. Rob May (Fall-Line Team manager) will also be suited up for driver duties should the need arise!
Driving a custom Built 2005 BMW M3, the team will be running for the overall win in this race. The M3, built completely from the ground up by Fall-Line Motorsports is powered by a 500 hp V8 coupled to a sequential gearbox. All of this power will be harnessed by custom built Hoosier racing slicks. Hoosier Race tires are the tires designed for Champions.
This 25-hour-long race will be a grueling test of both man and machine. We, as a team, have decided to do this for charity. Every driver and team member will be pledging a per lap donation to Shriners Hospitals for Children and we ask that you consider doing that as well. In past years, the overall winners of the race have done approx 650 laps from Green to Checker. If you prefer to give a single monetary gift to Shriners Hospitals, we will graciously accept those contributions as well. The team's goal for the "Drive for 25" is to raise a minimum of $25,000 for Shriners Hospitals for Children.
With your support, we can give kids a chance to go above and beyond and achieve their dreams. Please make your pledge today by fax, mail, or phone. If pledging by phone, please mention the "Drive for 25".
Special thanks to all of our sponsors: Kawasaki, Irwin Tools, Diamond Construction, Competition Race Parts, Worldwide Bearings, Chicken Hawk Racing, Autobahn Country Club, Hoosier Tire, Fall-Line Motorsports and Trim-Tex Drywall Products