Trim-Tex/Hoosier/Fall-Line achieved most of our goals at the very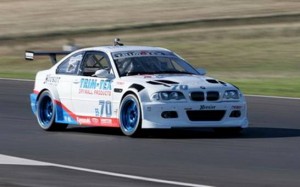 challenging 25 hours of Thunderhill race December 6-7 in Willows, California. Our plan was to show up with a competitive Fall-Line race car with Chicago area drivers and a hard working volunteer crew from all over the country, qualify well, finish the race, win the ES class and go for the overall win beating 68 other teams to the checkered flag.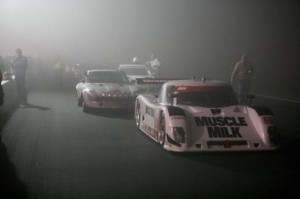 Our biggest goal was to raise $25,000 for Shriners Hospitals for Children and I'm pleased to say …WE DID IT!    THANK YOU to everyone who contributed.
As for the race, we didn't finish nor did we win. But we did show up with a very competitive race car qualifying 1st in the ES class and 3rd overall. Our wide body BMW M3 was perfect with great handling, sticky tires and plenty of horsepower, thanks to Mike Grady our crew chief, Rob May our team manager and J.P. Novelli our lead technician. Our car "Arnold" was so good we had a 15 lap lead on the 2nd place Miller car  and a 31 lap lead on the faster Green ESR machine going into the 13th hour of the fog shortened 17 hour race.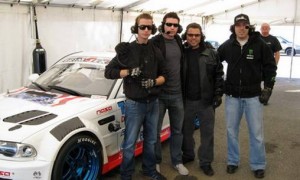 When the fog lifted at 4:30 am Mark Boden started us out with a 2 ½ hour double stint on a dark and foggy race track, he was having so much fun he didn't want to hand the car over to Rob May. In Rob's first stint of two, he was raving about how great the car was. After a brief stop for fuel, he went back out clicking off consistent 1:53 lap times. (about 10 seconds faster than the next car in class). After 13 hours of everything going like clockwork, our hearts skipped a beat when Rob radioed in saying he's coming into the pits. A sudden loss of power and lower than normal oil pressure on the 344th lap was the cause for the unscheduled stop.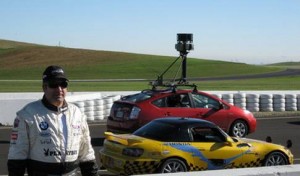 The second Rob pulled into the pits, he and Steve did a driver change so Rob could help the crew fix the car (we don't let Steve touch the car). Our problem was an oil feed line to the variable cam timing device. It sprung a leak dropping oil pressure and allowing piston to valve contact, bending some valves. The crew worked feverishly replacing the $20 oil line and adding 4 quarts of oil to the supply tank. After restarting the engine, Rob had his laptop hooked up and was reprogramming the valve timing trying to make the nasty valve train noise go away. As we sent Steve back out into race with hopes of limping Arnold to the finish, our lead was now only 5 laps. After two laps, Steve came back in for more adjustments and oil, but the gut wrenching feeling of the losing the lead (along with the fact that bent valves do not fix themselves) we realized that our day was done! Not finishing the race was a bitter disappointment but it didn't take away from all the fun and team camaraderie that we enjoyed during the week. We are all looking forward to trying again next year.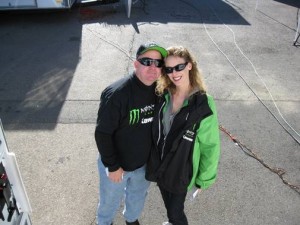 The charitable nature of this team didn't just stop with Shriners, every driver and crew member paid their own way to the race and took time away from their families to band together in an attempt to win this incredible 25 hour test of man and machine!
Thanks to all team members for signing up for this excellent life experience.
Drivers:
Mark Boden, Winnetka, IL          Fall-line
Brian Kubinski, Shorewood,IL    Diamond Construction
Joe Koenig, Glenview,IL             Trim-Tex
Steve Jenkins, Glenview,IL          Fall-line
Rob May,  Glenview,IL                Fall-line
Crew Chief:                   Mike Grady, Gurnee,   IL               Fall-Line
Team Mgr.                    Rob May,   Glenview, IL                Fall-Line
Lead Tech/front tires      J.P.  Novelli, Chicago, IL              Fall-Line
Rear tire changes           Nick Short, Harrisburg, NC          CRP
Top Chef                      Kenny O Osberg, La Habra, CA    Kawasaki
Truck driver/lolli pop         Tom Keif, Cary, IL                        Fall-Line
Super crew/fueler          Shane Osberg   La Habra, CA       Trim-Tex
Super crew/food prep     Melissa Grady  Gurnee,   IL
Fueler                          Rob Texeira,  Death Valley, CA     McMaster Carr
Fire bottle                     Niko Ettinger, La Habra Heights, CA  Microsoft
Dead man & food prep     Laura Guelfo, Sacramento, CA       Kawasaki
Windshield & fuel            Brandon Flanders, Aliso Viejo,CA  Kawasaki
Tire management            John Snyder, Winnetka, IL               Fall-Line|
Photographer/reporter     Sahar Hassani Naperville, IL           Shriners Hospital
Super crew & tires          Mitchell Mohler, Flagstaff, AZ        AFM Dywall