Despite spinning in leaked fuel at the starting line in the third qualifying session, Jerry Savoie and the White Alligator Racing (WAR) Pro Stock Motorcycle team retained their qualifying lead for the NHRA Chevrolet Performance U.S. Nationals.
With WAR crew chief/tuner Tim Kulungian turning the knobs, Savoie's TL1000 bodied Suzuki improved by .007 of a second to a 6.841 in Saturday's afternoon session.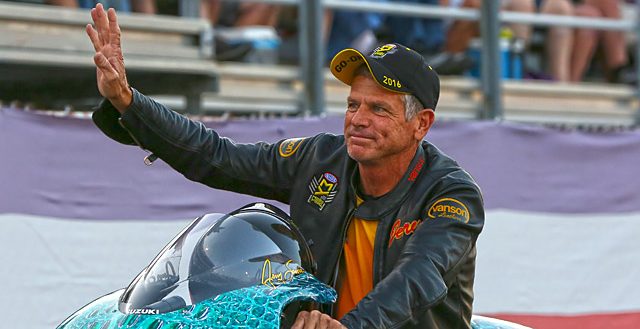 Then after the spin at the hit in his own fuel leak, Savoie still managed to run a 6.89 with a 1.07 60 foot time after wrestling control of his motorcycle in Q3.
Even though they don't feel like they've made a perfect run yet this weekend, the WAR team remains perfectly at the top of the time sheets in the type of relatively cool weather not favored by the Louisiana based team.
And with temperatures expected to increase all the way up through the end of Monday's eliminations, the PSM field better watch out for the bite of alligator farmer and defending U.S. Nationals winner Savoie.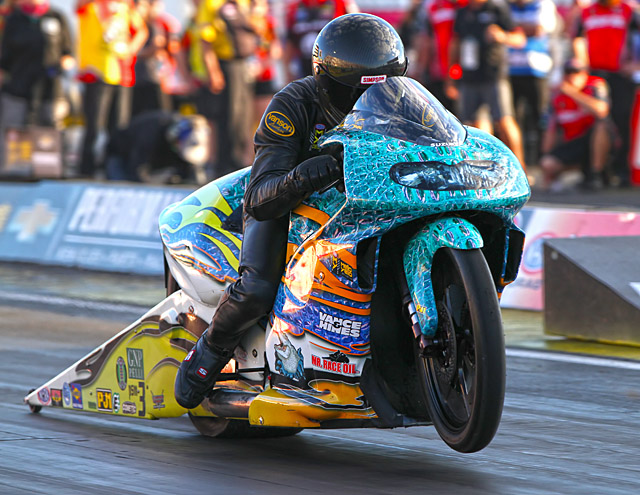 "This is the time of year when we really shine, and usually it's because of the heat," said Savoie.
When asked what temperature he would you like to see for Monday's eliminations, Savoie replied "About 104 degrees and 89% humidity—that would be perfect for us.
"We're pretty excited. I'm pretty level, I don't really get excited, but we're looking forward to the next couple of days. Last year was pretty amazing, and if we can duplicate that, I'd be pretty excited."
Savoie and the WAR team still have two more rounds of qualifying to go on Sunday, followed by eliminations on Monday.
After Saturday's qualifying, the WAR trailer was the site of a fried alligator buffet, along with crawfish etouffe and red beans 'n rice. Jerry's sister Hope served up heaping helpings of perfectly breaded, seasoned, and fried alligator meat, explaining all the while how the jowls of the reptile were best for eating and had to be painstakingly stripped of fatty tissue.
The rest of the PSM field might feel similarly slaughtered as they chase the wildly colored WAR Suzuki down Lucas Oil's quarter mile.
Jerry Savoie thanks everyone at Vance & Hines, PJ1, Mr. Race Oil, Motec, E3 Spark Plugs, tuner Kulungian, crewmen Jeremy Deroche and Steve Zelem, his whole family, and the staff of Savoie Alligator Farm.
For more information about Jerry Savoie and White Alligator Racing go to http://www.whitealligatorracing.com/