Angelle Sampey's 2016 full-time return to NHRA Pro Stock Motorcycle has been one for the history books. After five rounds of qualifying, Sampey nabbed her third consecutive number one qualifying position at the 62nd annual Chevrolet Performance U.S. Nationals.
In the longest race of the season, Sampey began qualifying on Friday evening for their only session of the day. She clocked in with a 6.912-second pass at 193.32 mph on her PSE/Star Racing Buell.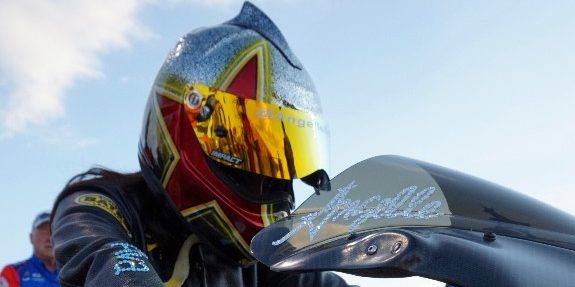 Running much earlier the next day, she improved in the first session with a 6.851, 194.52 and jumped all the way to the No. 2 spot in Saturday's first session; she also collected two bonus points for being second-best of the round. She remained consistent as she closed out Saturday's qualifying with a 6.865, 194.41.
The sun shined bright on Sunday morning and the track temperatures began to rise as Sampey was the last pair to hit the track in the fourth qualifying session. Unsure if they would be able to run incredible times in that weather, the team banded together and gave Sampey one remarkable tune-up. She stuck it right down the middle of the groove and ran a 6.812, 196.62 taking away the No. 1 spot from fellow-Louisana racer Jerry Savoie.
"This just shows how great my PSE/Star Racing team is," Sampey said. "It doesn't matter what motor is in my Buell, it's gonna be fast. When they told me I ran an 81, I lost it down there like I won the race; I didn't expect the 6.81. I was very proud of my team and also very proud of myself because I did a very good job of driving that run which doesn't happen every run."
Sampey came back in the final qualifying session and proved her PSE/Star Racing performance was no fluke when she went low of the session with a 6.836,197.02. At the end of qualifying, Sampey reset both ends of the track record at Lucas Oil Raceway with her 6.812 elapsed time and her 197.02 mph.
Sampey received eight bonus points throughout the five rounds of qualifying. No. 1 Sampey will take on No. 16 Hector Arana Sr. in the first round.
"Before today, I said I preferred the left lane and then I went No. 1 in the right lane," she laughed. "Now, I don't think it matters what lane I'm in; I'll take whatever lane they give me."
ANGELLE SAMPEY, PSE/STAR RACING BUELL
Qualified: No. 1
ELIMINATIONS
SAMPEY vs. Hector Arana Sr.
QUALIFYING
FRIDAY: 6.912-second, 193.32 mph (Session 1)
SATURDAY: 6.851, 194.52 (Session 2); 6.865, 194.41 (Session 3)
SUNDAY: 6.812, 196.62 (Session 4); 6.836, 197.02 (Session 5
U.S. Nationals Race Schedule
Monday, Sept. 5th, eliminations begin at 11:00 a.m. starting with Top Fuel.
U.S. Nationals TV Schedule
Monday, Sept. 5, FS1 will televise two hours of live finals coverage at 11 a.m. (ET).
Monday, Sept. 5, FOX will televise three hours of live finals coverage at 1 p.m. (ET).