Jerry Savoie and the White Alligator Racing (WAR) Pro Stock Motorcycle team said before qualifying for the NHRA Chevrolet Performance U.S. Nationals that they would "Swing for the fence" and try to "Knock one out of the park on the first try." And they did just that, topping the timesheets with a 6.84 at 195 mph in Friday night's unseasonably cool, headwind-affected session—the first of five this weekend.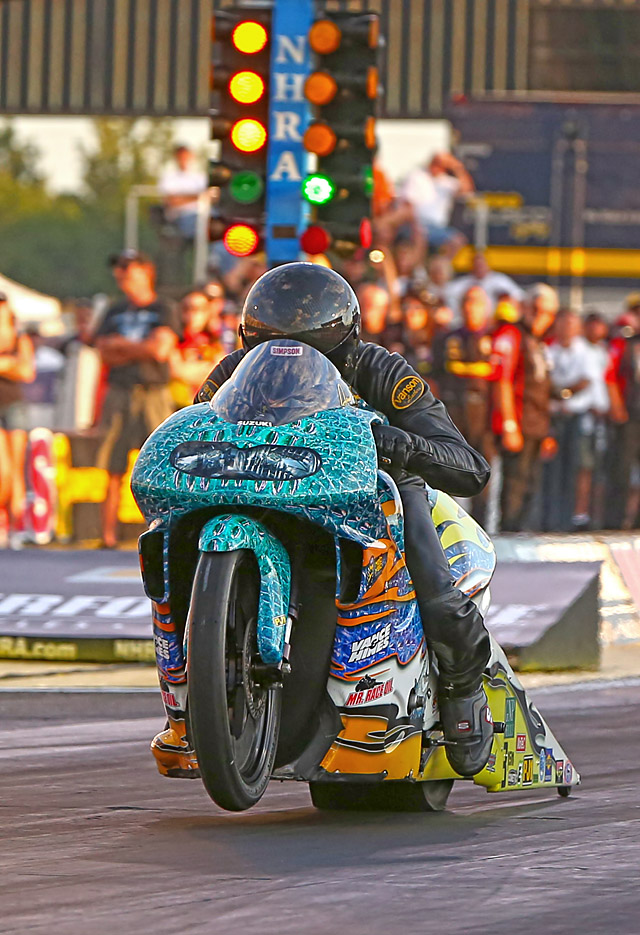 "To come out of the box running like we did is a positive thing because you're not struggling to try and find the power," said Savoie."But it really wasn't that great of a run. We figured we had an .82 or .83 out there, but when I dumped the clutch it bogged pretty bad off the line. Right after that my brain started kicking in and said 'This is not gonna be good.'
"Then when I hit fourth gear it really ripped pretty hard. If you look at our numbers from the hit to the eighth mile, it was pretty soft. Even though we went to the top of the sheet, it still wasn't a blistering run."
And while Savoie felt he left too much on the table, the PSM field as a whole left even more. What could have been a qualifying session that set the field for the rest of the weekend instead left open plenty of room for competition from round to round.
"I think a lot of them just missed it a little bit," Savoie said about tune-ups for the field as a whole. "I heard about ten of them say 'We just screwed up.' But George (Bryce) did a good job with Cory Reed, he went an .87. And Chip (Ellis) ran an .88. The Harleys went into the .80s. So they had a few of them out there that did pretty good.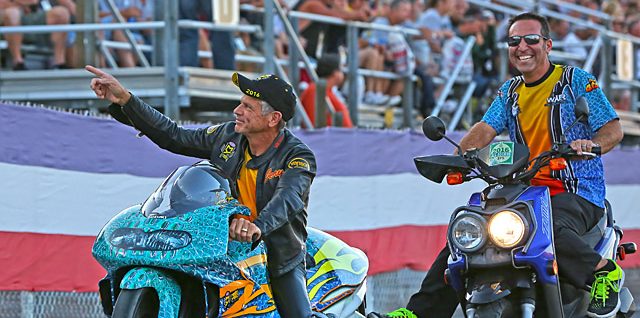 "I think an .81 is out there, but who knows what tomorrow brings—maybe a .79 or .78. There's some fast scooters here man, you've got some real fast motorcycles in this field. You've gotta stay in the game and try and do your best.
"But it's a good start to the weekend. We got back to the pit and my sister said 'You're not smiling?' I said 'You smile on Sunday night when you stay number one.' Tonight's nothing to smile about, but we did good."
WAR crew chief/tuner Tim Kulungian has set himself apart as a brainiac amongst a field of exceptionally smart tuners, and Friday's result showed why. "Tim is a guru, and we've got two other crew members—Jeremy and Steve—who do a great job, and every weekend we try to do the same thing.
"As a racer, there's always room for improvement, and we're gonna go back to the trailer, Tim's gonna work tonight. He's already noticed some things that we can do better.
"We've got a fast motorcycle, I think everybody knows that. And we've got a good track record here—three finals in four races. If in our fifth race we could go to the fourth round—that would be pretty awesome.
"A lot of people just dream of qualifying at the US Nationals. So to win (his second straight) would be pretty awesome."
Savoie and the WAR team have two days and four more rounds to fend off the PSM field and defend their top spot before Monday's eliminations of the U.S. Nationals.
Jerry Savoie thanks everyone at Vance & Hines, PJ1, Mr. Race Oil, E3 Spark Plugs, tuner Kulungian, crewmen Jeremy Deroche and Steve Zellman, his whole family, and the staff of Savoie Alligator Farm.
For more information about Jerry Savoie and White Alligator Racing go to http://www.whitealligatorracing.com/