Cycledrag.com found a great way to add some flair to your race program. Unforgettable, unique custom painted helmets and bodywork provide great eye candy at the race track. And perhaps nothing is as cool as custom airbrushing.
Recently we put Barbara Luck of Rippin Designs to the test. Luck has more than 25 years of custom painting and airbrushing experience.
"I strive for perfection and quality because that's what I would expect if I were having my creative idea put on a helmet, motorcycle, car or whatever," Luck said.  "You get a really good feeling when they see it and just love it! I still learn something new every job, no job is the same. That's what I love about it!"
We gave Luck an older motocross helmet with some battle wounds. Luck used her tremendous talent and masterful airbrush skills to transform the worn out lid to a work of art.
Before
In Progress –
"I've always loved to draw and took all the art classes in school," Luck said. "I started painting with oil on canvas and did a lot of crafts. Then I met my husband in 1990 and he bought my first airbrush. He said he wanted a mural of Eddie from Iron Maiden on the hood of his 72 Chevy."
"I pretty much taught myself. There wasn't anyone or anywhere to go to for questions, hardly any books or videos, nothing like there is now," Luck said.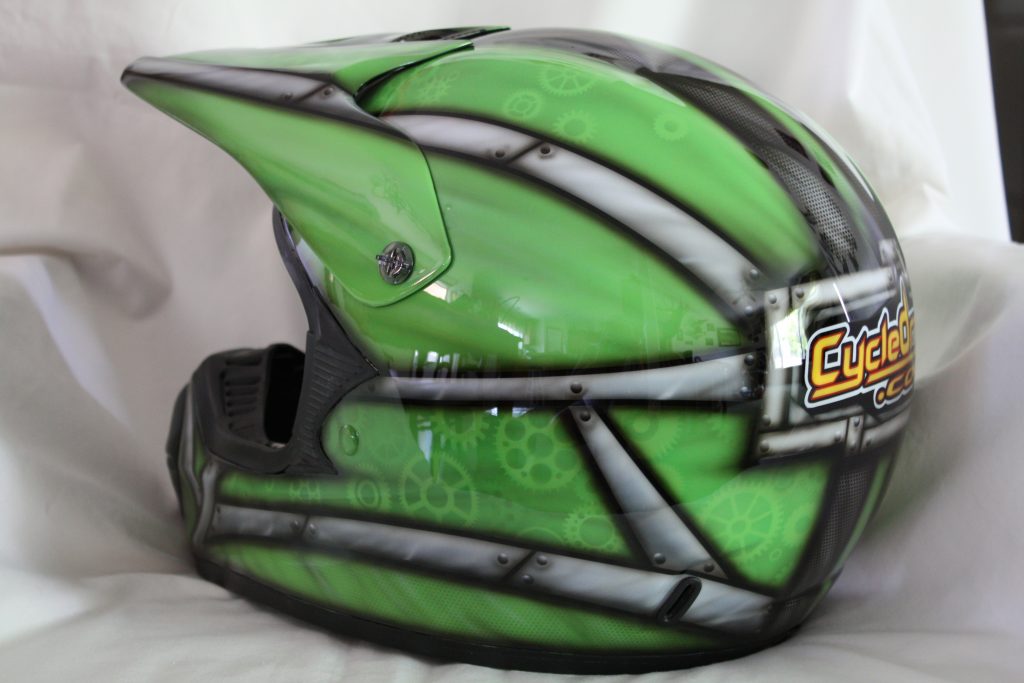 "I've always loved motorcycles and to watch races," said Luck, who is an avid four-wheeler.
Make sure to email Barbara at barbara@rippindesigns.com and visit the Rippin Designs website. She offers an unbeatable service at an unbeatable price. Make sure to mention Cycledrag.com.
"Turn around time is usually 3-4 weeks, it all depends on how busy I am. I do everything myself from prep work to the clear finish," Luck said. I hope to get my name out there. Thanks to everyone who has helped me get this far."