The salient fact: Jerry Savoie and the White Alligator Racing(WAR) Pro Stock Motorcycle team have been to the NHRA Chevrolet Performance U.S. Nationals four times in four appearances, and are the defending champions after scoring this most prized win last year. "Indy's kind of a good luck charm for WAR racing," admitted Savoie.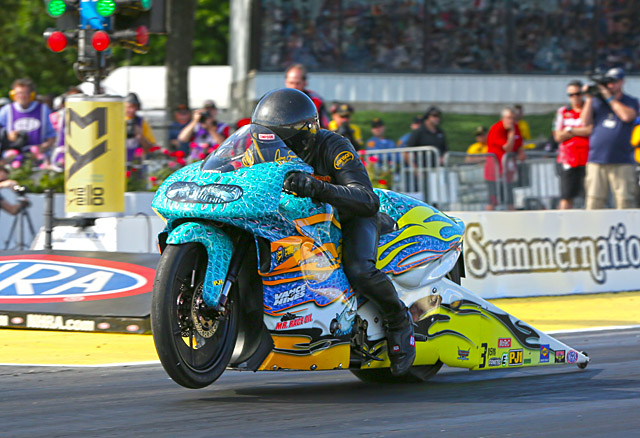 Savvy readers will note that Savoie's been racing with the NHRA for five years, but even savvier fans will remember that Savoie missed Indy in 2012 when his Louisiana alligator farm was hit by Hurricane Isaac.
"I'm fortunate to be Jerry's crew chief here, because he seems to have a horseshoe at Indy that hangs right side up all the time," said WAR crew chief/tuner Tim Kulungian. "This race is a really special race to most people that respect and know the sport, and then it's also a special race for us and our team."
The WAR team is usually just hitting their stride this time of year, peaking for NHRA's Countdown to One championship race. But this season they've been to three finals already, including the last one at Brainerd.
"I think this is a real different year for us," continued Kulungian. "Every year in the off season we make changes to different parts of our program that we really think are going to help us excel the next year.
"Then we usually struggle until Englishtown because of the changes we've made in the offseason. This year we picked up a little quicker in Atlanta. We've been really qualifying well, which tells me we have a fast program."
Savoie agrees. "We feel like we've got a top five bike, but we seized a piston against Eddie (Krawiec) in Atlanta, I had to roll the throttle against Angelle (Sampey) with the wind in Englishtown, and at Brainerd, Andrew (Hines) gets a .000 reaction time," noted Savoie. "So there are some things that you just can't beat. But we'll get one—maybe this one."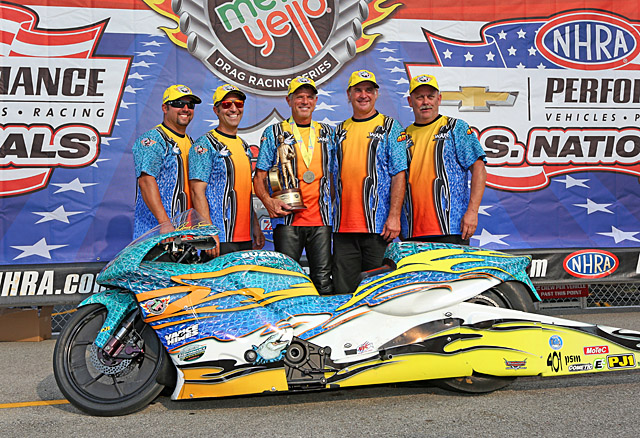 Oddly, what other teams are thankful for at Indy this weekend—unseasonably cool, dry air—runs counter to WAR's strong suit. "We like hot, muggy weather," said Savoie, who lives and works on the swampy marshes of southern-most Louisiana.
"We, or I, seem to excel in hot, humid conditions," said Alabaman Kulungian. "So I've been working hard to have a tune-up that's applicable in any kind of weather. This year the air here is a little different, but I feel like we have a solution that we can provide for these challenges."
And anyone who knows Pro Stock Motorcycles knows how sensitive they are to both air and track conditions, and how competitive the whole field is. "You know, you got some fast bikes out there," continued Savoie. "You got the two Harleys, you got Matt Smith comin' on, and you got Angelle—there's some fast scooters out there. So we gotta be on our game and just make the best of it."
"Our competition's doing the same thing we are, working hard in the off season, and hence this class is moving forward every year," noted Kulungian.
And Savoie's sure that Kulungian is ready to tune to even "good" conditions at Indy this weekend. "Tim's pretty good with the whole program," assured Savoie. "We've got a baseline for everything now after the last couple of years with fuel injection. We've been trying some other combinations and whatnot, and it showed at Brainerd. We didn't qualify well there but on raceday, we turned things around.
"So I feel confident. We've been to the finals three times this year and haven't sealed the deal, but we feel like we've got a shot at this."
The first test will come in Friday's first qualifying session in the cool of the evening. "It's gonna be pretty good," Kulungian said about the Friday round. "Teams are looking to qualify and qualify well, and qualifying for me is how we're gonna play chess on raceday. So if we can knock one out of the park on the first try—which our team has done before—then we're set to do really well here in Indy."
"We're gonna swing for the fence this weekend and see if we can double up," agreed Savoie. "It'd be nice to double up at Indy. A lot of people would love to win this race just once."
Or even get into the final, let alone get to the final four straight times. And now that they've left Indy with the Wally in hand, Savoie and WAR will no longer settle for runner-up.
Jerry Savoie thanks everyone at Vance & Hines, PJ1, Mr. Race Oil, E3 Spark Plugs, tuner Kulungian, crewmen Jeremy Derouche and Steve Zellman, his whole family, and the staff of Savoie Alligator Farm.
For more information about Jerry Savoie and White Alligator Racing go to http://www.whitealligatorracing.com/