Friday Pro Stock Motorcycle qualifying leader Jerry Savoie and his White Alligator Racing (WAR) Suzuki TL1000 will start Sunday's NHRA Carolina Nationals from second in the qualifying order. The U.S. Nationals winner is seeking his second straight Wally and a great start to NHRA's Countdown to One championship.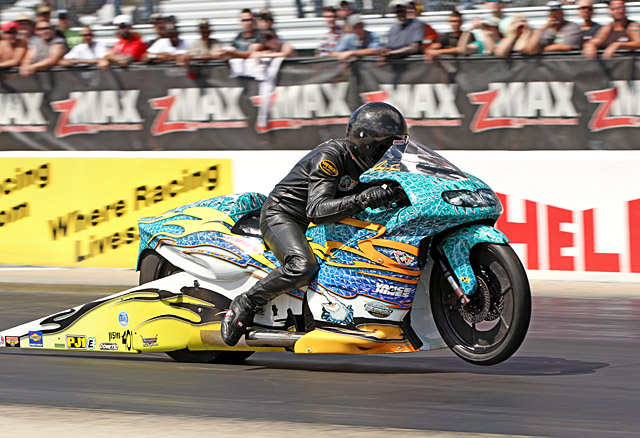 If Savoie's 6.937 in Saturday's early session was a bit off the pace, he had a good excuse. "I didn't have a shift light," said Jerry. "I bumped the rev-limiter going from second to third—just touched it. But all the rest of the shifts were OK, so it's all good."
"He was really close," agreed WAR crew chief/tuner Tim Kulungian. "We run a new ECU, the M130, and it's really, really particular. It starts killing cylinders a lot sooner than the MSD did. So you can be within a couple hundred RPM and you're gonna start killing one or two cylinders, which hurts us when you're measuring things in thousandths of a second.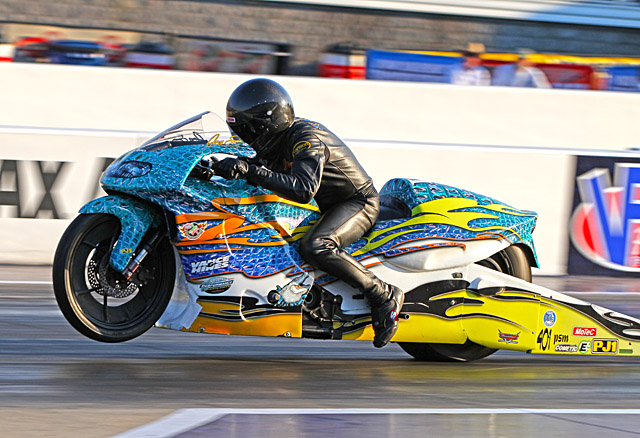 "So he hit it in first gear and second gear, but the rest of the time he's fine. But the 1-2 and 2-3 are the most detrimental time to hit the rev-limiter. We have the least amount of vehicle speed at that time and the vehicle is accelerating at its greatest rate, so those are pretty tough areas,"
Savoie blazed zMAX Dragway's quarter mile with high MPH of the weekend so far (195.99) in the final qualifying round, but lost number 1 qualifier to Eddie Krawiec by .011 of a second. "We just kind of bumped our heads in a couple areas to the eighth mile on that last run, but I think an .86 or an .85 was definitely out there for us," said Kulungian. "We just didn't execute. I really wanted the number 1 bonus points,"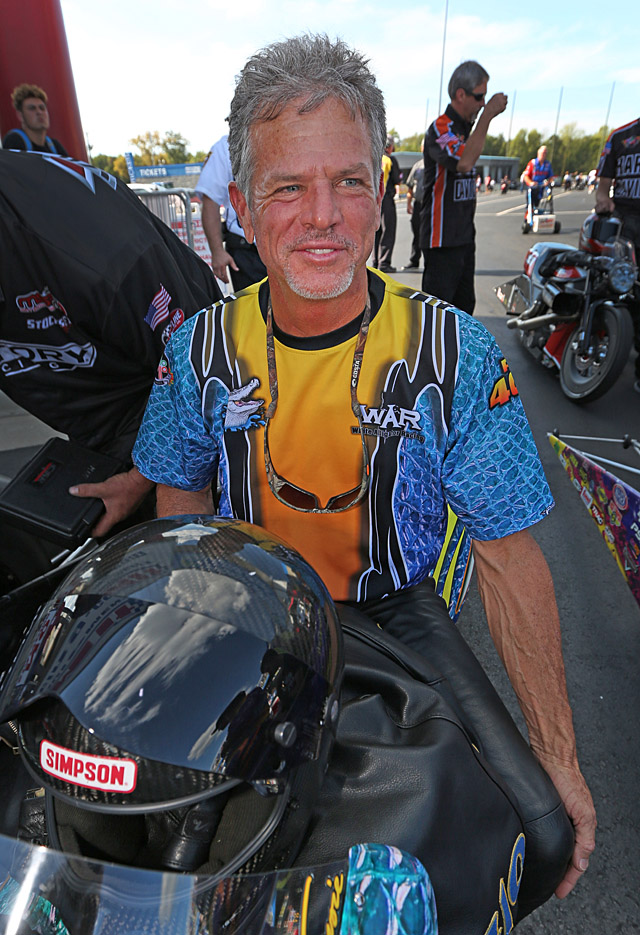 Savoie faces number 15 qualifier Shawn Gann in the first round of eliminations on a day that promises to be at least as hot as the weekend so far. "Typically, our team thrives in the heat," Kulungian said with a smile. "And when I look at the numbers, I think we're making the power to win here. Hopefully we can take down the Harleys and the other folks around here and win this race."
Jerry Savoie thanks Eddie Krawiec, Byron Hines, Terry Vance and everyone at Vance & Hines, E3 Spark Plugs, High Performance Lubricants, PJ1, crewmen Jeremy Derouche and Steve Zelem, Kulungian, his whole family, and the staff of Savoie Alligator Farm.
For more information about Jerry Savoie and White Alligator Racing go to http://www.whitealligatorracing.com/