Recent NHRA Chevrolet Performance U.S. Nationals winner Jerry Savoie came off the trailer as hot as the Charlotte afternoon weather, finishing Friday's Pro Stock Motorcycle qualifying for the Carolina Nationals at the top of the order.
Savoie's White Alligator Racing Suzuki TL1000 was one of four Suzukis in the top six, as their high-revving, inline 4 cylinder motors loved zMAX Dragway's hot-but-not-too-humid conditions.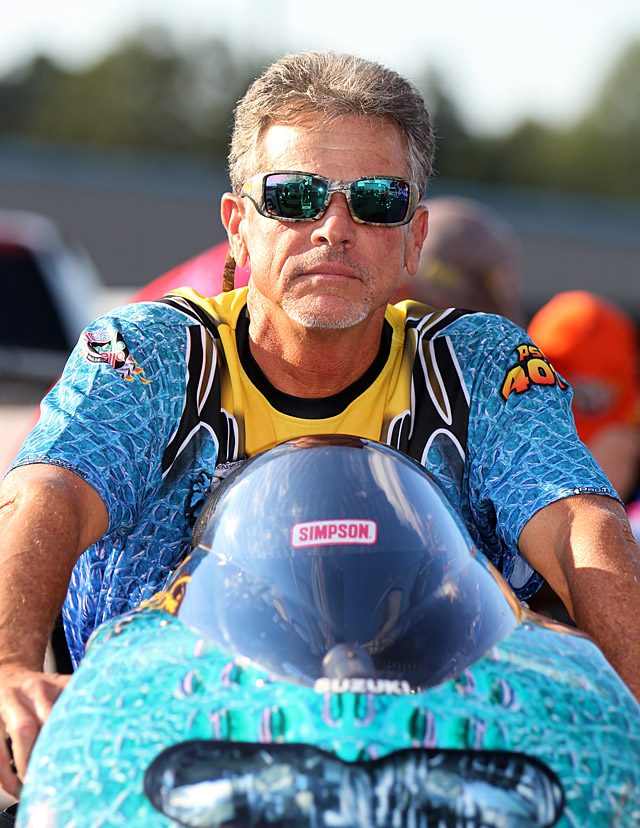 Fellow Suzuki racer Karen Stoffer led the first round with a 6.899, followed by Steve Johnson's 6.902 and Savoie's 6.907 at 195.14 mph—top speed of the round.
That was a great pass off the trailer for WAR crew chief/tuner Tim Kulungian to work with, and he worked it in the right direction. "We thought we could run a 6.87 in the second round," said Savoie, but he and the team did one better—running 6.862 at 195.59. "He gets the credit," Savoie said about Kulungian.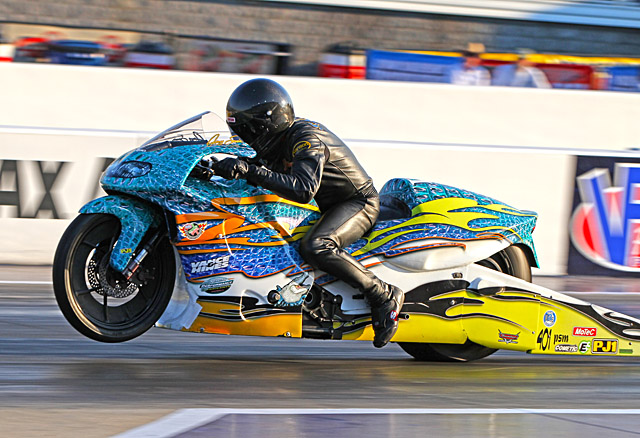 In leading the day, Savoie drew first blood in scoring points for NHRA's Countdown to One championship. He currently sits fourth in that battle.
:
Jerry Savoie thanks Eddie Krawiec, Byron Hines, Terry Vance and everyone at Vance & Hines, E3 Spark Plugs, High Performance Lubricants, PJ1, crewmen Jeremy Derouche and Steve Zellman, Kulungian, his whole family, and the staff of Savoie Alligator Farm.