The Dream Chaser Racin' team continues to work out some of the kinks of a newly formed race team.   A busy schedule of April appearances at the Manufactures Cup Series April 6-7 in Bradenton Florida and the NHRA Harley-Davidson Drag Racing Series event April 12-13 in Petersburg Virginia is keeping the team motivated at a minimum.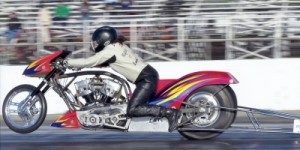 Dream Chaser Racin' celebrated on April 7 as Janette Thornley ran her personal best with a 7.302 ET at 168.82 mph at Bradenton, Fl.  This was an improvement from the earlier qualifying passes of 7.418 ET at 163.87 mph and 7.461 ET at 158.92 mph and placing her in the number three qualifying spot.
In round one of Sunday's eliminations Thornley paired with veteran racer Rocky Jackson  but not able to take the win with her 7.376 ET at 167.59 mph. 
Thornley says, ""It was a disappointing loss as I thought had him, but we were still having some data capturing issues (computer) and were tuning a bit blind.  We had a timer set a bit too far and lost power, just enough for Rocky to catch and pass me. I say disappointing, but really, given what we had to work with, we did outstanding!"
The next weekend, Thornley and her team headed north to their first National Hot Rod Association (NHRA) appearance where they produced some outstanding results at Virginia Motorsports Park Petersburg Virginia. The team still faced some gremlins in the bike but their determination not only worked out the bugs but had a very solid performance.
Friday and first pass of the weekend, Thornley ran a 7.477 ET at 166.72 mph placing her again in the number three qualifying spot.  Always striving for the number one spot, some tuning adjustments were made and during round two of qualifying, Thornley was able to step it up, running a 7.402 ET at 171.88 mph but not enough to move her qualifying spot. 
"We were up against some though competition so I stepped it up, and so did the rest" said Thornley, "but that's what I expect out competitors, Johnny Vickers and Dale Niles, they are good!!"
During the 1st round of eliminations on Saturday, Thornley pulled off a win with another improvement in her numbers running a 7.379 ET at 168.49 mph.  In the semi-finals Dream Chaser Racin' didn't fare so well, Thornley ran a strong 7.312 ET at 165.48 mph but it wasn't enough to take the win.
Thornley, "the team had a great weekend and I feel we walked away winners without a trophy! The fact that we found our problems and we were able to run faster with every pass, what more could I ask for?  I did ask for the win but . . ." as Thornley smirks.
Janette Thornley and the Dream Chaser Racin' team will compete in the May NHRA Harley-Davidson Drag Racing events.  Look for them May 18-19 at the Summit Racing Equipment Motorsports Park in Norwalk OH and again May 25-26 at the Atlanta Dragway in Atlanta GA..

Dream Chaser Racin' would like to thank LAT Racing Oils, Robbins Performance and MaP for your sponsorship.  Thanks for the additional support from Doug Atkinson, Bill and Billy Hendren.  Sponsors always welcome!
Contact Dream Chaser Racin' at dreamchaserracin@yahoo.com