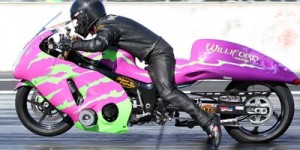 As if a four week rain delay didn't boost the excitement surrounding the start of the Mickey Thompson MIRock Superbike Series enough, Rockingham Dragway owner Steve Earwood has added a Sunday morning qualifying session for all those racers who might have had a prior commitment on the rescheduled date. The adjusted schedule for the April 19-21 FBR Shop Spring Bike Open includes one professional qualifying run on Sunday morning at 10 for Orient Express Pro Street, DME Real Street, Louis Concrete 4.60 and FBR Shop 5.60.

"With a plethora of bike events over the past three weeks I feel it is only fair to allow those Pros who cannot attend on Saturday to have an opportunity to qualify on Sunday morning, along with all entries in the affected classes," Earwood said.
Three-time Orient Express Pro Street champ Rodney Williford, DME Real Street champ Johnny "Turbo" Dobrin, Trac King/APE Top Sportsman and Brock's Performance Street ET champ Boo Brown, Crazy 8's champ Shayne Proctor, FBR Shop 5.60 champ "Fearsome" Andy Baumbach, and Nitrous Express Pro ET champ Dale Hamilton are all expected to defend their titles against a throng of challengers as the season kicks off in the beautiful Sand Hills of North Carolina.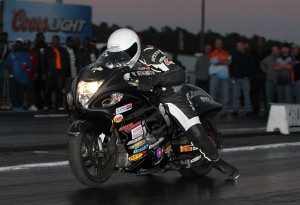 "I've made no changes to the bike, just trying to start the season off as it ended last year," said Williford, who has one win under his belt at another track already this month, and has to be the odds on favor to repeat on his turbocharged, purple "Nitrous Bike Eater" Suzuki Hayabusa.
Also keeping his Exoticycle turbo 'Busa similar to last year is Dobrin. "Why change a good thing?" said Johnny Turbo. "I've got the BST wheel spacer in now and trying a Gen2 crank like my 'B' motor has that I've barely ran. I'm going to try to improve my short times with the extra umph. To start fresh we did prep a fresh 'Competitive Edge' cylinder head, like it and all my bikes use."
In addition to the on-track action that will rage all weekend, these champs will also collect their unique 2012 championship apparel and trophies showing they are the best of the best in the world's largest motorcycle drag racing series. Many of these and other heavy hitters will arrive on Friday for early bird testing, beginning at 10am, and test and tune for all competitors during the evening at 6pm.
Qualifying for Orient Express Pro Street, DME Real Street, Crazy 8's, Louis Concrete 4.60, and The FBR Shop 5.60 will be begin Saturday at 1pm. Trac King/APE Top Sportsman and Nitrous Express Pro ET trials begin at 10am, followed by Brock's Performance Street ET. Grudge bikes will follow each Pro session and the popular "Afterdark Underground" will follow the end of Pro qualifying on Saturday. Time trials will follow Chapel Service on Sunday at 10am, with Pro eliminations scheduled to begin at 11:30.
The weather looks great this time around! We'll see you at The Rock! www.rockinghamdragway.com
Find out more about PJ1 motorcycle products at http://www.pj1.com/
Find out more about the Mickey Thompson Performance Tires MIRock Super Bike Series at http://www.mirockracing.com
This report was prepared by Tim Hailey. Photos are for editorial use only. Enjoy everything there is to read, see and watch about motorcycle drag racing and more at http://www.eatmyink.com
-end-
High-res images for editorial use are available by e-mailing timhailey@earthlink.net