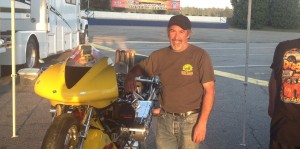 Top Fuel motorcycle drag racing is starving for more competitors.
A very talented racer appears to be on his way to joining the exclusive club.
Pro Mod veteran Dave Vantine tested the five-second, Greg Pollard-owned Top Fueler at Virginia Motorsports Park on April 16th under the watchful and experienced eyes of several experts.
Along with Pollard, Vantine's support staff included the John Force of Top Fuel motorcycle, Larry "Spiderman" McBride, and accomplished crew chiefs Rick Stetson and Dan Wagner – certainly a formidable and qualified squad.
Vantine made several short runs and one full eighth-mile pass. The highlight of his day was a stellar 1.00 60 foot time.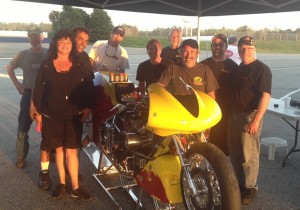 "I think he has what it takes," 11-time champion McBride said. "His burnouts were great. His 60 and 330 passes looked strong. He was very comfortable on the bike. A 1.00 60 foot time on your first day is downright amazing."
McBride and his brother, legendary crew chief Steve McBride, will also help the team tune the motorcycle.
The machine's best run came with Geoff Pollard at the controls a few years ago, 5.93 at 241, putting the impressive piece solidly inside the world's top ten quickest dragbikes.
Vantine hopes to race the bike at the Manufacturers Cup at VMP, June 21-23, but nothing is confirmed as of yet.
Geoff Pollard shows the machine has 5-second power
Click here to see what's up with Vantine's longtime sponsor Orient Express