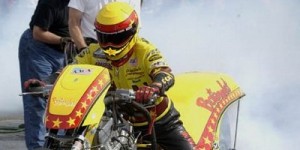 Mark Cox competed in hisfirst race of the season for Team owner Steve Horne in the 2013 NHRA Harley-Davidson Racing Series on April 12-13 at Virginia Motorsports Park in Petersburg (Richmond), Virginia. He and Douglas Horne ride the Romine Racing prepared bikes competing in the NHRA Harley-Davidson Racing Series.
It was a bittersweet weekend for the Horne Racing team when Cox was unable to start for first round eliminations after an issue during start up, but Douglas Horne did an awesome job and went on to win in the Final.
 "After a limited test in Virginia the weekend before the NHRA weekend, we went into the event with very few runs because of sorting out a brand new bike," said Mark Cox, a former AHDRA Pro Dragster National champion. "We participated in the Test and Tune on Thursday and the bike came around. Our first full pass down the track we dropped a cylinder at 1000 feet and still ran a 6.44 ET at almost 200 mph. We knew we had a hot rod to tune.
 "After a brief rain delay, we went into first round qualifying on Friday with a pass of 6.366 at 214.08 mph. My teammate Doug clocked a 6.360 at 204.73 which were our quickest runs in qualifying placing us fifth and sixth in the field. We were two of eight who ran the quickest NHRA Harley-Davidson Top Fuel qualifying round ever. That was pretty exciting! I was thrilled to get in the show with a brand new bike with limited testing, as there were 14 bikes trying to make the eight-bike field. And to be part of the quickest Top Fuel qualifying in history was all the more special."
In the first round eliminations on Saturday afternoon, Cox's team made a slight error with the start-up procedure and Cox was unable to crank and make the round.
"We had all the ingredients to go to the final," said Cox. "It was disheartening but you win as a team and lose as a team. Prior to that round, we had not had any issues with our starting procedure. It's just going to take a little time and patience to gel. Mike Romine put together an awesome bike for me and I can't wait to bring home some victories in the finals sometime this year. The Hornes and Romines are all top notch people who manage to draw out a lot of data during a race weekend and turn it around to make a better bike. I realize why Steve Horne's operation is number one, as their preparation cuts no corners and they run a fantastic team. I'm sure Doug and I will meet in the finals several times this year and I'm really looking forward to it."
Mark Cox Racing is happy to have the backing of several sponsors this season, including Bojangles, Horne Concrete, Gates Belts, Vanson Leathers, Simpson, Autolite and Plots Plus of NC.
Founded in 1977 in Charlotte, N.C., Bojangles' Restaurants Inc. serves only the highest quality and most flavorful food to its loyal customers, with all of its proprietary menu items made from scratch. A special blend of seasonings gives the food its unique flavor, including Bojangles' core menu selections of World Famous chicken, fresh made-from-scratch buttermilk biscuits and legendary iced tea steeped the old-fashioned way. Bojangles' also offers biscuit sandwiches that are served all day. Unique sides like Dirty Rice®, Cajun Pintos® and Seasoned Fries™ are just a few of the flavorful fixin' choices. First franchised in 1978, Bojangles' boasts close to 500 locations in 10 states, primarily in the Southeast. The company was named one of the top 10 growth concepts in 2009 by both GE Capital and QSR magazine.  Its strong performance in all three day parts is what sets Bojangles' apart from all other restaurants. For more information, visit www.bojangles.com.
Follow us on Facebook at "Mark Cox" of Fleetwood, NC.