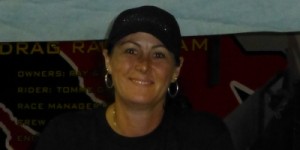 Dream Chaser Racin', Janette Thornley continues to make the program and earn points in the AHDRA Championship Series in the Hawaya Racing/Vreeland's Harley-Davidson Pro Drag class.
After qualifying 4th in a tight Pro Drag field at Numidia Raceway for the Liberty Nitro Nationals Presented by Vreeland's Harley-Davidson, Thornely had one of her personal worst reaction times in the first round against Rich Vreeland.
"It's like I woke up and he was gone. The guys worked so hard to put a great ride under my butt. I'll be practicing on the tree and be ready for Rockingham.  I'm not sure how this will affect my points, but we're still planning on a Top 3 finish at season's end."
Janette Thornley is owner and operator of her nitro burning, carbureted, 121 ci Pro Dragster and Dream Chaser Racin'.  Thank you to the local sponsors from Oregon: Northwest Propane, Premier Propane and Betty Lou's Inc.  Thank you to all my ongoing sponsors: Autolite Sparkplugs, LAT Racing Oils. Special thanks to Ray and Jean Price; Lowry Callahan of Quality Refrigeration Company, and Buddy Foss and Doug Atkinson for your time; and to the Ray Price Race Team – Tommy Grimes, Justin Heinle, Jeremy Hoy, and Mark Morgan for all you do;  And to my supporters, Bill Hendren, Mark Lavine, Dalton Matthews, and Freddie Robbins.  Sponsors always welcome!
Contact Dream Chaser Racin' at dreamchaserracin@yahoo.com