Of all the bikes blazing concrete, asphalt, and clay at Indy's Motorcycle Weekend on August 8-10, the absolute quickest, fastest and loudest will be tearing up Lucas Oil Raceway at NHDRO's Summer Celebration. Everything from the world's quickest streetbikes to all-out, big tire, wheelie bar dragbikes will be hitting the legendary quarter mile to chase NHDRO's largest payout ever. Live music, a supersized return of the bikini contest, and even a TV production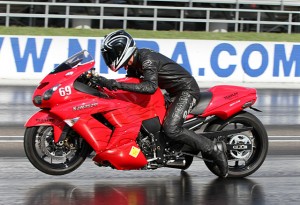 crew laying down tracks for a 30-minute show will compliment the hottest on-track action that Indy has to offer.
McIntosh Machine & Fabrication Pro Street bikes are svelte, 650 horsepower daggers applying mind-bending torque through narrow, street-legal rubber to 6.90 ETs and 215 mph trap speeds. With two wins in June on John Drake's "No Fear" turbocharged Suzuki Hayabusa, Jeremy Teasley enters the August event with the points lead. But he'll face strong challenges from Frankie Stotz and his alcohol-burning, turbocharged Honda CBR1000RR, Phil Stoll, Bud Yoder, Tyler Fisher, the side-mount turbo 'Busas of Gabe Frederick and champion Doug Gall, and many more. A 32-bike field will yield a $6000 payday for one of these edgy riders.
Contrasting with Pro Street bikes are the wide-slick, tube frame brutes of Schnitz Racing Pro Comp. Champion Mark Paquette's turbo-methanol Kawasaki Funnybike went from a standing start to a startling 198 mph in only 660 feet and 4.01 seconds last time out, and everyone knows there's still more in the bike. He'll need to keep up the pace to stay ahead of the gas/turbo/nitrous Kawasaki of Keith Lynn, the turbo 'Busa of Chris Cutsinger, the nitrous Suzuki GS of Les Stimac, and a whole field of other contenders. A full 16-bike field means a $4000 check for one of these warriors.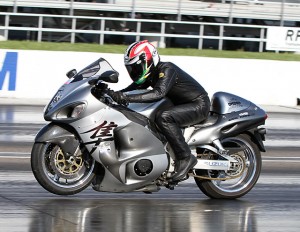 Route 21 Top Gas 8.20 is NHDRO's Big Daddy index class, featuring Midwestern veterans like "Kounselor" Kenny Schwartz, Doug Fisher and June winner Mike Wagner, as well as blazing young racers such as Greg Mallett and Bradley Shellhaas. A 64-bike field means a whopping $10,000 for the winner!
Millennium Trailers Super Comp slows the index down to 8.90, allowing for a healthy dose of streetbikes to compete with dragbikes. July winner Ben Knight is racing towards a championship vs. the likes of Brian Selner, Ron Arnold, Eric Cooper and Luke Slemker. And just like in Top Gas, a 64-bike field means $10,000 for the Super Comp winner.
Catalyst Racing Composites Crazy 8s 8.88 index is one of NHDRO's streetbike-only index classes. Arnold, Knight, and Gall also race this class, along with Crazy 8s studs like Bill DeShong, Cameron Teasley and Matt Ehora. A 64-bike Catalyst Racing Composites Crazy 8s field means $5000 for the winner.
Tsukigi Racing Streetfighter is a tick slower at 9.50 but every bit as popular as its quicker index brother. Norwalk terror Kevin Adams won last time out and will face racers Chris and Shawn Books, Chris Panko, Ryan Schnitz, and many, many more. A 64-bike field means $5000 for the winner.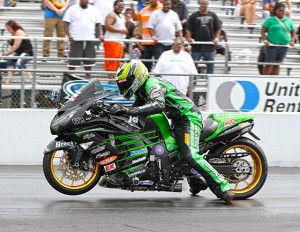 Bracket classes Kevin Dennis Insurance Street ET and G&G Metal Spinners Pro ET feature the event's biggest fields racing round after round to see who knows their bikes better, who can run their number, and who can play the best finishline games. Practically everyone listed above will also be battling for bracket racing gold, along with Jeff "Not the Rainbow Warrior" Gordon, Denny Helms, Andy Frame, Eric Cooper, Rod Bland, Ronnie Woodall Jr. and more. And don't forget Friday's bonus ET race.
Friday will also highlight Buckeyes vs. Hoosiers, with fifteen of the best Indiana racers (including Schnitz, DeShong, Mike Studebaker) matching up against fifteen of Ohio's best (Teasley, Gall, Joe Marasco, etc.) on streetbikes only—true hand clutches off of an instant green tree. Whoever wins this battle will never, ever shut up about it.
Saturday's Port-Tech Grudge session races deep into the night with clandestine gangsta bikes like Orange Crush, The Fugitive, Thunder and Lightning. Loudmouth trash talking entertains between races and nobody—NOBODY—leaves this riveting scene until the last pair takes the stripe.
You like riveting scenes? Few can rival the NHDRO bikini contest—a train wreck of scantily clad ladies seeing who can top each other with ribald, humorous and athletic stunts in front of a large crowd composed of men and women who simply cannot look away—and why would they? It's the perfect sunset start to a full night of action on and off the track, taking place beneath NHDRO's KD Kanopies.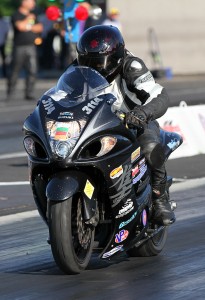 NHDRO promoters Brian and Niki Welch are committed to making the Midwest's largest motorcycle drag racing series BIGGER than ever, so be a part of NHDRO's family of racers and sponsors on the Midwest's BIGGEST motorcycle weekend. With payouts and action like this, how can you stay away?!
Find out more about the NHDRO at http://www.nhdroracing.com/
NHDRO thanks Schnitz Racing http://www.schnitzracing.com , McIntosh Machine and Fabrication http://www.mcintoshmachineandfab.com , Route 21 Racing Apparel http://www.route21.us , Catalyst Racing Composites http://catalystracingcomposites.com , Tsukigi Racing http://www.tsukigi.com , Millennium Trailers http://www.milltrailers.com , G&G Metal Spinners http://www.ggmetalspinners.com , Kevin Dennis Insurance http://www.bettercoverages.com , Port-Tech http://www.porttechheads.com/index.html , and KD Kanopy http://www.kdkanopy.com .