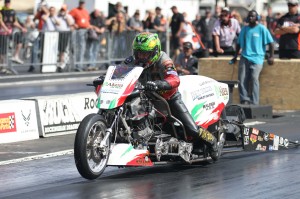 If there was ever a time when everything just worked in their favor, it was at the NHRA Lucas Oil Drag Racing Series at National Trail Raceway for the Buckeye Fuel Wars event. From the time the team made their first qualifying pass on Friday to the last pass on Sunday, the Ray Price Racing team had it all going their way.
The team had the Akea Express Top Fuel Harley ready and tuned for the first round of qualifying on Friday. Tommy Grimes twisted the throttle to run a 6.364 ET at 232.47 mph to secure the number one qualifying spot.
Then the Akea/Ray Price nitro Harley laid down another impressive run during Saturday's round two qualifying, almost matching their first round elapsed time with a 6.365 ET at 226.96 MPH.
Rain forced the cancellation of the third round of qualifying for all of the NHRA Harley-Davidson Drag Racing Series top fuel Harley's.
The team went into Sunday's eliminations holding onto the number one spot with the low elapsed time of 6.364 seconds.
During first round of eliminations, Grimes ran an even stronger pass with a 6.334 ET at 228.07 MPH during the bye run.
Then in round two the 1,000 horsepower Ikea Express lays down an electrifying 6.273 ET at 227.61 MPH to secure the low ET of the event and move into the finals.
Grimes faced Mike Pelrine in the finals, Grimes left the start line first and never looked back, running a 6.274 ET at 232.35 MPH before crossing the finish line and capturing the teams fourth win of the 2014 season.
"We were very consistent all weekend long. This win was a total team effort, and I am proud of everyone, Ray Price commented after the win.
The team now gets ready for the one day Night of Fire event at Summit Motorsports Park in Norwalk, OH on August 9, 2014. The next NHRA Harley-Davidson Drag Racing Series event takes place at Cecil County Dragway, Rising Sun, MD on August 15-17, 2014.
The Ray Price Motorsports team sends sincere thanks to all their sponsors for their support for the 2014 race season. They include our Primary Sponsors: Akea, Ray Price Harley-Davidson, with special thanks to our Associate Sponsor Raleigh H. O. G. and our Support Sponsors: CP Pistons,Vanson Leathers, PJ1 Products, RC Components, Nationwide Insurance, Royal Purple, Barnett Clutches & Cables, Autolite Sparkplugs, Mickey Thompson Tires, Gates Belts, Brown and Miller Racing Solutions, JIMS USA, Industrial Machine Solutions and Wiley X. Additional thanks: Bill Hayes, Hargis Consulting, Ultra Pro Machining and Freddie Robbins.
Ray Price Harley-Davidson – Raleigh, NC – www.rayprice.com www.LiveToRideLonger.com