The two-week delay—caused by Hurricane Joaquin—of the Mickey Thompson Tires International Drag Bike League's 23rd annual DME Racing Fall Nationals and Orient Express Pro Street Battle Royale, may have dropped Maryland International Raceway's temperatures to bone-chilling, but the pre-Halloween on-track action was blood curdling hot.
It was no surprise that DME's Terence Angela made the Battle Royale final on his glittering, turbocharged Suzuki Hayabusa. After all, Angela won the inaugural Battle Royale two years ago, and runner-upped to teammate Joey Gladstone and his DME/Vance & Hines 'Busa last year. Aruba superstar Angela has an island voodoo spell cast over MDIR's annual $10,000-to-win Pro Street all-star race.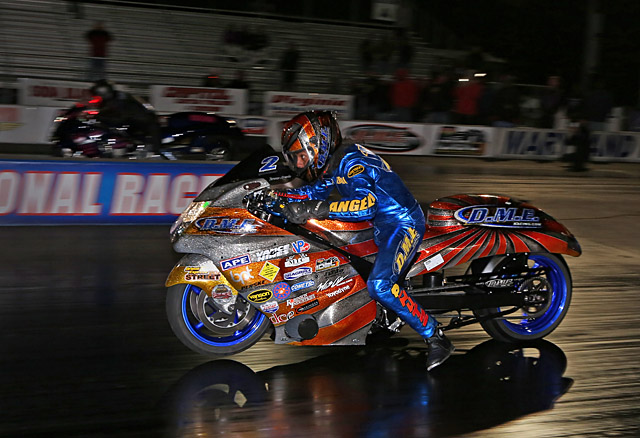 This year, Angela beat wild-wheeling Gladstone in the semis, while the other semi was bound to produce a final-round shocker no matter which rider won. Not that Jeremy Teasley would be shocking to see in the final, but the HTP Performance turbo 'Busa he was riding has always been the blunt instrument in their trailer full of sharp, nitrous-huffing beasts.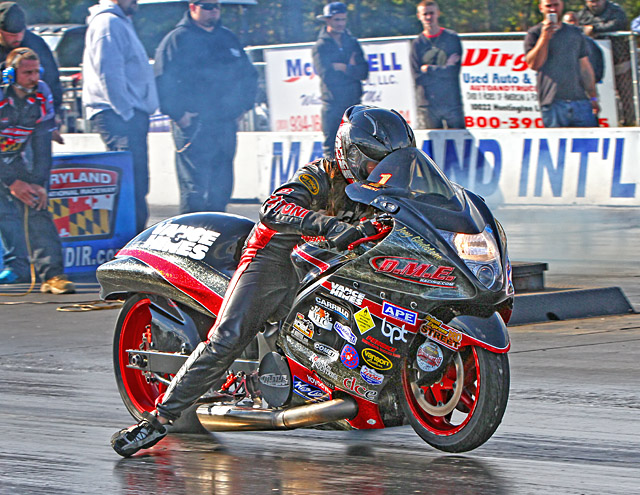 Teasley's opponent was an even wilder card. Anyone not following the Midwest's NHDRO circuit carefully would not know how far Quicktime Racing tuner Rudy Sanzottera has come both on the laptop and at the throttle. Sanzottera has steadily progressed to run low 7.0s at NHDRO's Finals in September, and ran his first 6 second pass in round 1 of Battle Royale eliminations.
So either way, the bookies were gonna have to payoff big to somebody on these two longshots, and the winner turned out to be Sanzottera. He wheelied early, recovered, and got around Teasley when his wheel, too, soared skyward on the big end.
It went the other way for Sanzottera in the final when his beautiful, glossy, blue, pink and chrome, side-mount turbo 'Busa spun at the hit. Other than a laid-back, round 1 win over redlighting (a scant -.003) Darion "Nanu" Payne, Angela had been living exclusively on planet 6.80s and the final against Sanzottera was no exception—6.88 at 217.32 mph for the win and a large brick of $100 bills.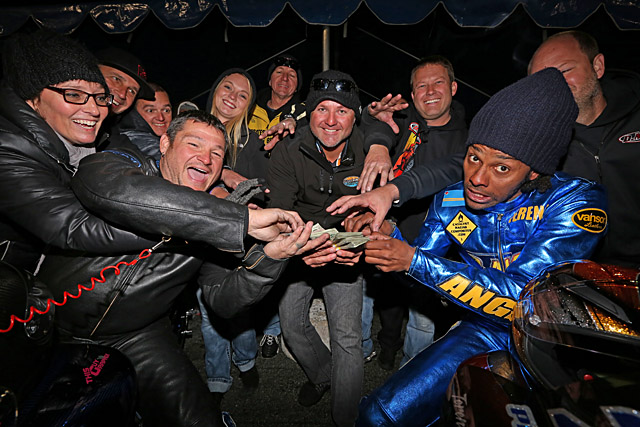 Gladstone and DME secured their third straight Orient Express Pro Street championship earlier in the weekend, but had a somewhat more complicated experience with their all-motor 'Busa in the Real Street class that DME sponsors. The cards seemed to fall Gladstone's way on the copper colored bike, beating everyone he needed to in the proper order to have a chance at the championship. He faced Roger Starrette in a winner-take-all final round, and when Starrette's clutch maintenance routine failed him, Gladstone ran one of his many 7.70something passes for an apparent win and a stunning championship.
Until IDBL's tech department got their hands on the bike, and Starrette's, and more. It's been many years since motorcycle drag racing has seen a major rules infraction story. Back in the AMA/Prostar days, post-race tech inspection was frequently a source of juicy drama. But with so many different means to the same ends in today's rules structures, creative interpretations have been either few and far between or kept well under wraps.
Until this weekend. As cold hands fumbled with frozen tools, Zeus fasteners, Allen head bolts, etc, what was revealed were infractions both mundane and inventive. Gladstone, Starrette, and Roger's teammate Teasley were all DQed. That left Anibal "Cannibal" Merced—already back in North Carolina after a round 2 loss to Gladstone—as the season champion, and Rickey Gadson—still at the track because he was busy winning Crazy 8s—as the race winner after his turbo Kawasaki ZX14R Real Street bike was torn down too and passed inspection.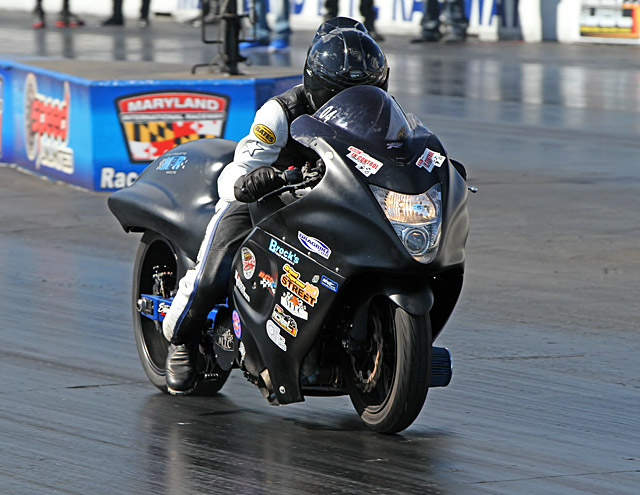 Jamie Lopes scored one more for the islands when the St. Eustatius rider won Pro Street B. After teammates Mark Paquette and Bud Yoder lost in round 1 of the Battle Royale, it was up to Lopes to hold up the pride of the McIntosh Racing trailer. Neither Lopes nor final round opponent Cody Lowe dazzled with their reaction times, but Lopes' .147 was positively spot-on compared to Lowe's .239. Lopes ran 7.22 for the win.
Hoosier Justin Doucet struggled to keep his fast Two Wheel Werks 'Busa on the ground through qualifying and thus was the class of the Pro Street C field, taking the win over Rocky Tinker.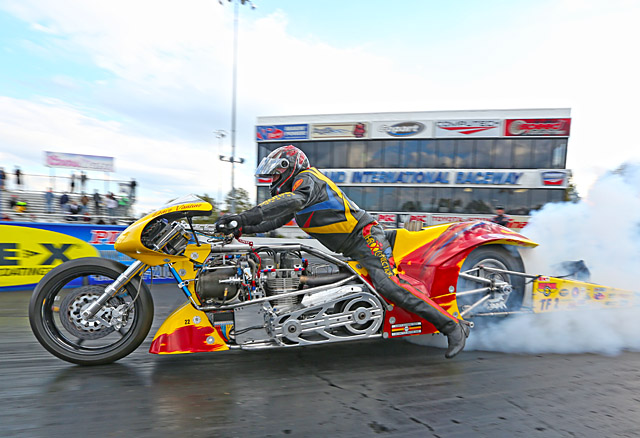 David Vantine ran three 5 second passes to dominate the Top Fuel match race series over local hero Bob "Opie" Malloy, racing his Nitro Harley in injured Larry "Spiderman" McBride's absence.
Ronnie Procopio made his return to sportsman racing complete, winning Vance & Hines 4.60. He beat new 4.60 champion Tyler Cammock in the final after Cammock redlit by the slightest of margins, -.001. Number 1 qualifier Michael Ostrowski redlit by slightly more, -.003, against Cammock in the semis.
Dustin "Tennessee Devil" Lee cast his own evil spell over "Fearsome" Andy Baumbach in the FBR Shop 5.60 final, as Baumbach redlit with a -.018. It was just enough to also score Lee a close championship win over defending champ Ostrowski, who lost to George Shriver in round 3. Lee beat number 1 qualifier Scott Grady in round 2, and also won Friday's close Gamblers Race final over Mike McCarthy.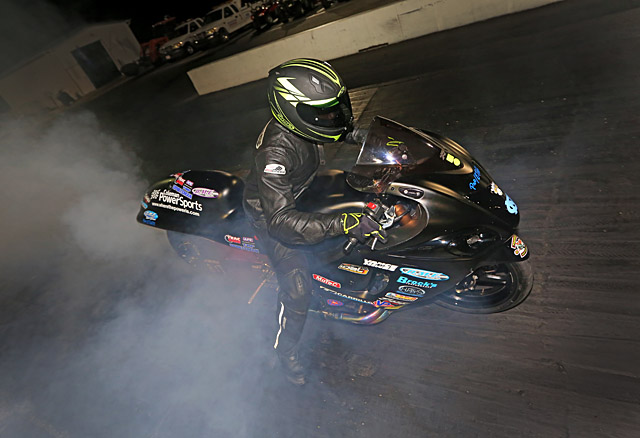 Ryan Bonitatis' -.001 final round redlight gave Chuck White the Trac King Clutches Top Sportsman win. Number 1 qualifier Doug Robinson lost to Baumbach in round 2. Andre Jones started the day tied with Brian Canoles for the class championship, but that battle was over early when Canoles lost in round 1 and Jones advanced to the title.
Jones also won Shinko Tires Pro ET on Sunday, beating Baumbach in the final. Both riders had identical .023 lights, but Baumbach broke out. Jay Windsor won Sunday's race when Nutley, New Jersey's Glen Giannetti redlit by -.002.
The big noise in Shinko Tires Pro ET was the Tournament of Champions. Clay Davies nailed a .015 light on fellow Virginian Baumbach in the final, as the Fearsome one was obviously going rounds all weekend long but coming up short, including this time against Davies.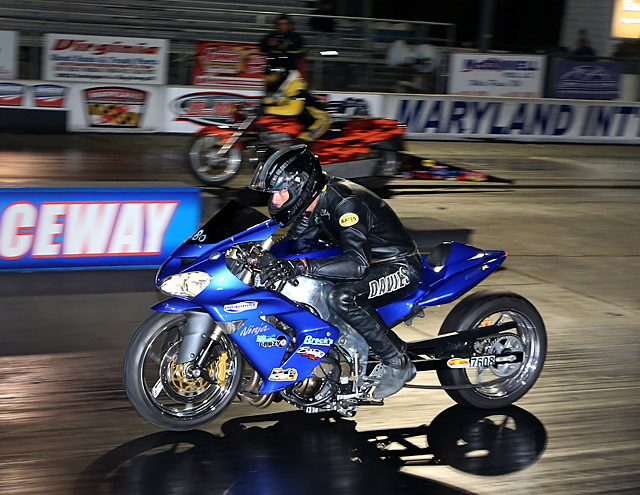 Shayne Proctor won the Brock's Performance Street ET Tournament of Champions, cancelling out Connecticut Kingpin Bob Carlson's perfect 8.960 on an 8.96 dial with a .070 advantage at the tree.
Robert Parker won both Brock's Performance Street ET races over the weekend, beating Davies in a double breakout race deep into a frigid Saturday night. Parker's victim on Sunday was Bruce Cornish Jr, who had Robert by .039 at the tree but had shifting issues down track and couldn't run his number.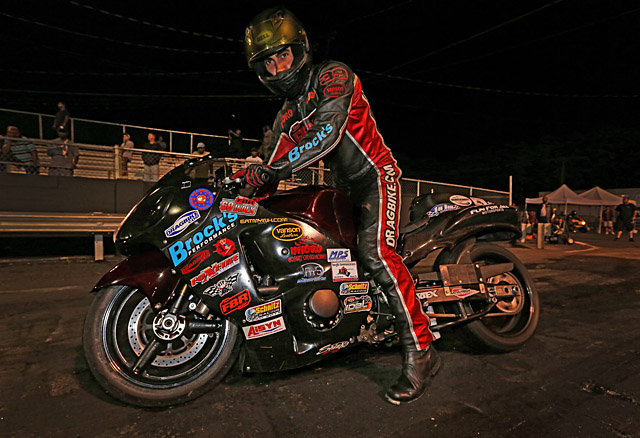 Parker also played a major role in Sunday's Carpenter Racing Crazy 8s championship. If he could make it to the final round, Parker could take the title over points leader Ben "Hardest Working Man in MC Drag Racing" Knight. Ben was doing duty for employer Brock's Performance in their AIM Expo booth and, with a large lead in hand, had to let the points fall where they may. That tension ended in Parker's round 2 race against Davies. Someone in the pair before them schmutzed the track, causing a delay which cooled the tire on Parker's big Kawasaki ZX14. Perhaps because of less torque on his ZX10, Davies didn't spin while Parker did and Knight scored the championship from hundreds of miles away.
At the end of the day, it was none other than Rickey Gadson who scored the Crazy 8s win—the win that not only scored the Crazy 8s cash and trophy for the veteran Kawasaki star but also kept him around the track long enough to get his Real Street bike through teardown and collect the win there as well.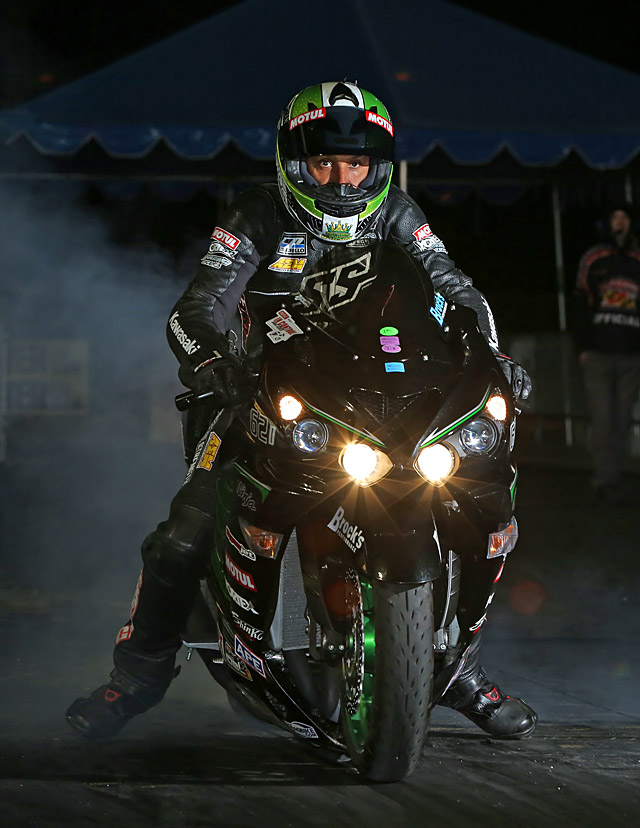 So finally, a long cold weekend of 793 racing entries was over, as was the Mickey Thompson Tires International Drag Bike League season. IDBL President/Promoter Jason Miller will welcome everyone back to Maryland International Raceway on April 22-24 for the start of the 2016 season.
Race results: http://www.raceidbl.com/results/2015/race_5_mdir/index.htm
Find out more about the Mickey Thompson Performance Tires International Drag Bike League at http://www.RaceIDBL.com
Find out more about Maryland International Raceway at http://www.RaceMDIR.com
This report was prepared by Tim Hailey. Enjoy everything there is to read, see and watch about motorcycle drag racing and more at http://www.eatmyink.com