Another "Star" is about to be born in Vegas.
Star Racing has been a significant and powerful force in motorcycle drag racing for over 30 years.
Owners George and Jackie Bryce have captured six NHRA Pro Stock Motorcycle championships and discovered some of the sport's finest talent. The duo is ecstatic to unveil a plan which could very well be the squad's gateway to championship No. 7.
At the Toyota NHRA Nationals at the Strip in Las Vegas, Oct. 29-Nov. 1, Star Racing and YNot Racing will debut a 2014 EBR (Erik Buell Racing) 1190RX with talented, upstart rider Cory Reed, 22, of Grand Junction, Colo.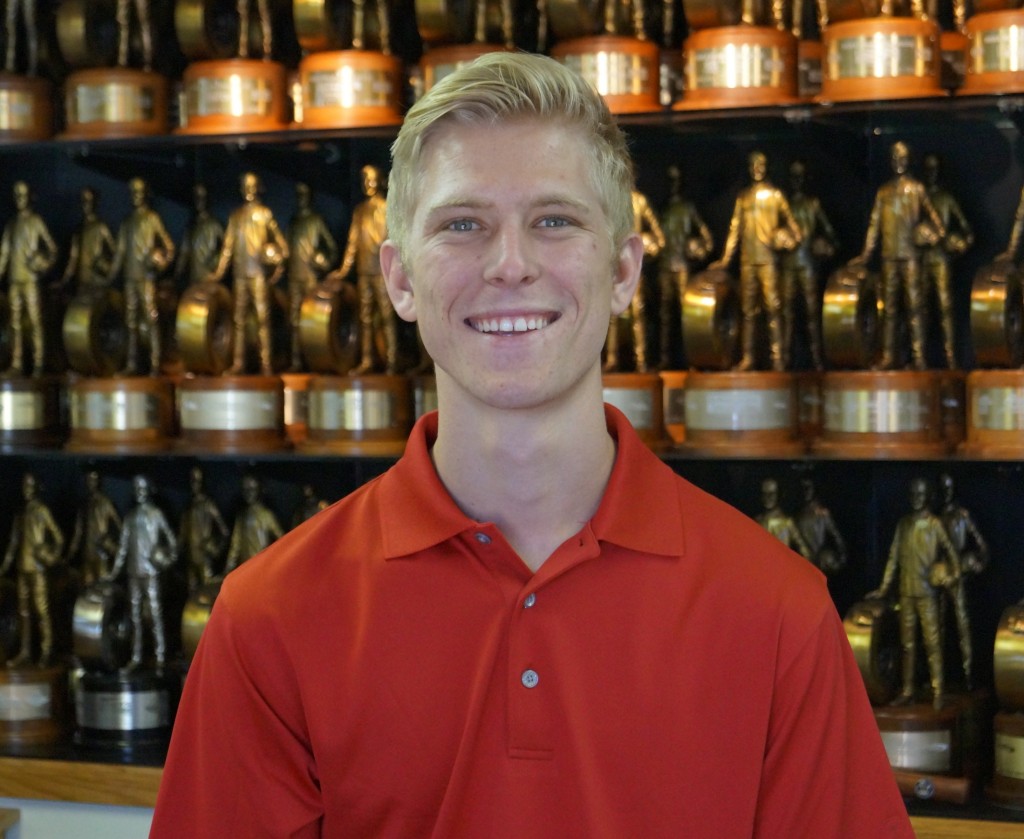 "I'm blessed to have such a cool opportunity," Reed said. "I've learned more than I could have ever imagined."
Star also announced Reed and NHRA 3-time champion and winningest female racer, Angelle Sampey, will team up for the entire 2016 season.
Reed obtained his pro license at the beginning of the year and has been training all season. He has attended every race Star entered as a crew member.
"He has done an outstanding job. We have had him testing on five different motorcycles under the radar," said George Bryce. "He has also done a great job as Ken Johnson's (longtime Star Racing crew chief) assistant all year."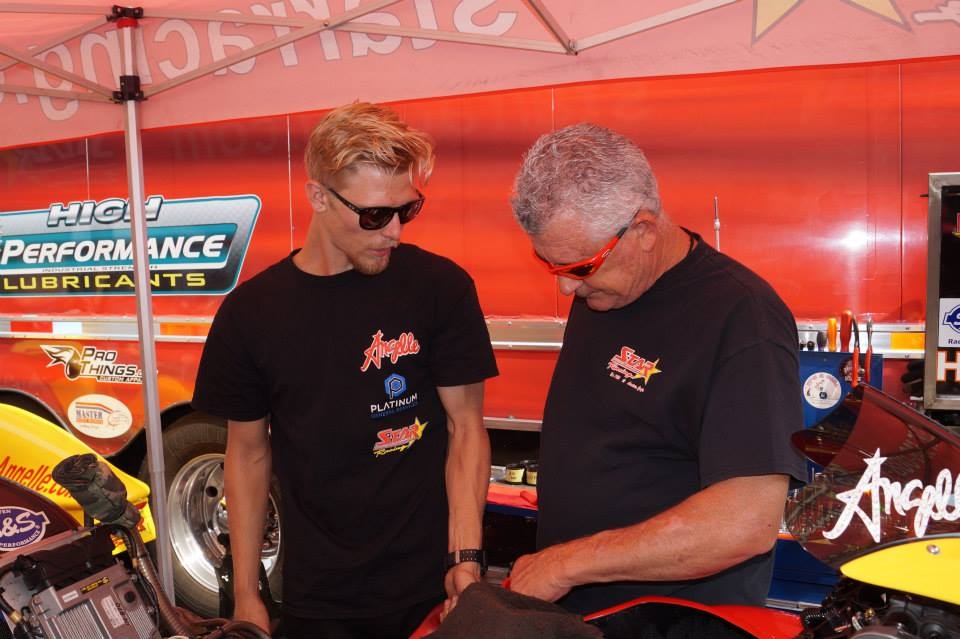 While helping out wherever he can, Reed also spent much of the season gaining valuable racing knowledge from three-time NHRA champion Sampey.
"Cory is great guy. He has been a genuine teammate," Sampey said. "He helps me in so many ways. He even holds my bike in the staging lanes when I am practicing."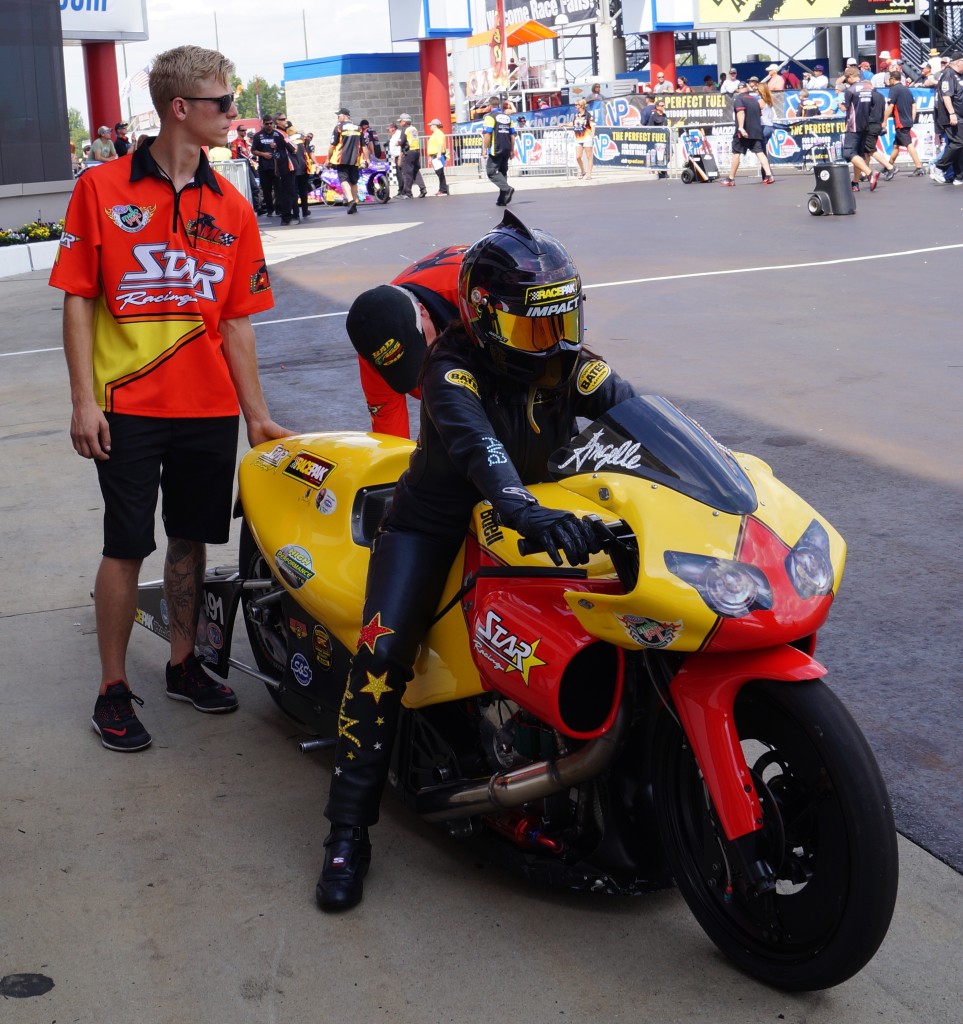 Reed was a unique student for Bryce. He had no prior dragbike racing experience. In fact he has never even ridden a street bike.
"I was a blank piece of paper for George," Reed said. "The nice thing is I didn't come in with any bad habits."
Yet Reed is far from inexperienced on two-wheels. For the past seven years he has been a standout motocross racer, eventually working his way up to the exclusive pro level.
In the physically relentless and unforgiving world of motocross careers are short.
"I just got too beat up," Reed said. "I wanted to keep racing so my mom got me to one of George's schools and I was hooked after that."
Perhaps Reed's mother, Annie Whiteley, a highly-accomplished Top Alcohol Funny Car competitor, knew her son was destined to be a drag racer.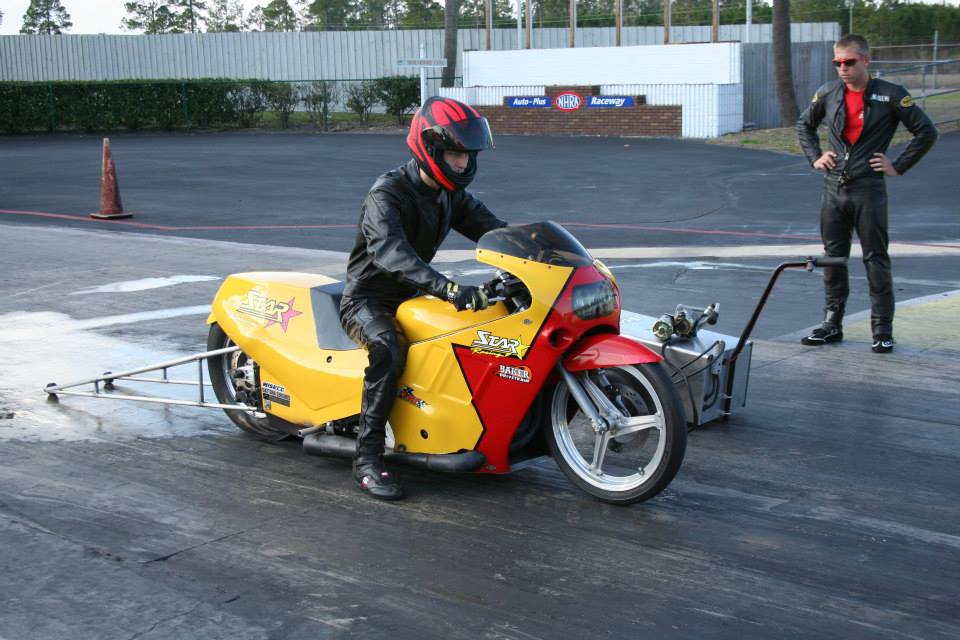 "His momma goes 5.40s at 260 mph," Bryce said. "She's bad!"
In fact, Reed's family is filled with topflight quarter-mile racers.
His father, Jim Whiteley is a two-time NHRA national champion in Top Alcohol Dragster. He currently competes in Pro Mod along with his son Steven Whiteley.
Reed has been down a dragstrip before in a junior dragster, but he believes it's his two-wheel expertise that really let him shine at Bryce's school.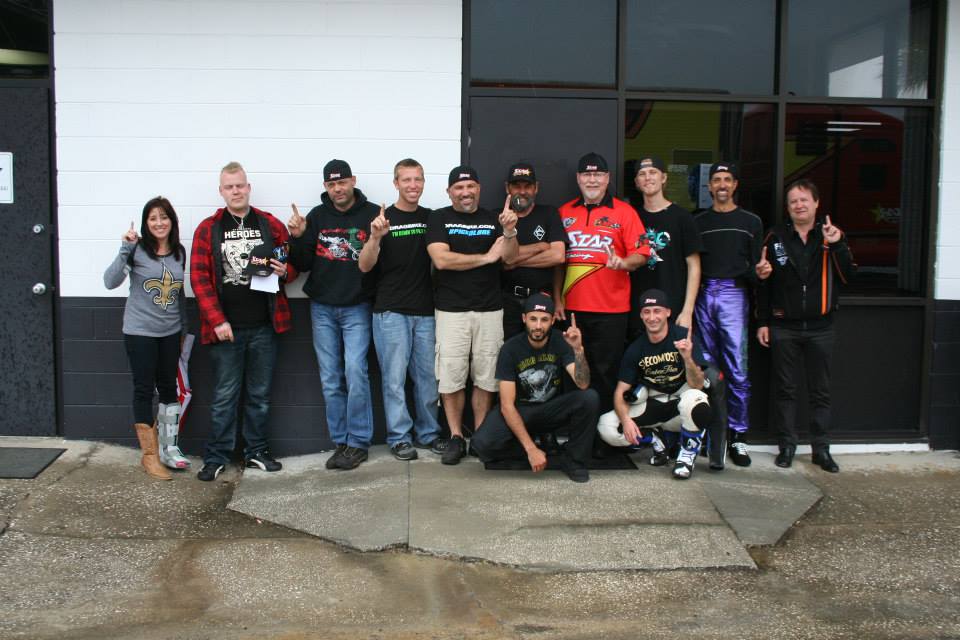 Many motorsports experts consider motocross one of the most challenging forms of racing. Bryce noticed Reed's pro-level motorcycle talent immediately.
"At our school he looked like the perfect example of how to drive. Jackie and I knew he was special," Bryce said. "Out of the over 900 students I've had, I've never had somebody who did not have any dragbike racing experience whatsoever, who could also do nac-nacs and triple jumps out on the Supercross and motocross tracks."
Bryce also sees the camaraderie and cohesion Reed has with Sampey as something that will greatly help the team in 2016.
"They work together really well," Bryce said. "Cory has helped us all year so we are going to Vegas to help him."
Sampey will sit-out of competition for this race to focus solely on providing valuable coaching to Reed.
"I owe it to him to be there and support him," Sampey said. "I really wish I could be racing, but it is better I don't have to worry about being on a bike. I can give all my attention to Cory. This is a great way to repay him."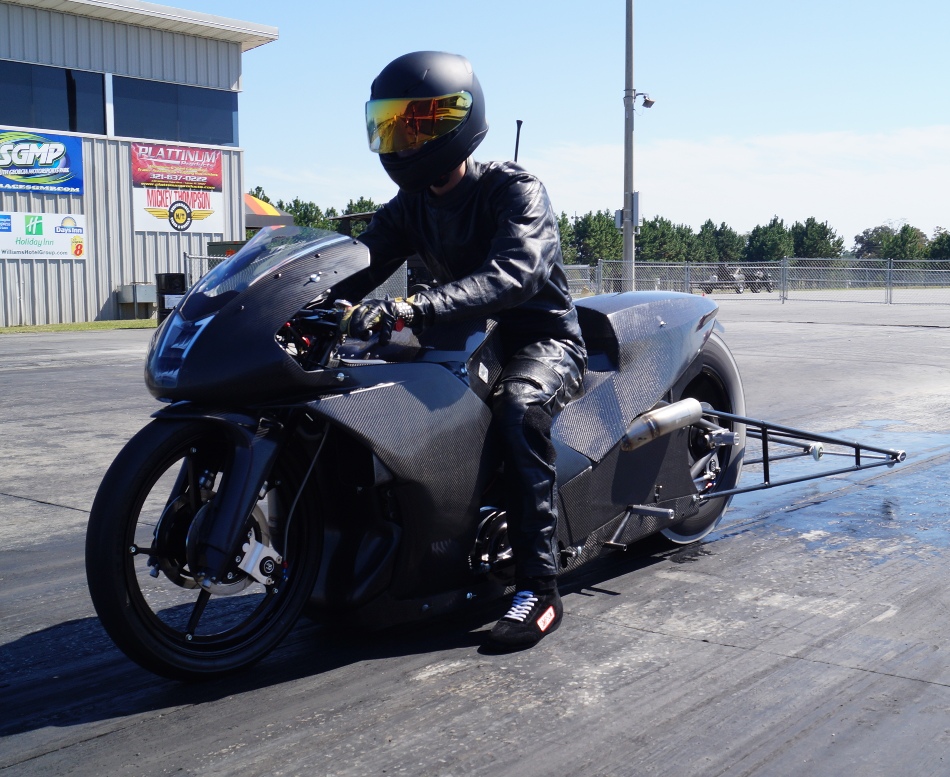 Reed has been as quick as 6.95 in testing on the EBR 1190RX, which features a Kosman chassis and a S&S power plant. Bryce is tremendously excited about the motorcycle's potential.
Considering the recent success of Suzukis in the class, with Jerry Savoie currently ranked No. 3 in the Countdown, the team also knows they have more than one choice.
"Cory ran a 7.00 on our Suzuki. We are going to keep it in development. He really likes it," Bryce said. "It's nice to have options."
Bryce and Sampey also know there are great advantages to having a two-bike team and are thrilled for next season.
"I'm very excited. I know what it's like to race with a teammate. It's great. I started my career with John Myers (the late, legendary three-time NHRA champion)," Sampey said. "Antron (Brown, current NHRA Top Fuel Dragster racer) and I were great teammates and I feel like Cory and I will be the same. It will be all about helping each other succeed. With Antron, I wanted both of us to win so badly, I performed well. That's how it will be with Cory."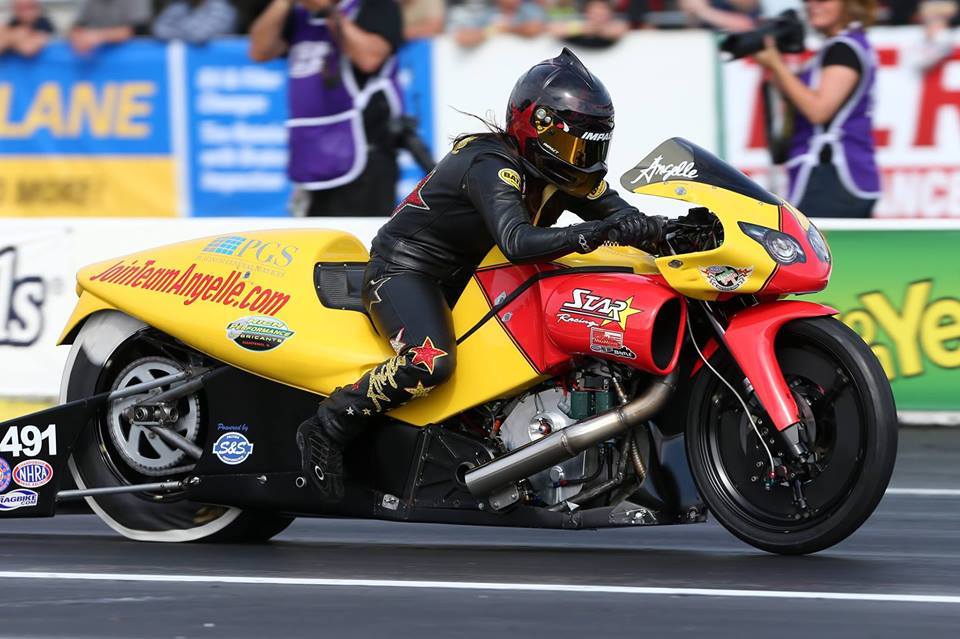 Two-wheel fans have another reason to be excited about the race. NHRA gave more teams the opportunity to compete. Las Vegas has an astounding 30 motorcycle entries.
"It's great for the class," Bryce said. "I heard 33 people attempted to sign up."
Following the Vegas race Reed plans to compete in the Man Cup World Finals from South Georgia Motorsports Park, Nov. 13-15, before beginning preparations for the 2016 season.