One of the world's most renowned dragbike builders, tuners and longtime nitrous loyalist, Cecil Towner of HTP Performance has a spectacular resume that includes being the first to put a Real Street bike in the sevens and the first to put a Pro Street bike in the sixes. There was a period of time when Towner and rider Keith Thompson utterly dominated MIROCK Real Street and captured three consecutive championships.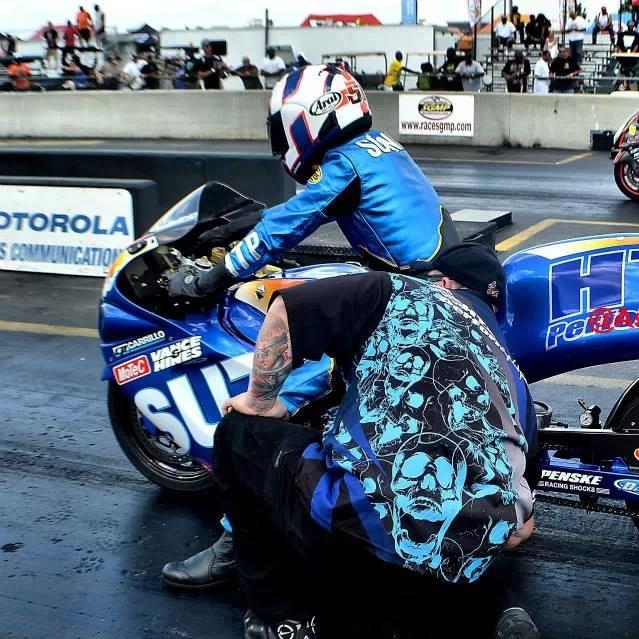 This season Towner, 35, of Richmond, Va., shocked some of his fellow NOS allies when he decided to add a turbo-charged motorcycle to his Pro Street team.
"It intrigued me and was just something I had to do," Towner said. "But I didn't want to buy anyone's kit. I wanted to build my own."
Towner selected one of the most talented no-bar racers in the world, multi-time champion Jeremy Teasley as the jockey.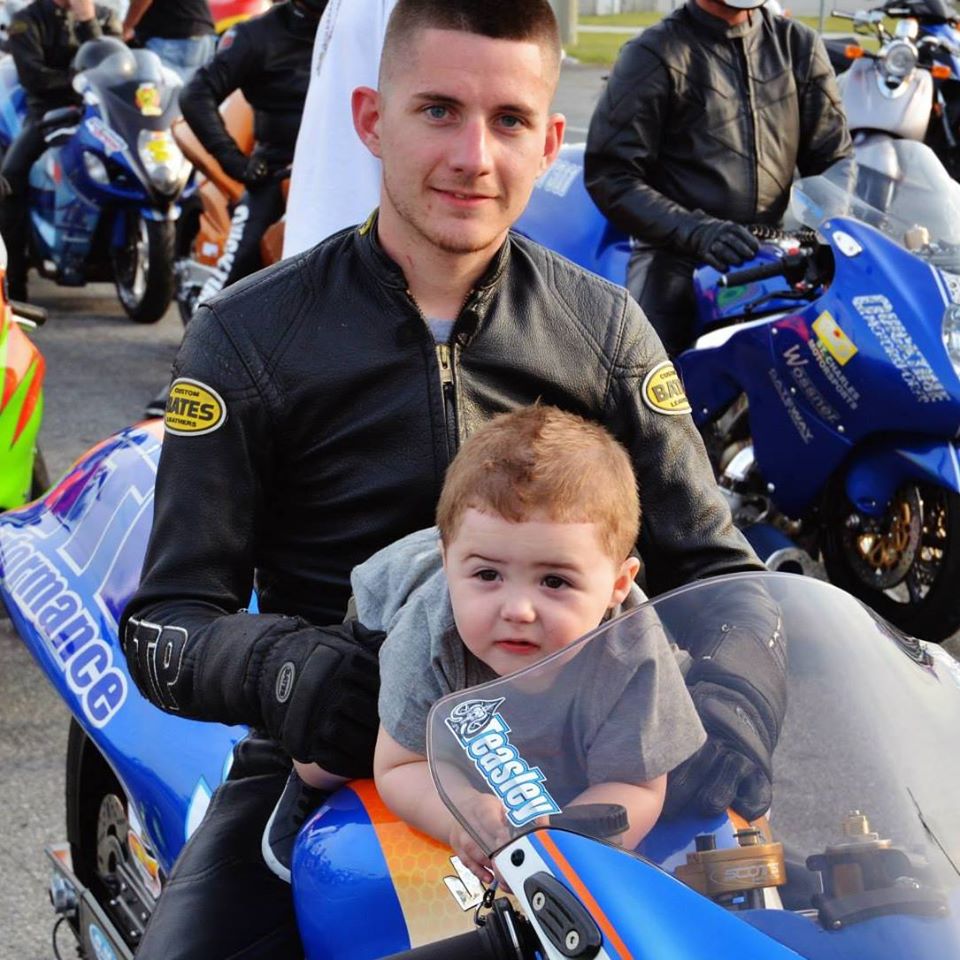 The team was immediately competitive and quickly achieved the same 7.0 performance the talented Ryan Schnitz typically runs on Towner's staple, his nitrous Hayabusa.
For projects like this, Towner fully understands the tremendous benefits that come with partnering with best riders in the world.
"My whole career is totally based on these guys. I have been so fortunate since I got in this business to work with talented riders" Towner said. "These guys can make anybody look good. A quality rider makes a builder's job so much easier."
Having access to skilled riders is also extremely useful when it's time to test or put the finishing touches on a customer's new bike.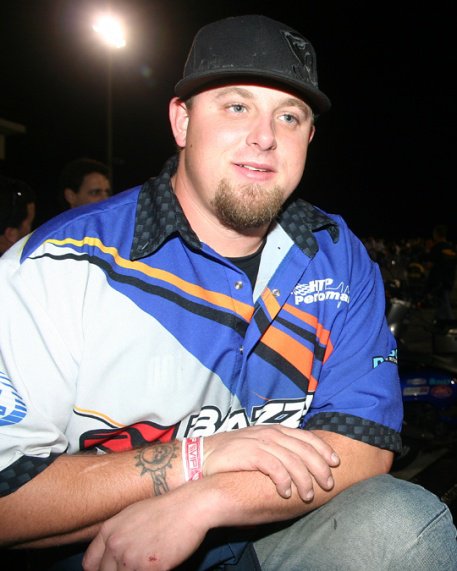 "My customers are kind of floored when they show up at the local racetrack and I flew in Schnitz, Teasley or Richard Gadson to ride their bike," Towner said. "To give the customer a quality product, you can't ask for anything better. My rider is going to hand you a time slip and ask if you are happy."
As a user of both power adders, Towner has earned the authority to weigh-in on the historic, ever-raging nitrous vs.turbo debate in motorcycle drag racing, specifically the parity between the two configurations in Pro Street.
Although the performances of his unique motorcycles are pretty equal, Towner says the characteristics of each could not be more different. He says the margin for error is much less with a nitrous bike.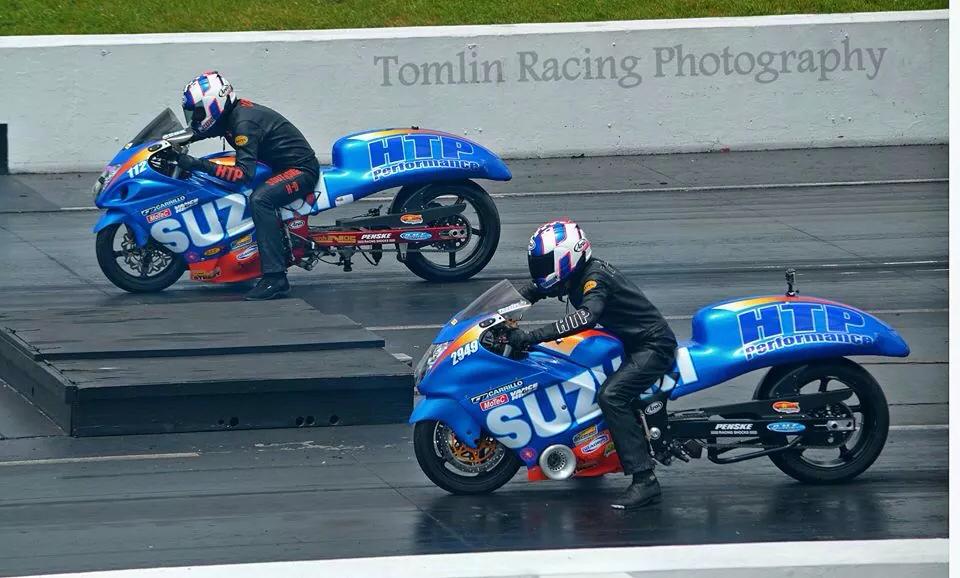 "All the conditions have to be there for a nitrous bike. The track has to be perfect. The bike has to go from point A to point B on the ground and all the shift points have to be hit right on," Towner said. "Any mishaps, any small wheelies, any short shifts or throttle checking and it will kill the run. In Pro Street a 6.90 run can easily become a 7.20 or 7.30 with one small wheelie because everything has to restart over again."
Towner says that's a far cry from the forgiving nature of a turbo charged bike.
"That turbo is still spooling whether you are half throttle or full throttle. It's still putting boost in the motor and making a bunch of power," Towner said. "You could reset your turbo ramp if you have to get out of it, but overall the recovery rate of a turbo is ten times better than a nitrous bike."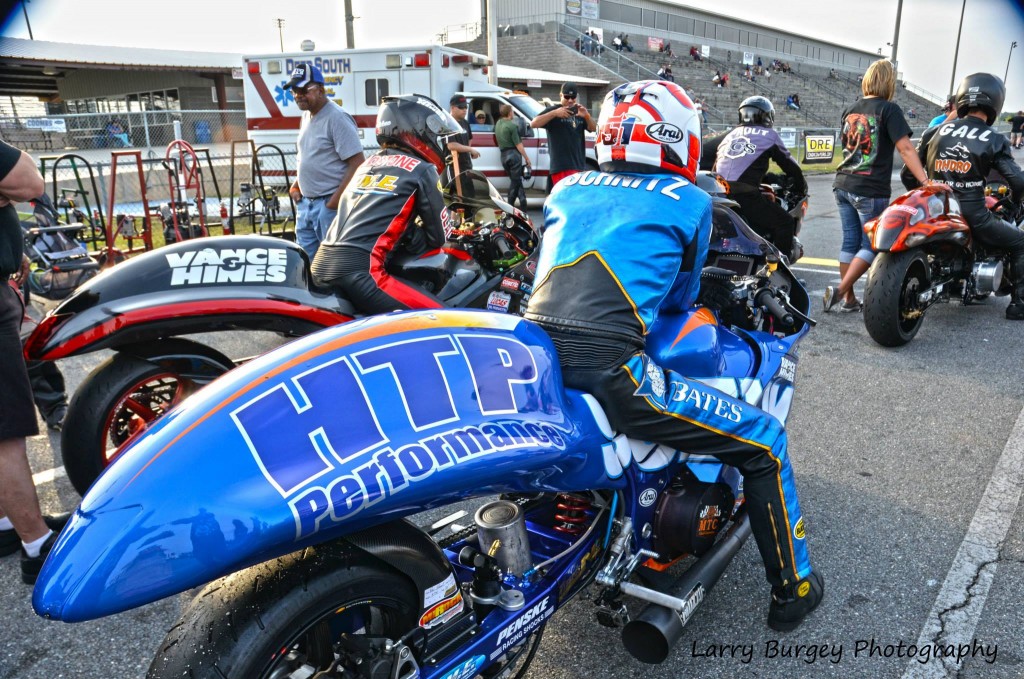 Towner says the advantage of a nitrous bike is it accelerates quicker if all goes well.
"The violent nature of nitrous with crude solenoids is actually what makes them so quick," Towner said.
But nitrous bikes are also harder on parts and rely on auto transmissions.
"The turbos have an undercut transmission, so if Joey (Gladstone) goes out there and wheelies, no problem, abort, then come back and try again. If Schnitz wheelies on my nitrous bike with an auto and gets out of, then we are putting shift forks in the thing. We had to put shift forks in Danny Cox's (HTP team rider) bike twice one race while DME was sitting around drinking Gatorade getting ready to get called up for the next round."
For the past two seasons, Team DME and Gladstone are who all of the Pro Street competitors have been chasing after.
"Joey is very talented and DME is very skilled. DME's chassis are phenomenal and the tuning is very good. They have all the pieces. We need to get up to that level. They don't have a part we can't purchase," Towner said. "They don't have anything on the bike they made that they wouldn't sell to us. DME has a great cylinder head, pistons and crank and rods. They don't use cheap parts. They are reaping the benefits of doing this for 12 years and having great knowledge and a great crew and support. We just all need to catch up to them."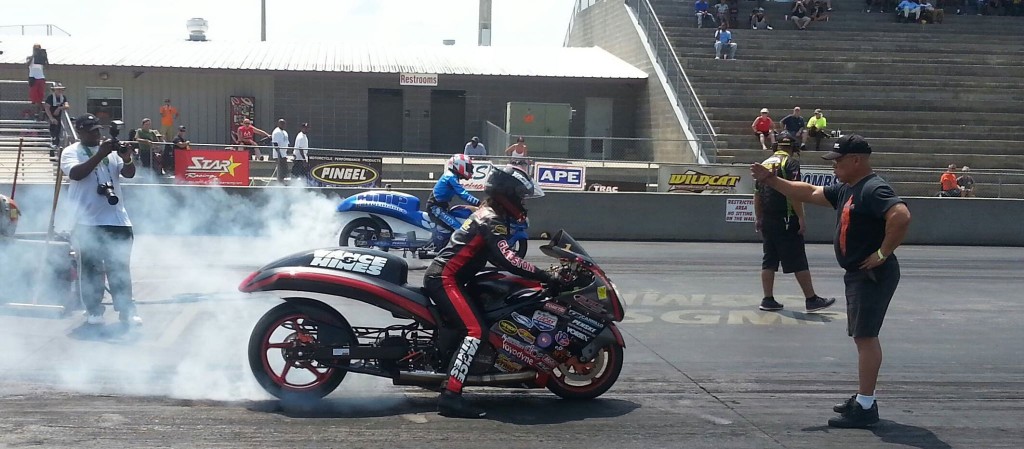 Towner does not see turbo and nitrous bikes being on even ground, but he isn't complaining.
"We don't need rule changes," Towner said. "At the end of the day I know I have a nitrous bike that flat out can't run with a turbo when they are both on their best passes. But this is drag racing and anybody can win. At the first IDBL race, Joey Galdstone had the quickest bike but it wouldn't start in the final."
Towner's recent foray into the turbo-charged world has the longtime nitrous builder seeing the world in a new light.
"I hate to say it but turbos are the future. You see it in Formula 1 ,you see it in all the new cars with EcoBoost and direct injected turbos," Towner said. "The turbo is very efficient. They make a lot of horsepower with not a lot of effort."
This is a humbling point of view coming from the man who used nitrous to put the first Pro Street bike in the six-second zone in 2011, with a record-shattering 6.90 at Maryland International Raceway.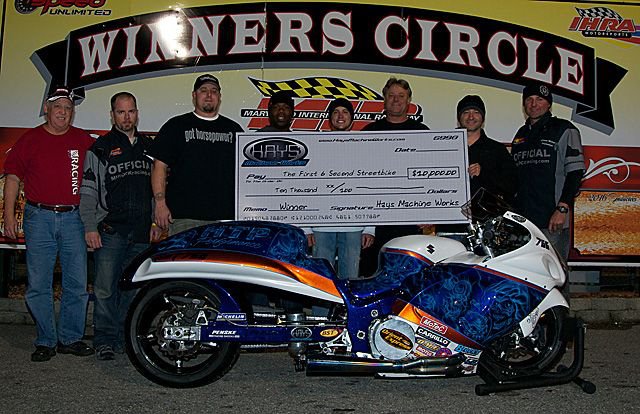 However that is a level of performance Towner and Schnitz have struggled to achieve since.
"The rules have been crazy. That winter they took away our slider and made us go up to a three-inch ground clearance," Towner said. "They also added weight penalties for using an auto transmission."
The new rules greatly changed the Towner/Schintz Hayabusa. In 2012 the team was still able to put a few high 6.90s on the board, but fearing more rule changes, Towner began to search for more performance and tried some radical experiments.
"I wanted to give us another path. Long story short, the stuff we tried in 2013 and 2014 did not work." Towner said. "We have gone back to our old stuff and we are happy with the result so far."
A major plus for Towner's nitrous team is the IDBL (formerly MIROCK) rules are close to being back to like they were in 2011.
"We got our wheelbase, slider and ground clearance back so we will see how it goes," Towner said.
Through their team effort, Schnitz and Towner have become quite close over the past several years.
"He's probably the best friend I got. He's a good dude. It's not the same when we go to the track without him," Towner said. "Ryan is like me, he's nitrous first. We have always been nitrous guys."
The duo is also on the same page about wanting to build something radical.
"We like doing things a little different. The turbo Busa thing is so cookie cutter right now," Towner said. "We have some crazy talks, like building a turbo Pro Street Indian just to be different. The sport needs some flash. The nitrous bikes are important to the fans. Even if we are just there to finish second, it's what the sport needs."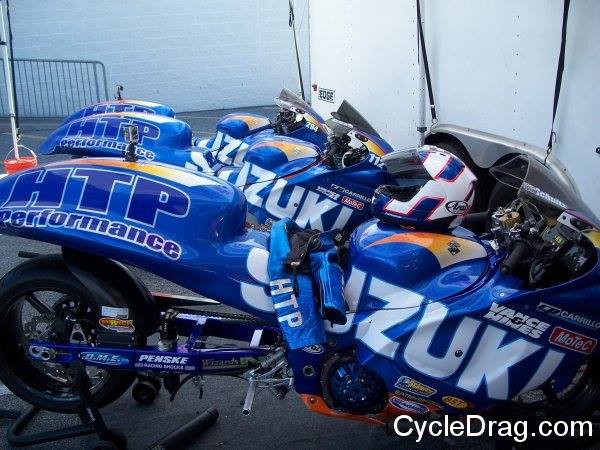 With his new outlook and acceptance of turbos, the big question is what would Towner advise one of his customers to build at this point, a nitrous or turbo machine?
"In my heart I'd tell them nitrous, but thinking with my wallet I'd say turbo. Done right, both will cost between $60,000-$80,000 and there are companies out there that could charge as much as $100,000. But there are a lot of guys out there with cheap turbos systems that are running OK. Meanwhile I have a $15,000 motor in my nitrous bike," Towner said.
Towner builds a plethora of grudge bikes. He says the turbo technology will soon be found there as well.
"The turbo scene has not crossed over to grudge yet, but it's coming," Towner said. "There are a lot of guys asking. I might even have a surprise for everyone by the end of the year."
Delivering quality is what has built Towner such a loyal following of customers.
"When you come to me you get what you pay for. I don't care if you spend $5,000 or $500,000. I take the best of my knowledge and we give you a finished product that makes you feel like you got what you paid for," Towner said. "It's a family affair here."