When it comes to winning, many racers live by the cliché, "whatever it takes."
Four motors, three drive chains, three sprockets and a whole pile of broken parts was the price of victory for 14-time Top Fuel Motorcycle champion Larry "Spiderman" McBride at the Manufacturers Cup DME Nationals, Aug. 22-23 from Rockingham, N.C.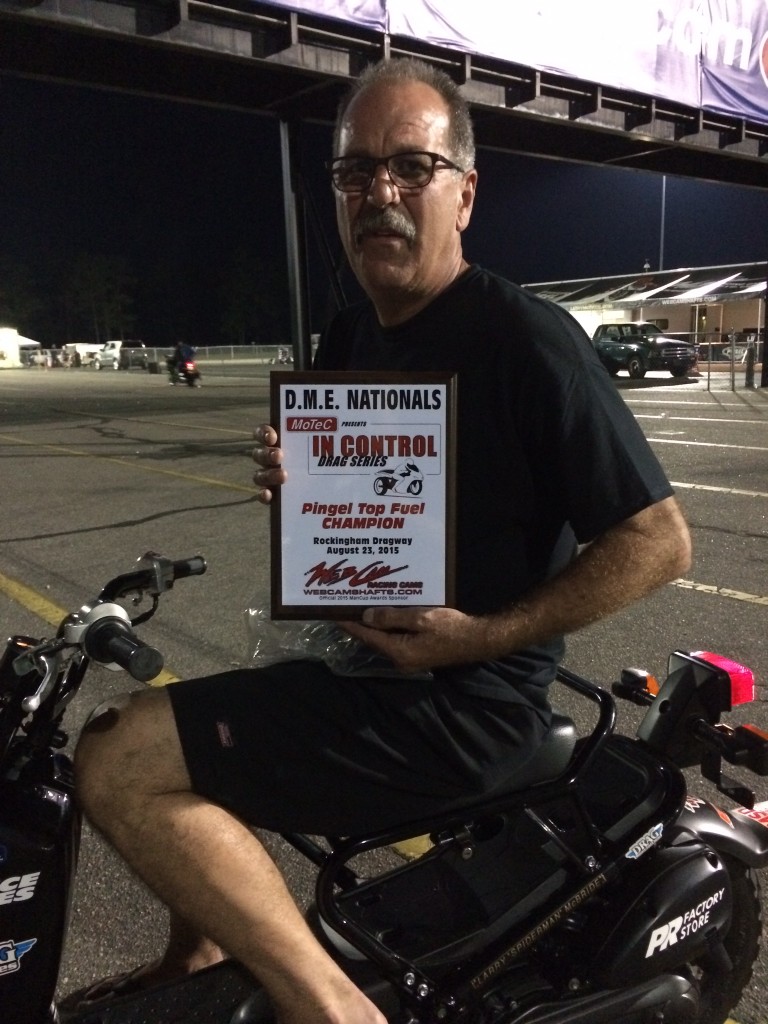 "We don't have a clue what's going on but I'm going fast," said McBride, who recorded low elapsed time of the event with a 5.82 at 234 mph, in Saturday evening qualifying.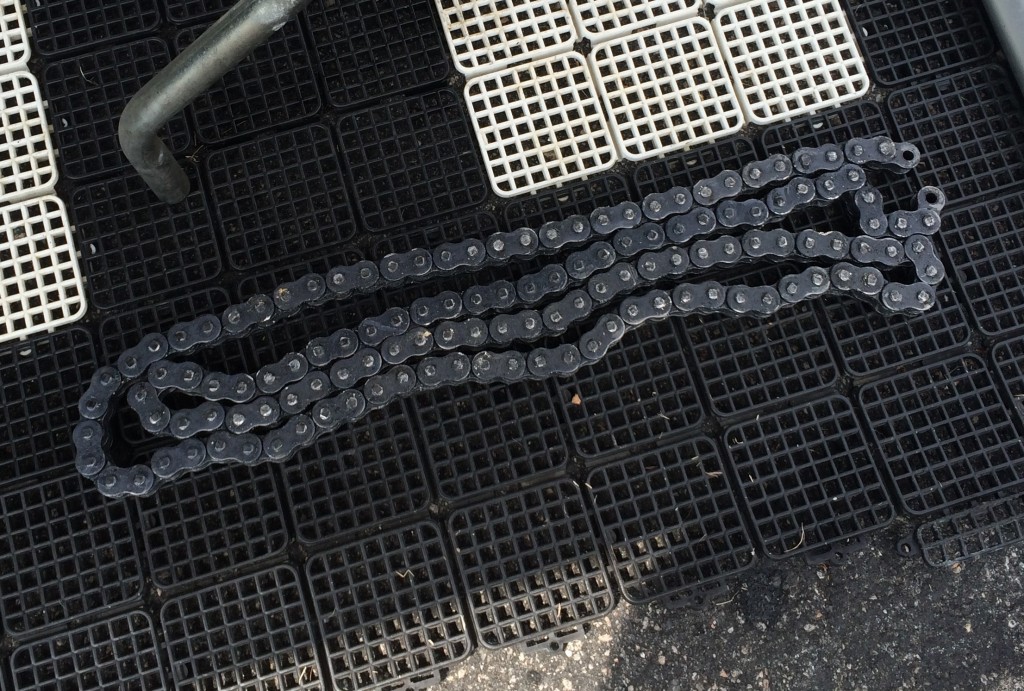 Even more impressive, McBride was off the throttle at 5.6 seconds into the run.
"I was scared," laughed McBride, the seemingly fearless pilot.  "It was so dark I could not see anything.  It was mainly a run for bragging rights."
Unfortunately for McBride it was another costly pass.
"We worked on the bike all night and we did not get to bed until about 3 in the morning," said McBride, who was back up four hours later. "I have the best crew in the world for getting this motorcycle back together after every run."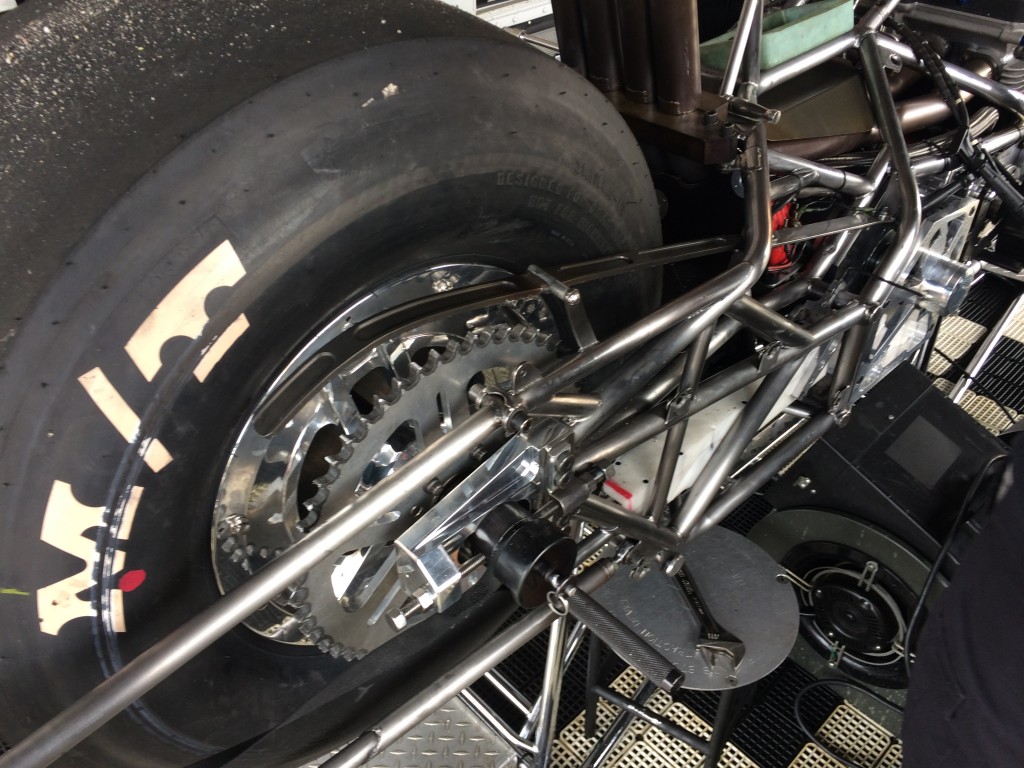 With McBride and his crew getting older, the Spiderman praised young and enthusiastic Chuck Stuart, 30, son of longtime crewman Roland Stuart, for keeping the team motivated through all the frustrating and arduous thrashes.
"Chuck has such a positive attitude and is such a hard worker. He is our backbone," McBride said. "He never gets down and keeps us upbeat. When we get frustrated and want to give up, he tells us he will fix it himself if we don't."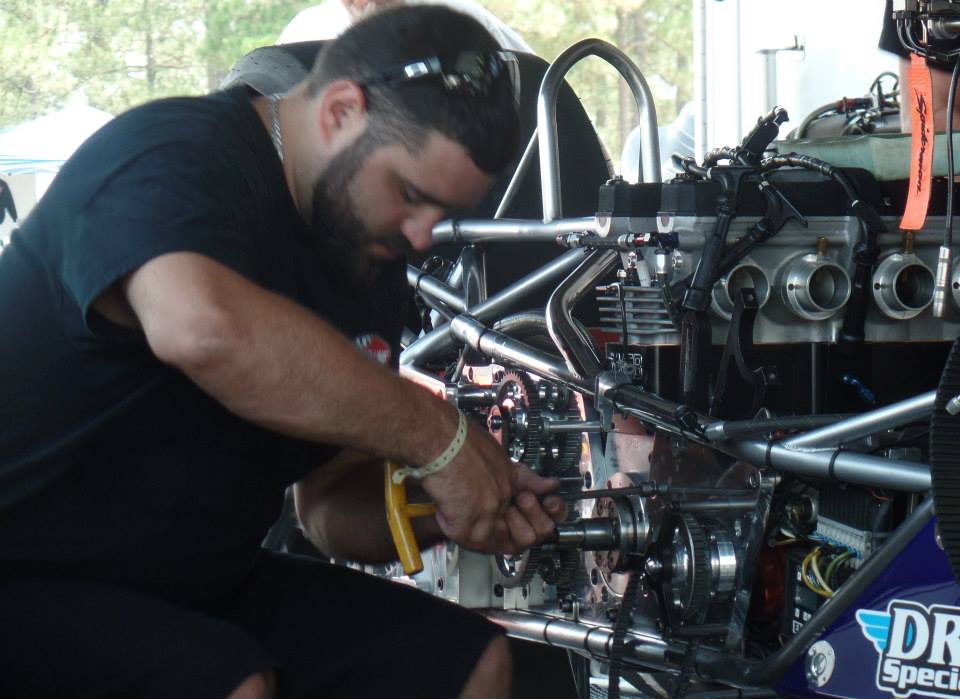 McBride and his brother, crew chief Steve McBride were already worn out from a week of working on the machine until midnight after destroying several of his custom parts during a match race at Maryland International Raceway in late July.  It was not until Friday morning before the DME Nationals that team McBride was ready to make the trip to North Carolina.
There is only one thing that keeps the squad going.
"It's a love that comes from doing it for so long," McBride said. "It's a passion."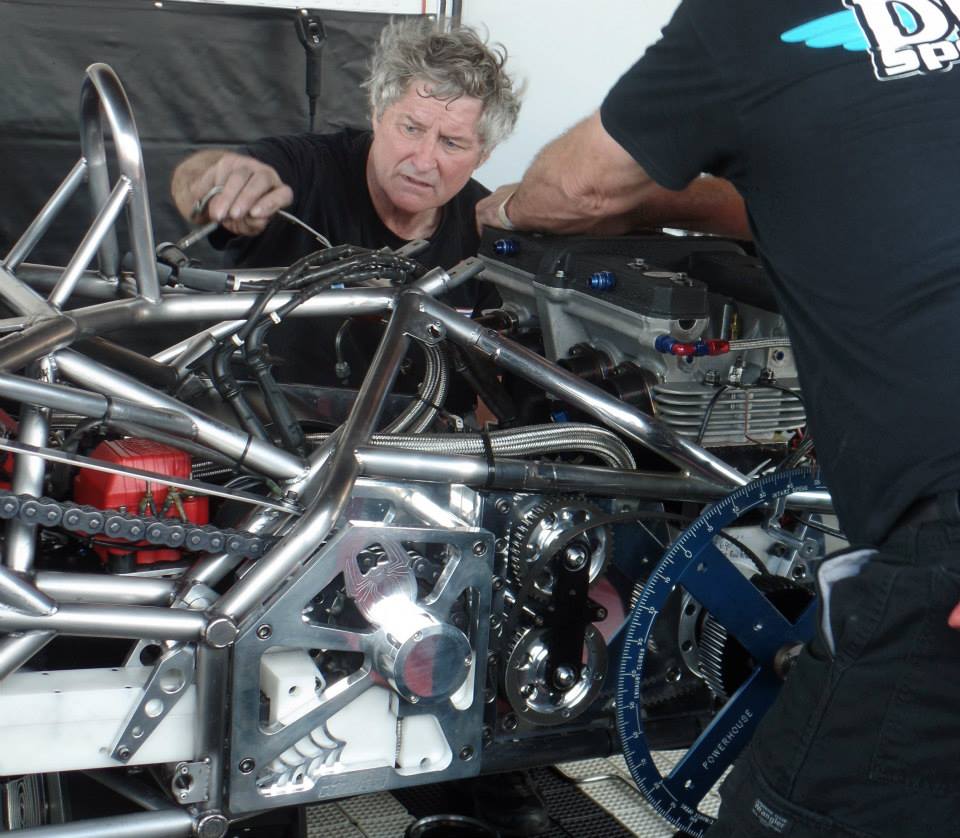 On Sunday, McBride and Sam Wills treated fans to a competitive, side-by-side, final round race. The Spiderman edged out the Texas-based rider with a 6.02 at 234 mph to Wills' 6.12 at 234 mph.
"We shook the tire and then spun," McBride said. "I grabbed the brake and the throttle hard to correct it. Thankfully it hooked back up. It was a great race."
Wills' crew chief Mike Dryden said, "It was one of the best drag races I have seen in a long time. Both bikes did a great burnout together, left at the same and lit the scoreboards almost at the same time. Overall it was a great weekend for us. We are still trying some stuff. The new McBride clutch we are using has been flawless."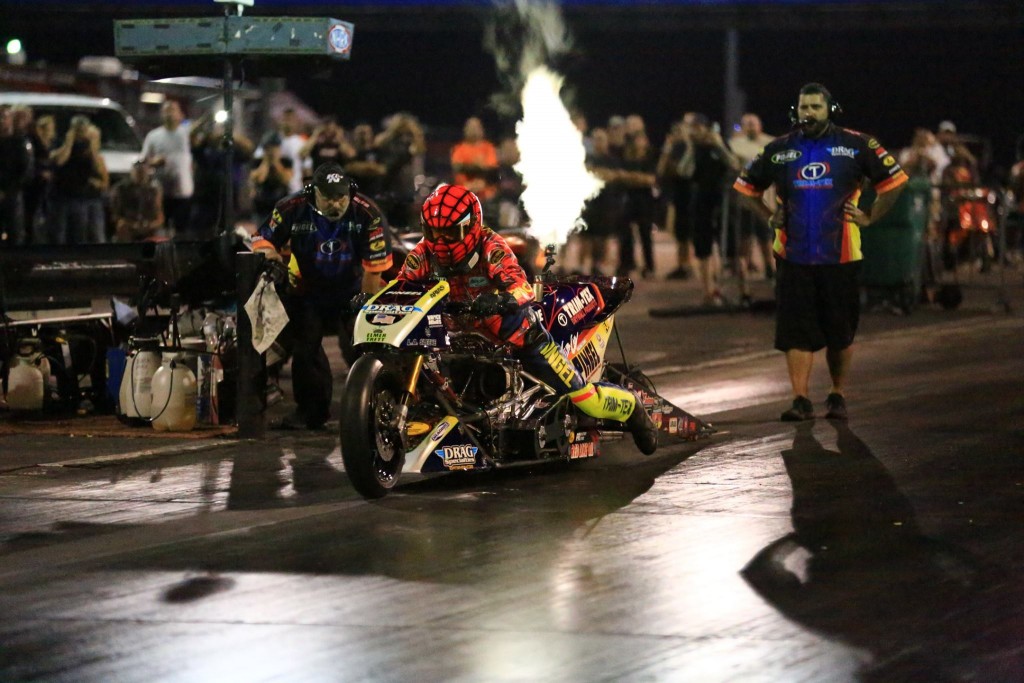 McBride will now prepare for another match race at the 46th annual IDBL Orient Express U.S. Nationals from Atco, N.J., Sept. 11-13.
McBride thanked his primary sponsors; Pingel Enterprise, Trim-Tex Drywall Products, Drag Specialties-Parts Unlimited, Red Line Synthetic Oil Corporation and Final Swipe Merchant Services.
Web-Cam, Vance & Hines Motorsports, PR Factory Store, Ferrea Valves, Kibblewhite, Precision Machine, World Wide Bearings, Vanson Leathers, Millennium Technologies, Belt Drives Ltd, Simpson Race Products, Nitrous Express, APE, EK Chain, Arias Pistons, Cometic Gaskets, B&J Transmission, Carolina Cycle, L.A. Sleeve, PJ1, Mickey Thompson Tires, Valco, Goodridge, Carlisle Belts and Gates Belts.
Special thanks to Tom Payne and Ken Charlton for photo contributions.