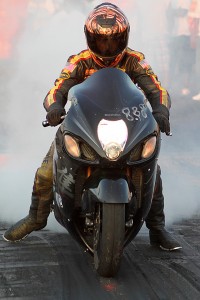 The annual Lee's Performance Fall Bike Nationals at Rockingham Dragway also serves as the finals for the MIRock Superbike Series, but this year—as always—it was more than just that. A family reunion atmosphere took over in the bright sun at Steve Earwood's racing facility in North Carolina's Sand Hills, with dueling cook-offs, hugs, and handclasps all around as the motorcycle drag racing community celebrated the end of another season.
It was also a good time and place to set a national record, and no class saw an all-out assault on the books as did DME Real Street. Jeremy Teasley rolled into Rockingham with his second straight Real Street championship already in hand. But his bike owner/tuner Roger Starrette likes records and the nitrous tanks on the Starrette trailer were extra full for the weekend. And so in Saturday's second qualifying session, Teasley ran the first Real Street pass quicker than 7.80—a 7.770 at 197.80 mph on Starrette's nitrous huffing Kawasaki ZX14.
That was a number to celebrate for sure, until the Sunday morning qualifying session when Joey Gladstone unleashed a mind-blowing 7.69 on his little turbocharged Suzuki GSXR1000. But Gladstone failed to back it up and left the bike out of gear when he launched the 1000 in the semi against Super Dave Stewart. Teasley beat Rickey Gadson on a holeshot in the other semi to set up the final with Stewart. Once in the final Jeremy rarely loses, and that was the case this time. Although Ohio racer Teasley lost a couple of Maryland events, he won every round this year at The Rock and took home both ends of the national record this weekend. Joey Gladstone claimed the turbo MPH record.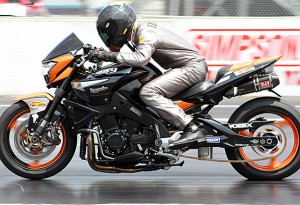 Teasley wasn't quite finished with records, recording the first ever 210 mph Orient Express Pro Street pass on Coby Adams' turbo '14. But Caleb Holt qualified number 1 with a 7.200 on Trae Heath's "Wigsplitter," dominating that team's ongoing qualifying match-up battle with Eric Hart on the BNL/Chachi Racing Hayabusa. Dimey Eddinger and Greg Wallace packed a mean DME Racing 2-3 punch with 7.204 and 7.28, respectively. HTP Performance builder/tuner Cecil Towner was in Aruba over the weekend, so Ryan Schnitz and the 6 second HTP Hayabusa weren't at The Rock.
Holt fought vacuum and boost problems all day, but made his way to the final to face Kenny Edwards, who won last time out in Maryland. Holt's semifinal pass was riddled with issues, so Edwards had lane choice. That didn't seem to help at first, as Kenny blew the tire off at the hit. Caleb streaked out to a seemingly uncatchable lead. Edwards ran off in pursuit and, at around 1000 feet, Holt's plenum popped off. Edwards had a full head of steam up and nipped him by .001 at the finishline.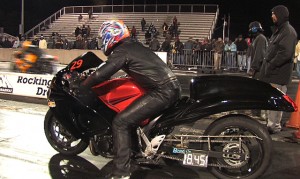 Rougemont's Rodney Williford wrapped up his second straight MIRock Pro Street championship (and third MIRock championship overall) at MIR in October, so although he wasn't pleased when he spun and lost to Edwards in the second round, he was happy with a good year. Edwards, on a roll the second half of the season since abandoning retirement plans, could have used the cancelled August Rockingham race for his own points quest.
Wake Forest homebuilder Ronnie Procopio left nothing on the Mickey Thompson Tires Pro Mod table, qualifying number 1, taking the win and nailing down his record fifth MIRock championship. Ronnie was extremely fortunate this weekend, getting a competition bye in round 1 when Marion Ford couldn't make the call, then the earned bye to the final against Dave Norris. Dave had lane choice and both bikes were a handful going down the track. Norris let out to keep from crossing the centerline and Procopio collected his fourth win of the year.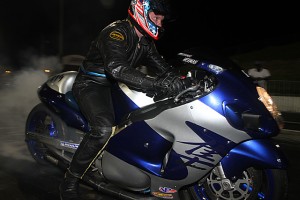 We're not finished with Jeremy Teasley yet. He qualified number 1 in House of Speed Crazy 8s on Wayne Robertson's B-King, but struggled with the transition to the Crazy 8s .500 tree. Out early in that sportsman class, Teasley was able to focus on the one he entered on a lark—Motorcycletireoutlet.net 5.60. Against all odds, Teasley and the mild streetbike were able to beat the 40 bike field in a class that favors wheelie bar dragbikes or, at the very least, very stretched streetbikes. Teasley beat frequent 5.60 winner Jimmy Shifflett and his Hillbilly Hustler dragbike in the final. Shifflett, however, nailed down his third 5.60 championship.
Jevarra "Birdman" Martin was nearly the story of the event. His old school Kawasaki dragbike slipped out from under him as he came out of the waterbox. The Birdman calmly got up, picked up his motorcycle, won the round, and went all the way to the 5.60 semis.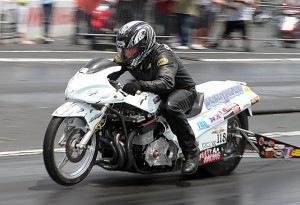 The Crazy 8s 8.88 index class was won by teenager Kyron Drake, who won when former Real Street champ Keith Thompson stayed glued to the tree. Thompson fried the clutches out in his GSXR getting that far and couldn't go any further. "Fearsome" Andy Baumbach won both the Crazy 8s and Top Sportsman championships, only the second racer to win two championships in one season after Ronnie Procopio pulled off the double in 2008.
In addition to Teasley, two guys won two classes at the event—Dale Hamilton in FBR Shop Top Sportsman and Sunday's Nitrous Express Pro ET and Derek Christensen in Saturday's Pro ET and the newly added Pro ET Tournament of Champions. The TOC was possibly the best racing of the event. Stacked with every winner from the year, each pairing was like a final round between Big Ballers.
Pennsylvanian Christensen also doubled up at The Rock in last month's AHDRA race, so his name is practically on the property's deed. He beat Gerrell Clemons in the TOC and won Saturday's Pro ET final over Ronnie Reese at the stroke of midnight. Mike Herman Jr. won the Street ET Tournament of Champions final round over his father, who redlit.
Hamilton took Sunday's Pro ET final over fellow Marylander Kip Green, and won Top Sportsman over Kevin Clarke. Boo Brown beat redlighting Leon Carley in Saturday night's Schnitz Racing Street ET, with Sunday's race going to Bristol track manager Ben Knight over two-time-runner-up-on-the-weekend Ronnie Reece.
With so many ET bikes entered in the event, Afterdark Underground started pretty late at midnight Saturday. With several money races, it wasn't exactly slow but much of the spectator crowd had gone home and folks were too damn cold to get overly excited. Or they left to digest the mid-evening cook-off between grudge racing impresarios Chachi and Possum. Lobster tails, crab legs, marinated and BBQ chicken, steaks, kebobs—all very tasty.
The MIRock Superbike Series family will reconvene at Rockingham Dragway in March for their annual spring reunion and racing festival