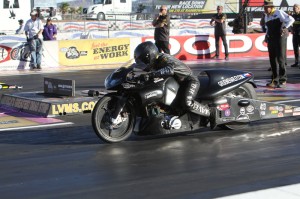 Michael Ray may have not ended the 2011 season on the high note he was looking for, but remains positive heading into 2012 NHRA Full Throttle season.
"We ran pretty good first round. We had a tire issue during qualifying that kind of held us back from making productive runs so we were kind of behind the eight ball for first round. Then we kind of missed the tune up a little bit, we ran good just did not turn the win light on. Definitely a little disappointed there we really wanted to go rounds for Gruene and Javelina Harley Davidson and all of our other sponsors. We wanted to have a productive Sunday for all the sponsors that came out to Pomona but ultimately came up a little short. We will just enjoy the championship banquet and get ready for some testing in the end of January to get ready for the 2012 season."
When asked about the 2012 season this is what Ray had to say. "Gruene and Javelina Harley Davidson along with Gottspeed Racing and I are fully committed to running all seventeen events next year. We are definitely searching for full time sponsorship. We are working with some companies now with getting there name out there and help them sell some product. We are teaming up with Matt Smith still to run next year and have a chance at the Full Throttle Championship."
But before he heads off into the off season preparing for 2012 Ray has a list of people to thank that helped make this season possible.
"I want to thank all my sponsors this year Gottspeed Racing, Gruene and Javelina Harley Davidson, Math Smith Racing, my family, my wife, and all the guys and girls at both of our Harley Davidson shops. They keep it going everyday when were not there when were out racing and all there hard work, dedication, and support when we are racing. It is not easy for an employee to leave like I do and come back into the mix I just want to say thanks."