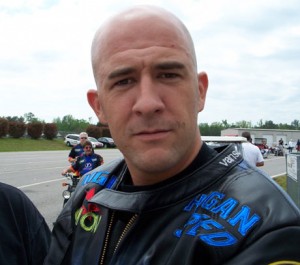 Top Fuel Motorcycle racer Korry Hogan has accomplished in a lot in his short drag racing career.  The 30-year-old rider was named AMA/Prostar rookie of the year in 2003 and won back-to-back Funny Bike championships in 2004 and 2005.   However, thanks to a victory over a living legend, Hogan points to 2007 as his greatest year thus far.
The highlight of Hogan's career occurred in August 2007 at the Pingel Thunder Nationals from Indianapolis, Ind., where he defeated eight-time Top Fuel champion and world record holder Larry "Spiderman" McBride to earn his first Top Fuel victory.
"It's hard for me to express how much that meant to me and what it felt like at the end of the track," Hogan said.  "Larry's the best guy in the sport. He hadn't been beaten all season long. It was pretty awesome."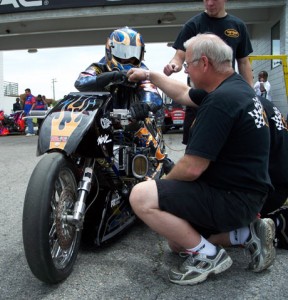 Hogan tasted his fist victory less than 15 races into his nitro endeavor.  Although winning is as Hogan says "Pretty awesome," he's ecstatic just to have the opportunity to jockey one of the quickest motorcycles in the world.  Hogan's participation in the category began when Mike Dryden asked him to take the seat on his newly built machine following the 2005 season.  It was a deal Hogan couldn't refuse.
"It's one of those things everybody wishes they could do.  I never thought it would happen," Hogan said.  "It's the coolest thing I have ever done.  I get to do what everyone else wants to – ride a really fast motorcycle and I don't have a lot of expense.  I fly in, ride the bike, then I get to go home," Hogan said.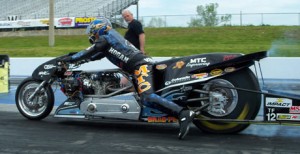 Hogan, who works as an ad salesman for Two Wheel Tuner Magazine, was so dominant in his last year of Funny Bike racing; he was voted Prostar Pro Rider of the Year.
Now Hogan is having such a good time racing Top Fuel he no longer misses his glory days competing in Funny Bike.
"Not anymore," Hogan said.  "I did for a long time but my bike is over Sweden and the guy that bought it has been tearing it up overseas. He's already won a European Top Fuel championship."
After two full seasons of racing Hogan still finds it hard to believe that he's joined the exclusive fraternity of Top Fuel motorcycle.
"When I started racing six years ago I used to look at the Top Fuel racers and I thought oh my God that's crazy and those guys are lunatics," Hogan said "Now I'm one of them."
Hogan was overwhelmed when he made his first few test passes on the forceful and violent machine. Even after running in the 6.50-zone aboard his turbo-charged Funny Bike Hogan admits little could prepare him for the rigors of Top Fuel.
"When you really whack the throttle open it's pulling close to four Gs of force around sixty feet out," Hogan said.  "It's smashing your spine as you are trying to get with the program. When you get it into high gear it's still an absolute animal.  At the big end of the race track the bike is still pulling a G at 230 mph.  An airplane can take off at 170 mph.  It makes you think."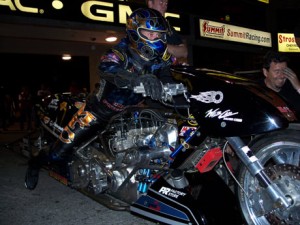 According to Hogan nothing is as enjoyable or as challenging as warming up his giant slick before a run.
"The burnout is the coolest part but it's also something I'm not real good at yet.  You literally turn the throttle an eighth of a turn," Hogan said. "You bump the throttle.  You don't roll into it, you don't do anything crazy.  You just have to modulate the tire with the throttle and the RPMs of the bike.  It can't be too high or too low.  If the tire hooks it drives through the clutch, if it doesn't I get yelled at by the crew because I'm hurting valve springs and everything else like that."
Hogan found out just how dangerous and volatile Top Fuel racing can be in November of 2006 at the World Finals from Gainesville, Fla. Hogan's racing career was nearly cut short when a spark plug broke and sent an electrical charge through Hogan's handlebars at about half-track.  At over 200 mph Hogan was flung from the bike.
"It was just one of those freak deals," Hogan said.  "I didn't have too much control over it. It's not like I did something dumb.  It's not like I took my hand off the bars to wave to the crowd."
Amazingly Hogan walked away for the accident relatively unscathed.
"I only tore my MCL," Hogan said. "Some people don't understand how lucky I am.  Imagine driving your car three times the speed limit and then open your car door and jump out.  That's pretty much what happened."
Hogan recovered from the mishap, returned to competition in 2007 and continued improving.  After defeating McBride in Indianapolis the team recorded a stellar 6.06 at 234 mph in testing a few weeks later. At the U.S. Nationals from Atco, NJ, in late-September Hogan appeared headed towards another significant milestone, a five-second run.
"In Atco we were on the best pass we'd ever had, 1.03 sixty-foot, 2.65 in the 330; and a 3.96 in the eighth. It was the beginnings of a five second run," Hogan said.  "The bike started leaning over at the big end and we dropped a hole.  It slowed to a 6.20 and hurt a low end bearing.  It ended our weekend because the day before we had an ignition shutoff that completely disintegrated a motor.  It sawed it right it two."
Hogan attributes much of his success to his hard-working and talented crew.
"Mike Dryden does a great job and funds this project almost all by himself," Hogan said. "John Alwine (a former crew chief on Tony "The Tiger" Lang's championship-winning program in the mid-nineties) does all the work on the bike.  That guy works his tail off for virtually no money; he does it for the love. Then there's Darin who gets to push me back and sweat his ass off. They are great people."
And that's not counting the long hours required to overhaul the machine in between races.
"John and his son Chris do all the maintenance on the bike on the bike," Hogan said.  They take it home after each race. They do all the machine work and stay up late.  I can't say enough about them."
Hogan also thanked Vanson Leathers, MTC, World Wide Bearings, Web Cam, The Visa, The MasterCard and Mom and Dad.
And Hogan doesn't plan on quitting anytime soon.
"It's fun and chicks dig it,' Hogan said.  "So that's what I'm here for."