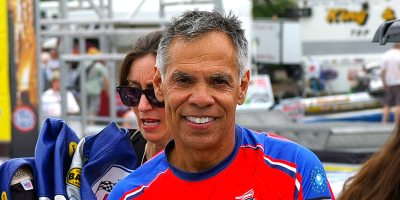 The old man's still got it.
Lucas Oil Buell racer Hector Arana Sr., still running strong at age 56, stormed to a triumphant victory at the Summit Racing Equipment NHRA Southern Nationals on Sunday at Atlanta Dragway. The win came nearly six years after his previous victory and it came against Pro Stock Motorcycle's best.
Arana beat defending class champion Andrew Hines in the first round before knocking off No. 2 qualifier Jim Underdahl in the second. Then he beat son and national speed record-holder Hector Jr. in the semifinals before taking down three-time PSM champion Eddie Krawiec in the final round.
"It's exactly what I needed to boost me up," Arana said. "I struggled for a little bit and then I started getting doubts, but I never gave up and here it is, this win. It's exactly what I needed to build my confidence and keep going forward to win some more."
Arana, who made his NHRA debut in 1990, upped his career record to 197-196, marking the first time he's had a winning mark in the sport.
Arana toiled in the PSM class for many years before partnering with Forrest and Charlotte Lucas and Lucas Oil Products. He earned his first win in 2008 and then won five more times in 2009, capping a remarkable year with the championship.
He raced to 11 final rounds in the years since, including racing Hector Jr. in Chicago in 2014, but was unable to break through again until Sunday to end a drought of 86 races.
"It makes me feel great for everyone on our team," Arana said. "I take care of Jr.'s bikes first and then mine. What I did for this event, I paid more attention to my bike, to my program. That's what I need to do more of, take care of me."
Arana opened the day by outrunning Hines with a pass of 6.915 seconds at 195.70 mph, overcoming Hines' 6.979-second pass at 184.27 mph. He duplicated that e.t. in the second round against Underdahl, who ran 7.022 seconds at 192.52 mph.
The semifinal matchup with his son was over before the finish line, as Hector Jr. slowed to a pass of 7.146 seconds at 168.14 mph while Arana's run was 6.930 at 195.22 mph.
Neither finalist made a full run, but Krawiec was off the throttle well before the lights in a 10.107-second pass at 85.28 mph while Arana pulled up early in a winning pass of 7.236 seconds at 162.47 mph.
"We were able to stay consistent on every run," Arana said. "We didn't deviate that much, so we have a good tune-up. It looks like my bike is coming around at the right time. We're going to keep looking forward and narrow this bike to be perfect."