NHRA Pro Stock Motorcycle champion Hector Arana Sr., rider of the Lucas Oil Buell, has gained immense amounts of wisdom about blasting down the quarter-mile in his almost three decades between the centerline and the retaining wall.
He has also accumulated mass amounts of knowledge in regards to the importance of making close personal relationships both at the racetrack and away from it. This weekend at the 19th annual K&N Filters Route 66 NHRA Nationals at Route 66 Raceway in Joliet, Ill., just a few miles southwest of downtown Chicago, Arana, 57, is particularly keen to relish in both of these treasured aspects of his career.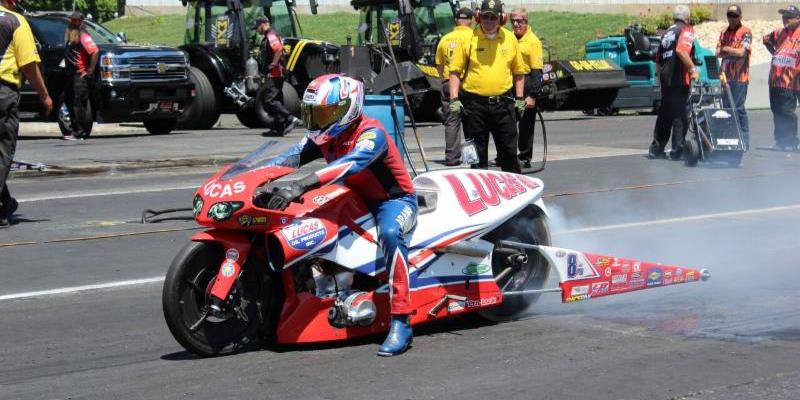 "We have a lot of friends coming out to see us in Joliet," Arana said. "Through the years we have met a lot of the fans who have become friends, and they always look for us and say hi. It will be full. It's gonna be packed and it's going to be great to see them all again."
Back on the track, Arana is also very focused on getting his Lucas Oil Buell to light up the scoreboard with big numbers at what is historically one of the quickest and fastest tracks on the NHRA Mello Yello Drag Racing Series tour.
Arana and the rest of the PSM class previously competed in Norwalk, Ohio, almost two weeks ago.
"It's barely a week by the time we get home and then we have to leave," Arana said. "But, yes, we were able to get some things we wanted to test done on the dyno before Joliet. Hopefully we can continue to make improvements on our performance."
In 2014 at Route 66 Raceway, Arana and his son Hector Jr. shared one of the greatest moments in NHRA drag racing history when they rolled side by side to the starting line for their first father vs. son final round. Arana still reflects on that memory with great joy.
"For father and son to be in the final, it's always going to be special for me," Arana said. "That place is good. It's a fast track, even though the conditions are not usually the greatest, so I am looking forward to racing in Joliet. It would be awesome to repeat that again and have Hector and I in the final."
Pro Stock Motorcycle qualifying sessions are scheduled for 5:15 and 7:45 p.m., Friday, and 3:15 and 6 p.m., Saturday. Eliminations start at noon, Sunday. FOX Sports 1 will carry qualifying action from 10 p.m. to midnight ET, Saturday, and eliminations live beginning at 2 p.m., Sunday.