There are times in your life when you wish you could bottle up memories and tuck them away somewhere special so they can last forever.
Lucas Oil Racing TV Buell rider Hector Arana Jr. has a place on a shelf reserved for that special memorabilia from two years ago at Route 66 Raceway, where he and his father Hector Sr. gazed across the racetrack at each other to fulfill a lifelong dream of racing against one another in an NHRA national event final round.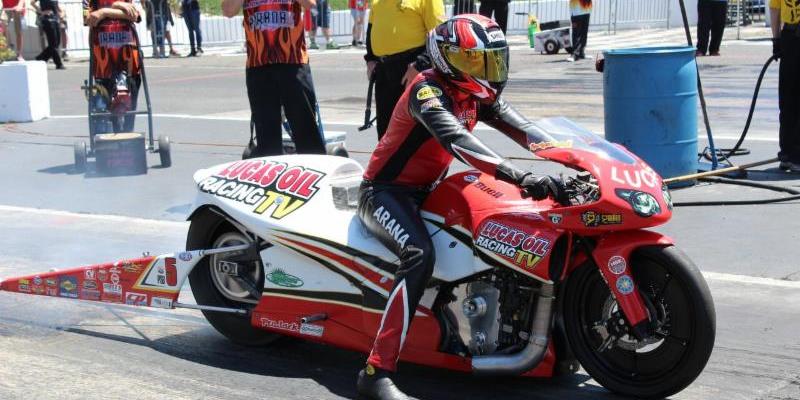 Fast-forward to this weekend's running of the 19th annual K&N Filters Route 66 NHRA Nationals at Route 66 Raceway in Joliet, Ill., southwest of Chicago, and Arana sees the possibility of hoisting the Wally trophy for the third consecutive year at one of his favorite tracks in the NHRA Mello Yello Drag Racing Series.
In order for that to happen, though, Arana and his Lucas Oil team will have to continue their season-long tune-up refurbishing project.
"We're having to redo all of our tune-ups because all of our tune-ups from last year that we used to plug in and have dialed in, for whatever reason, they're not working," Arana said. "The fuel is a little bit different, we've changed some stuff on the heads, and those tune-ups don't work anymore. So now we just gotta slowly tweak the tune-up and fine-tune it to come up with a new combination. Once we get that all squared away, we should be right back where we were.
"It might sound like a broken record, but I feel really good about this next race in Chicago. We learned a lot in Norwalk (Ohio, previous event) when it comes to the fuel-injection system and our tuning. With the help of some other people, Dave (Elk) was with us in Norwalk, and we were able to see a lot of little things that we were overlooking and we found some stuff. I'm excited for what Chicago holds for us."
Looking back on 2014 for inspiration, Arana is hoping for another final-round family affair this weekend at one of NHRA's quickest and fastest tracks.
"Since we've been racing, that's been one of our biggest goals, that we wanted to meet each other in the final," Arana said. "We finally made that happen in 2014. That was the most awesome moment ever because at that point we had won the race.
"And then obviously when I beat him it was kind of bittersweet. I was very happy that I won the race because I am very competitive and I want to win, but at the same time, he hadn't won since 2009, so I felt bad that he didn't get the win.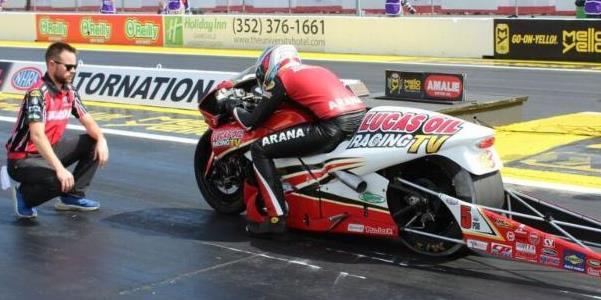 "But then the next year, he was able to go and get himself a win. Then we also faced again last year in St. Louis, so now hopefully we can make this a thing that we do at least once a year where we meet each other in a final."
Pro Stock Motorcycle qualifying sessions are scheduled for 5:15 and 7:45 p.m., Friday, and 3:15 and 6 p.m., Saturday. Eliminations start at noon, Sunday. FOX Sports 1 will carry qualifying action from 10 p.m. to midnight ET, Saturday, and eliminations live beginning at 2 p.m., Sunday