Lucas Oil Racing TV rider Hector Arana Jr. is getting hot at the right time of the season.
Arana raced to the final round of the Chevrolet Performance U.S. Nationals on Monday at Lucas Oil Raceway, surging to seventh in the Pro Stock Motorcycle points standings and clinching a spot in the Countdown to the Championship.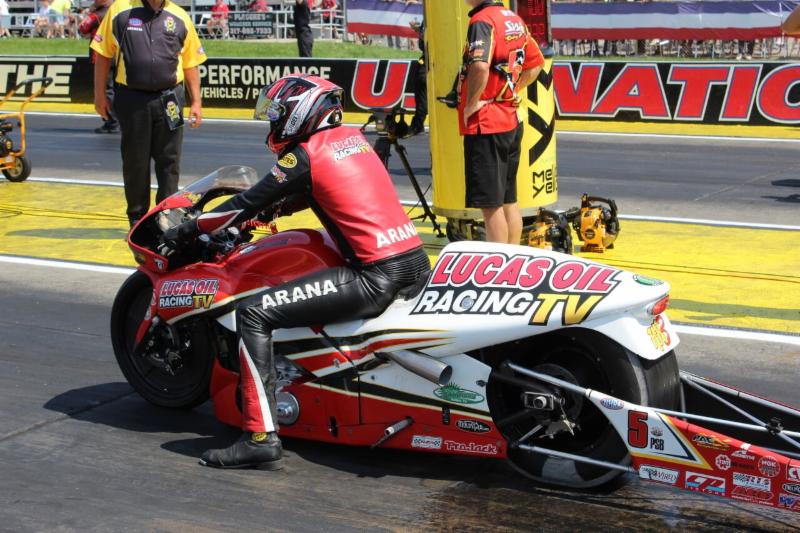 Arana has reached a final and two semifinals in his last three races as the NHRA's version of the playoffs begin in two weeks in Charlotte.
"We definitely have momentum going into the Countdown," Arana said. "I made it into the Countdown. That was the main goal after the slow start we had this year, to go to the Countdown. We made it, and to me that's one of the most important things.
"I made it to the finals at the U.S. Nationals. I rode my butt off and I just have to practice on that (Christmas) Tree. I have to play a little more."



After dispatching No. 12 qualifier Michael Ray, No. 4 Chip Ellis, and No. 8 Cory Reed, Arana left .033-second too soon in the final against Andrew Hines. However, he's excited to start the Countdown and contend for the championship.
"I just have to figure out how to slow down just a little bit more in the finals and on race day," Arana said. "Now that I'm going rounds, I just know that I'm going to get better and better. I'm excited for this Countdown. We've got a really strong motor. It's not even 100 percent broken in yet, and I just know that we are going to get faster and faster as the motor gets better and I'll be able to tweak the tune-up a little more, so I'm excited."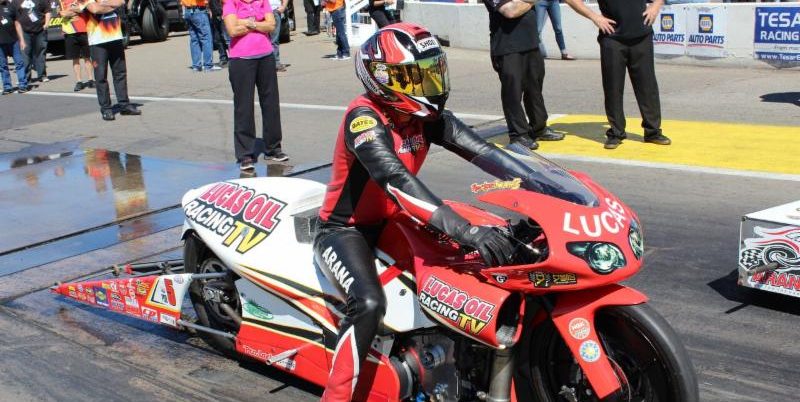 Using a new engine nicknamed "Jake" after Jake Lucas, the late grandson of Lucas Oil co-founders Forrest and Charlotte Lucas, Arana had one of the bikes to beat in Indy. The 2011 U.S. Nationals champion beat Ray with a 6.866 at 195.56 mph that pulled away from Ray's run of 6.910 at 194.16 mph.



Arana then got the jump on Ellis in the second round and sped to the win with a 6.930 at 193.65 mph. Arana had a .009-second advantage on the Tree (.039 to .048) and a .009 advantage on the track as Ellis recorded a 6.939 at 194.30 mph.
Arana had the quickest pass of the semifinals (6.913 seconds at 194.44 mph) but secured the victory when Reed went .001 red.
Hector Arana Sr. had a solid light in his first-round race, but it wasn't enough to take out No. 1 qualifier Angelle Sampey. Arana Sr. left first with a .018 reaction time, but his pass of 7.044 seconds at 194.44 couldn't off Sampey's 6.865 at 195.76 mph.
"No, I'm not happy at all," Arana Sr. said. "We started, and we didn't have enough clutch, so we worked on that, replaced some of those fibers, and the clutch started working, coming around. Then suddenly it got to where we had too much clutch. We took some out, and I still have too much clutch, so I don't know what's going on. We just need go check it and get it fixed for the next race."
Arana Sr., too, clinched a spot in the Countdown, and he'll be eighth when the playoffs start in Charlotte next weekend.