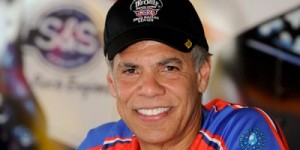 Lucas Oil Buell Pro Stock Motorcycle rider Hector Arana Sr. had another bittersweet day at the U.S. Nationals on Monday at Lucas Oil Raceway.
Arana won his first-round match but it came against his youngest son Adam and then he lost in the second round to Matt Smith.
But Arana also knows a new engine combination has shown plenty of potential, as he was the No. 1 qualifier and led three of the four qualifying sessions. He also was fast in the opening round of eliminations, giving him some confidence for the Countdown to the Championship.
"Now we can go and tweak it and get the small issues taken care of," Arana said. "We should be good."
Arana will be fifth in the points standings when the Countdown begins Sept. 13-15 at the Carlyle Tools NHRA Carolina Nationals in Charlotte.
In Indy Arana had the misfortune of racing son Adam in the first round after the two qualified first and 16th, respectively. Arana said he was going to race his son hard despite potential Countdown implications for Adam.
But the youngest Arana wrapped up a Countdown spot when Steve Johnson lost in the first round, meaning only a second-round berth was at stake. Arana ripped off a .008-second reaction time and then made a stellar pass of 6.948 seconds at 194.16 mph to easily beat his son, who ran 7.002 seconds at 188.04 mph.
"I wanted the win," Arana said. "I wanted to win a race. He's got to beat me. That's the only way he's going to take it away from me. That's what the end result was in that round."
But Arana's light made him pause.
"It was good," Arana said. "You look at the light, which was a .008. I go, 'Oh, wow. That's too close.' Then you go to the second round and you hesitate. You start getting faster and faster, and the last thing you want to do is red-light."
So for his match against Smith, Arana's reaction time was .060-second while Smith had a perfect .000-second light. Smith's pass was 6.992 seconds at 191.00 mph to beat Arana's run of 7.001 seconds at 192.77 mph.
"He did his job and he won," Arana said. "No hard feelings there."